Starting in early spring, the COVID-19 crisis swept the world in a flash and put the brake on all kinds of events and activities, yet the seasons continue to roll on and Spain finds itself in the middle of summer.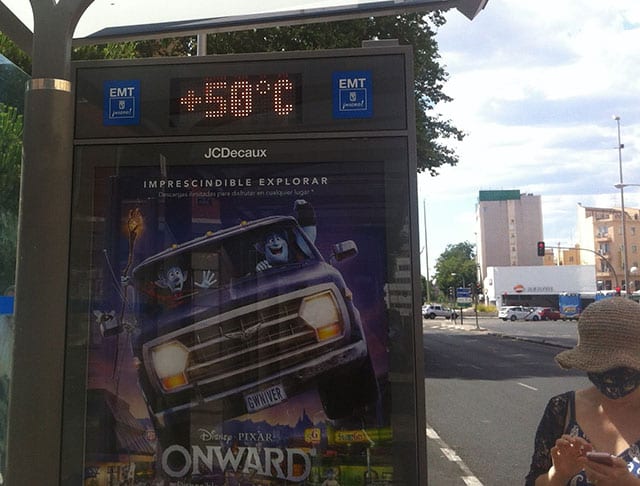 This is the thermometer at a nearby bus stop I photographed the other day. (5:06 pm on July 6, 2020)
When it comes to essential summer food people love at a time like this, it has to be cold gazpacho, the refreshing and cooling soup everyone is familiar with in Japan. But you need a blender to make it and cleaning up afterward is tedious. In the days when there were no blenders or hand blenders, it seems to have been a dish that took quite a lot of time and effort because they made it by mashing the ingredients in a mortar called a mortero, like a suribachi (Japanese grinding bowl).
So, in this blog I'm going to tell you about piriñaca salad, which is a relative of gazpacho soup but can be made quickly without cooking and with minimal washing up. Piriñaca is one of the specialties of the Province of Cádiz, at the southern tip of the Andalusia region, in the south of Spain.
First, the ingredients are wonderfully simple.
A: Ingredients – Just (1) tomatoes, (2) green peppers (or paprika), and (3) onions.
B: Seasonings – Just (1) vinegar, (2) oil, and (3) salt.
And the method is simple, too.
Coarsely chop A: (1), (2), and (3).
Then simply season with B: (1), (2), and (3).
If I started by saying, use wine vinegar if possible (the vinegar in the photo happens to be apple vinegar), for the oil, use extra virgin olive oil if you have it, and for the salt, use some particular kind of rock salt, and so on, it would deter you, so, I hope you try making it with just rice vinegar, salad oil, and table salt. For myself, I use about one tomato, half an onion, and half a green pepper, and a good amount of vinegar and oil.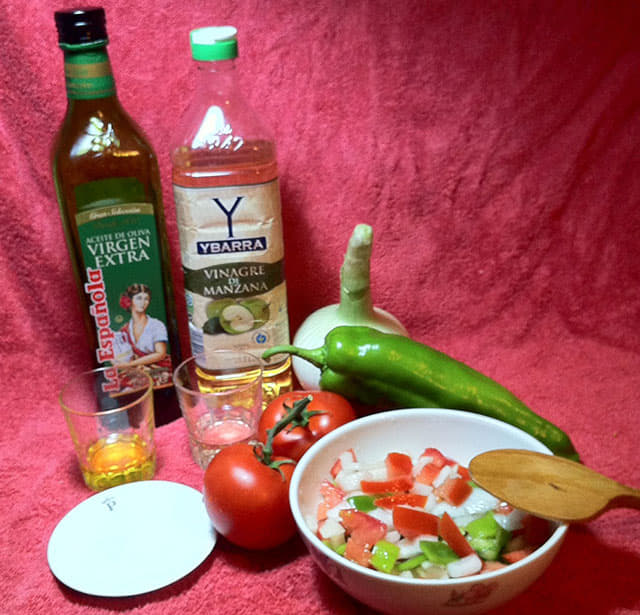 The six ingredients along with the finished product. It's hard to see, but that's rock salt piled up on the small plate.
It is in itself a cooling summer salad you can eat as is. But in Cádiz, the home of piriñaca, it is often eaten as a side dish with grilled fish. Particularly with Cádiz's specialty grilled mackerel, it plays an essential role comparable to grated daikon radish. In Japan, grilled saury is a perfect side dish to rice, but what if you magically transformed it in one go into a stylish Mediterranean dish that goes well with baguette and wine by coupling saury with piriñaca instead of grated daikon radish?

Cadiz's specialty, caballa asada com piriñaca (grilled mackerel with piriñaca)
There are all sorts of variations on this simple, supreme piriñaca salad. You can turn it into a marinated salad by adding cucumbers, olives, boiled eggs, or seafood, and for seasoning, adding parsley, garlic, capers, and so on.
○ Gazpacho
Add cucumber and bread to a piriñaca with lots of tomato, then add water, garlic, and cumin, blend, and then refrigerate to get the original gazpacho I mentioned before.
○ Huevas aliñadas (Seasoned roe)
Piriñaca with cod roe. Aliñadas means something like "seasoned with a dressing" or "dressed." It's omekashi tarako (dressed cod roe) in Japanese. In Spain, they use boiled cod roe, but of course grilled cod roe is fine too.
○ Ensalada campera (Country salad)
Add ingredients like boiled potatoes, boiled eggs, and olives to a piriñaca to give it more volume. "Campera" means "country" or "rural".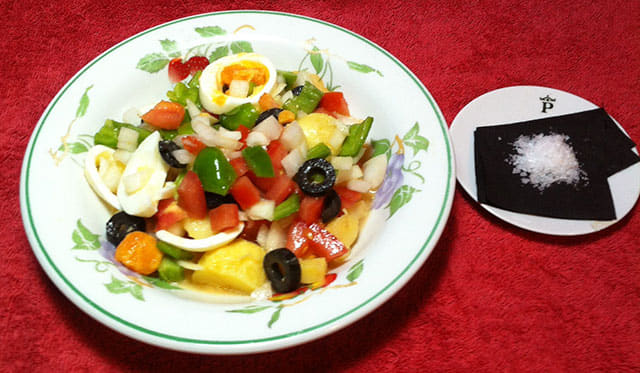 Country salad. Instead of olives, pickles or scallions go well too.
○ Salpicón de maiscos (Seafood salad), a kind of marinated seafood and vegetables
Mix shrimp, octopus, squid, mussels, or whatever seafood you like into a piriñaca for an excellent tapas dish. Typical local bars throw inexpensive crab sticks into theirs as a snack with their drinks. By the way, "salpicón" also means "minced" in English.
Kazuo Dan, a writer who has roamed the world, presents in his book "Danryu Cooking" 124 Japanese, Western, and Chinese dishes he has actually prepared. He lived in Portugal for a while and has some Spanish and Portuguese dishes in his book, including his recreation of a Spanish sudako (vinegared octopus), a gem of a dish you could certainly also call "salpicón de pulpo," which he had at a seafood bar in San Sebastian, in northern Spain. To put it simply, it's the huevas aliñadas I mentioned before, but with octopus instead of cod roe.
With a Portuguese flavor…
○ Special appearance from Portugal: Gaspacho alentejano
I had this at Évora, the old capital of the Alentejo region, which borders Spain.
My impression at the time was that it was simply a soup made from piriñaca with added water and ice. At a glance it seemed to be finely chopped vegetables submerged in water, so I'm taking liberties when I call it a soup. There might well have been some other things like cucumber and bread cubes in it.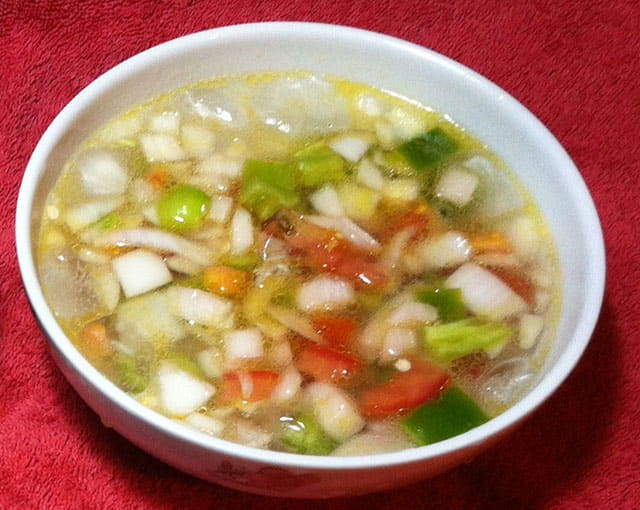 This is a version I reproduced, relying on distant memories.
Piriñaca doesn't have any of the umami you get in elaborate stocks like the ones they use for miso soup, suimono (clear soup), or consommé, but on the other hand, its simple, clean flavors, something most of those stocks don't convey, feel good in the scorching heat, making it a superb dish that gives you the flavors of its refreshing ingredients: Vegetables, vinegar, oil, salt, and of course iced water. Throwing in hiyamugi (cold wheat noodles) might give you a real fusion of the Mediterranean diet and Japanese food. And so, under the influence of extreme heat and self-isolation, on go the wild fantasies pervading midsummer here in Madrid.