Itake my daily walk along the Madrid Río, a riverside park in the basin of the Manzanares River, which flows through central Madrid. The heavy snowfall at the beginning of the year brought a lot of trees down, the winter was harsher than usual, but with the much-anticipated arrival of spring, the trees are budding, and the flowers are blossoming, which is making my walks all the more enjoyable. The cherry blossoms have already dropped their pistils, but the other day I found a tree with pretty flowers called Chinese crabapple, a tree I haven't noticed in Japan. And green fruit are beginning to appear on the strawberry trees (madroño in Spanish), which appears on Madrid's coat of arms.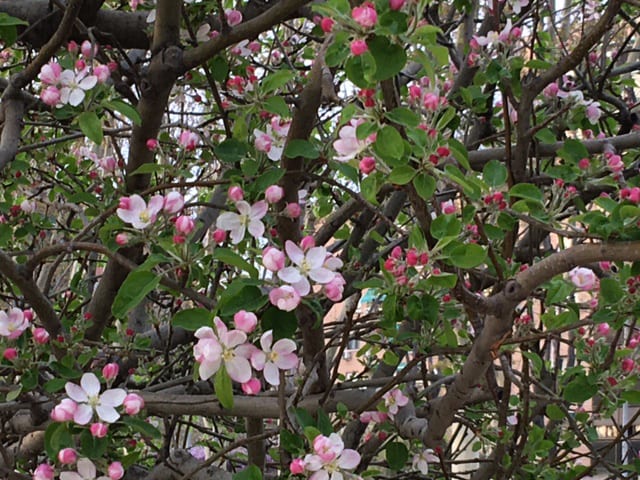 Chinese crabapple in flower

Green strawberry tree fruit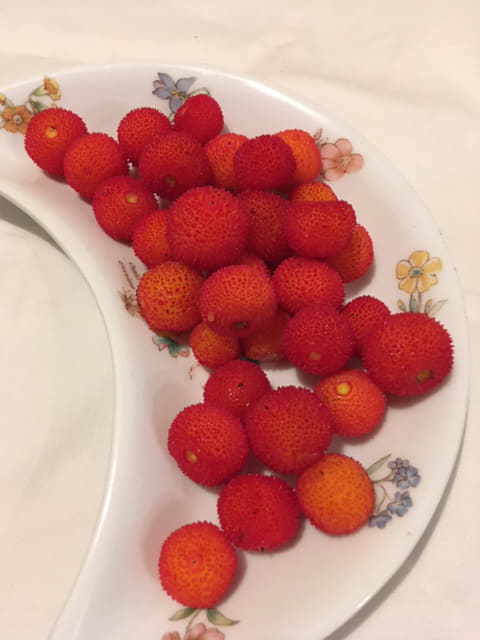 Last year's strawberry tree fruit with sweetness, sourness, and smoothness all wholesomely delicious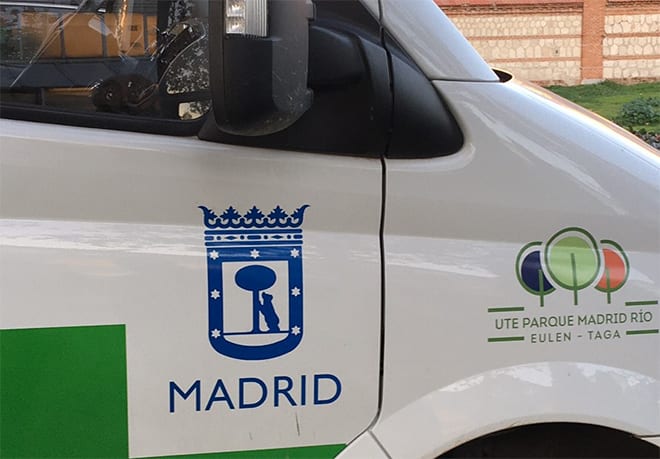 Madrid's coat of arms on a park management vehicle. The bear is reaching up for strawberry tree fruit.

The park is guarded by very imposing mounted police.
If you go further downstream along the Manzanares River, you will also find a vast natural park along its banks. Adjacent to the riverbank is the Caja Mágica ("The Magic Box") indoor stadium, the venue for the Mutua Madrid Open, when top professional tennis players come together from April to May every year. And here too you might come across birds you wouldn't expect in the middle of the city.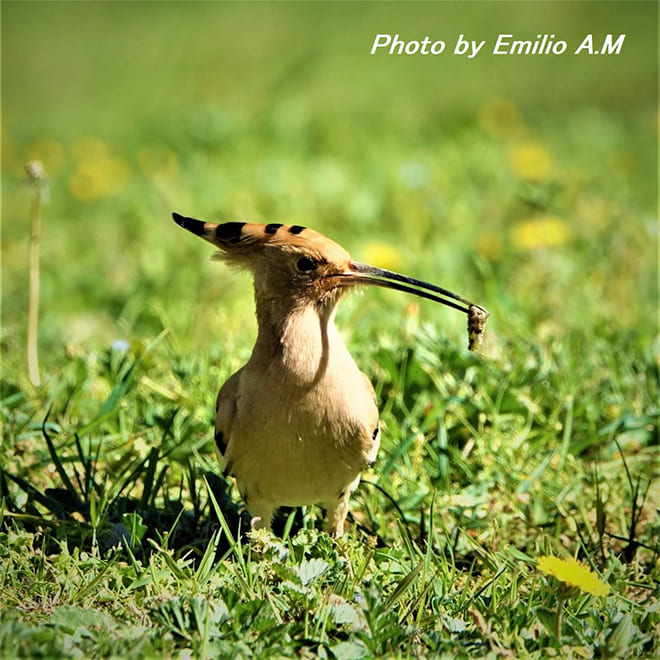 Eurasian hoopoe (Upupa epops) eating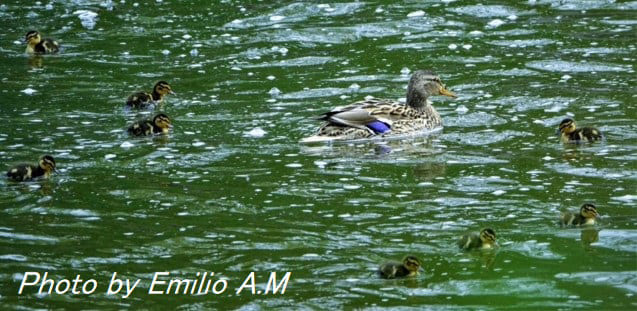 A family of mallards (Anas platyrhynchos)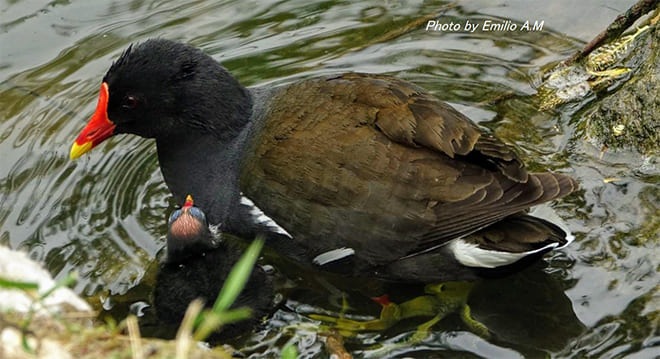 Moorhen (Gallinula chloropus) parent and child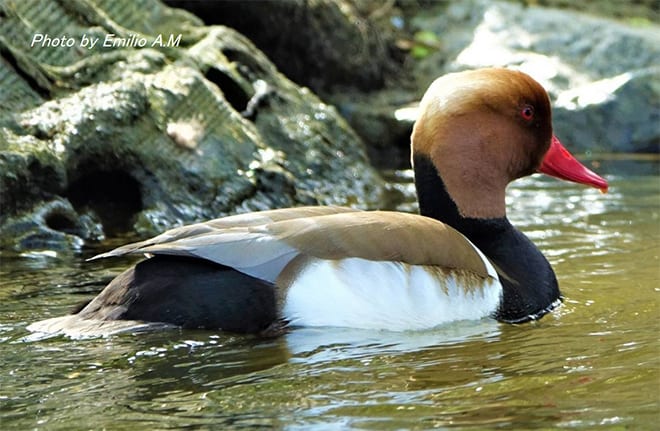 This duck (Netta rufina) is called pato colorado ("red duck"?) in Spanish. The Japanese name is akahashihajiro (literally, "red beak, feather white"), which would seem very appropriate.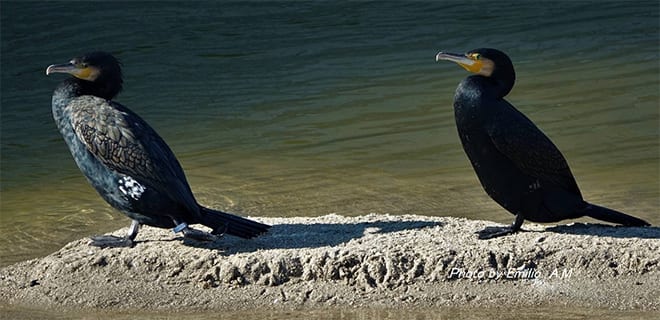 A pair of great cormorants (Phalacrocorax carbo). The cormorant in front has a foot ring which is an identification tag.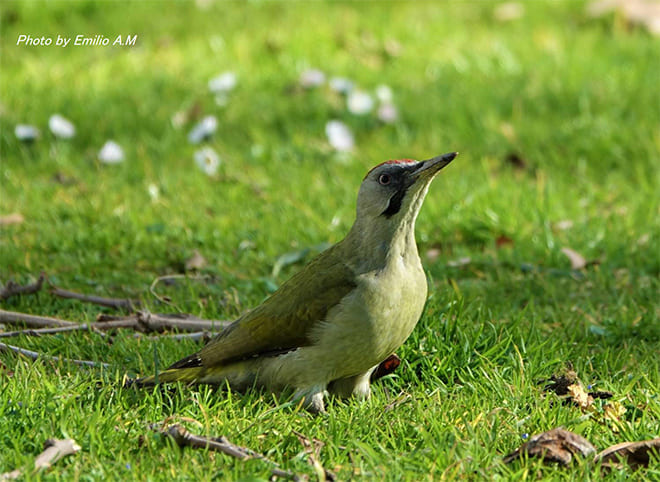 The European green woodpecker (Picus viridis), also called carpintero verde in Spanish.
These six photos were provided by one of my friends from the park, Mr. Emilio Alvarez Meléndez, who took them.
The sparrow (Passer montanus); pigeon (Columba livia); blackbird (Turdus merula); Eurasian magpie (Pica pica), which is the prefectural bird of Saga Prefecture and whose habitat is designated as a natural monument; and the monk parakeet (Myiopsitta monachus), whose numbers have grown rapidly in recent years, frequently appear not only in parks but also in the city streets, so I took the liberty of not including their photos in this article. But I wonder if it's because we don't range far that we don't see any carrion crows (Corvus corone) or large-billed crows (Corvus macrorhynchos) at all in Madrid.
And so on. A lot of my recent articles have been about COVID-19, so I thought I'd put that on pause, so thus far I have written about the scenery on my leisurely strolls, but to my surprise, my turn came up for the vaccination I was about to give up on. I got this text message from the Madrid Health Service, informing me about my vaccination at the mass vaccination center that has been set up at the general hospital close to the route for my walks.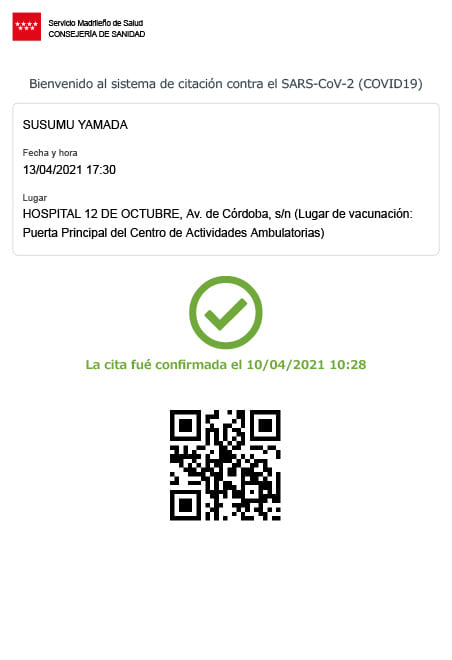 Vaccination appointment confirmation form
I had the impression that an injection into the muscle would hurt more than an injection just under the skin, but in my case, I was absorbed in taking my first selfie, so there was no pain at all. And I didn't need the syringe I had gone to trouble of buying beforehand. After the vaccination, I asked the nurse, "Is it OK to drink wine at dinner?", to which she replied, "Oh! A vaccination celebration? No problem at all!" I was quietly relieved to have the pretext she gave me.
Photo 12: My first selfie, a close-up of my vaccine injection.
As for the side effects we had been worrying about, from the time of my vaccination yesterday afternoon until going to bed, I didn't notice anything different. Now, 18 hours later, my temperature is still normal, but there is a dull pain in the deltoid muscle area, where the syringe needle went into the muscle, and my upper arm feels heavy. The fogginess in my head isn't a problem, it's just a symptom of aging that I had before my vaccination.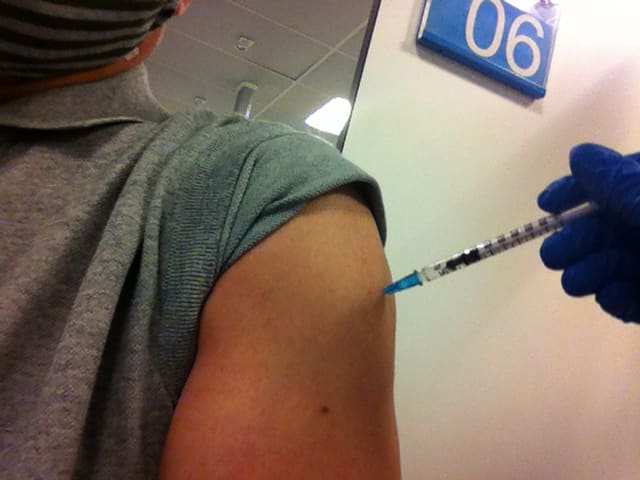 The first selfie in my life, a close-up of my vaccine injection.
the day I was vaccinated, marked 108 days since vaccinations started in Spain.
The total number of vaccinations was 11,436,073, or 24.14% of the population.
Of these people, 6.7% had been vaccinated twice and 17.44% once. The average number of vaccinations per day was about 105,890.
Vaccinations started with the residents and staff of senior nursing homes, then the second phase started after completion of the first phase of vaccinations for medical personnel, people who need nursing care, teachers, and so on.
Of the people aged 80 and over, 53.97% (1,529,585 people) have been vaccinated twice and 42.55% (1,205,925) have received their first vaccination.
While vaccination is optional and 3.48% remain unvaccinated, vaccinations for this age group are expected to be completed soon.
Vaccinations for the next age group, people aged 70 to 79, have started, and up until yesterday, April 13, 3.08% (121,810 people) had received the second injection.
The number of people who have received the first injection was 22.8% (903,387 people), which should include mine.
By the way, the Comirnaty (BioNTech/Pfizer) vaccine is being used for these older age groups.
Source: Spanish government's Vaccination Strategy Bureau website:
https://www.vacunacovid.gob.es/
And the vaccine manufactured by Janssen (Johnson & Johnson), which had been scheduled to arrive in Spain, has been delayed by a safety review being conducted by the European Union's drug regulatory authorities into the risks of blood clots, and the Spanish authorities have started revising their vaccination schedule.
I have been watching things in Japan with the hope that I might be able to reap the benefits of the Go-To campaign and return home with my vaccine passport in the fall/winter, if by the end of summer vaccinations become widely available there, the rate of infection settles down, and border control measures are eased.
There have emerged, however, some variant strains that are undetectable and slip through PCR tests, and the vaccines designed to target the pre-existing virus strain offer no effectiveness against them. If in those circumstances a major sporting event that brings together large numbers of elite athletes, officials, and media from around the world in confined spaces over a short period, and there emerges a new super variant, stronger than any other, a mix of variants from all over the world, it is likely that measures will be taken to stop the Japanese super-variant from coming back into Spain, so I am getting the feeling that I should be a little hesitant about returning to Japan for a visit.
This article should have been about going for walks in the spring, but I got excited about my vaccination and the subject turned once more to COVID-19.
Thank you for reading my articles.