It has become remarkably cold again and once again this year the flu season has begun in the northern hemisphere. With the arrival of the 8th novel coronavirus wave, evil monsters BQ.1.1 Cerberus, XBB Gryphon, and the like have appeared, and the signs of simultaneous flu and COVID-19 spikes have become apparent. So, the Community of Madrid launched a campaign on October 17 to simultaneously give the 2nd COVID-19 booster vaccination and a flu vaccination to elderly people aged 65 and over, upon which I immediately went and got the vaccinations at my local communal clinic on the first day. Photo 1 shows the Omicron vaccine in the triceps of my right upper arm, an intramuscular injection with the needle going all the way into the base. Photo 2 shows the flu vaccine in my left upper arm, this one too, a textbook example of an intramuscular injection with the angle of needle insertion about 80 degrees to the skin.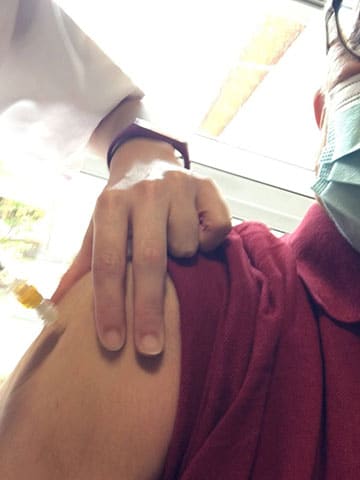 Photo 1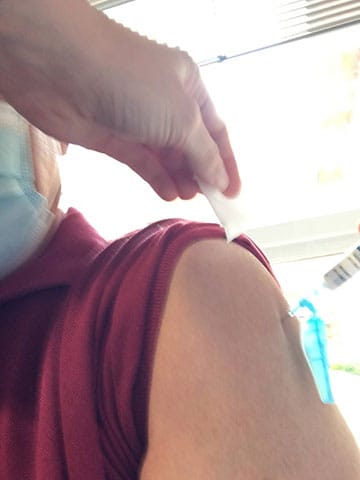 Photo 2
This time it was even easier than last year. The question before the injection was just to confirm, "Do you want both COVID-19 and flu?", then after the injections I was told, "If they swell up, cool them with ice. If they get painful, take paracetamol (a painkiller and antifever drug widely known in Spain as a cold medicine) OK?" and that was that. There was no instruction to rest for the usual 15 minutes after the injections to monitor for reactions. And although I turned up 15 minutes before the designated time, I got my injections straight away, they were over in only 3 minutes, then it took about 2 minutes to print my certificate, so all up, I made my exit in under 5 minutes.

Image 1
Image 1 shows the vaccination certificate they issued me after my injections. It shows my 4 vaccinations: the Pfizer-BioNTech vaccine, then the second one 3 weeks after the initial one, then there's the third one, a booster 6 months later, followed by the bivalent vaccine against the Omicron strain 1 year afterward.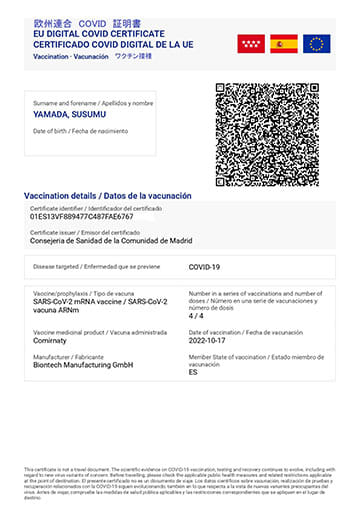 Image 2
Image 2 is the European Union-wide vaccination certificate. After you've had your vaccination, if you want to get a certificate, you can access the EU website or your local government website and download it. There are fewer situations when you need to show it, but I got one just to be sure because it's still unclear how this pandemic will unfold. By the way, you don't absolutely need one when entering Japan, but apparently people who have one get through the quarantine inspection more easily.
In terms of the pain from the vaccine injection, there was just a little sting, the same as before. Speaking of which, before an injection in Japan they tell you, "There'll just be a little sting." right? They say that the reason for doing that is to relax any tension or fear on the part of the person receiving the injection, but I have also heard that the real, hidden intention is to say, "I'm going to stick a needle into you now so don't move, OK!" The side effects I got after the vaccination this time were swelling and pain, which appeared that night, but it settled down in 3 days without the help of ice or drugs.
So that's how in Spain you get intramuscular injections of both vaccines, one in each arm. They say that compared to the subcutaneous injections you get in Japan when you have a flu vaccination, there is less of a localized reaction like pain and swelling at the time of the injection, as well as afterwards, and that because an intramuscular injection provokes a stronger immune response it is the mainstream method throughout the world. Apparently simultaneous vaccinations are permitted in Japan too this year, unlike last year, but the injection methods for each vaccine differ, so I guess there may be some confusion with vaccinations in clinics. If they had a sense of urgency about "initiatives in step with the world on the basis of scientific findings" wouldn't they make intramuscular injection of flu vaccines the norm as soon as possible?
In any event, now, a little under 3 years since WHO recognized COVID-19 in January 2020, we will probably deal with the continuing evolution and mutation of the novel coronavirus by continuing the battle, maintaining our usual social lives, coexisting with COVID (living "with COVID") rather than aiming to completely eliminate it ("zero COVID"). Which might mean that, like last year and this year, getting twin vaccinations for COVID and flu will become a regular annual event from next year on. It would be more convenient if they developed a vaccine combining the 2, flu and COVID, but then, maybe I'm just grumbling, as a side effect of the vaccines.