When I started my life in Madrid as a student about half a century ago, I used to walk every day to and from my downtown lodgings to the university where I was enrolled, a one-way trip of 6 km, with the intention of exploring the city while at the same time saving what little foreign currency I had brought from Japan. One of the pleasures of university student life was lunch time in the student canteen. They served a daily set menu from Monday to Friday of 2 set dishes with dessert. Of those dishes, I was particularly grateful for the paella, which was always the first dish served on Thursday. Although it was "paella" in name only—a simple dish of yellow rice and just 2 or 3 mussels—to a poor student who was missing Japanese food it was a treasured meal of rice, and I could even get second helpings, so I thoroughly enjoyed it. On the paella days, the second dish they always served was fried eggs, but second helpings of that were not allowed.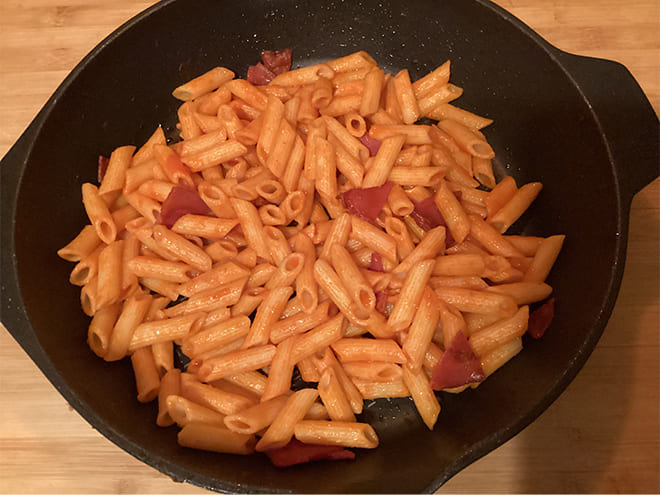 Photo 1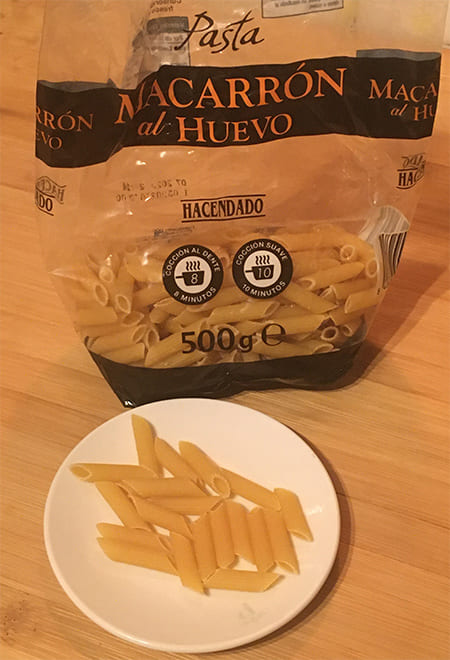 Photo 2
On the other days, the first dish was often "macarrones con tomate" (macaroni with tomato sauce). This was also a simple affair, with little scraps of chorizo sausage visible here and there, and pasta overboiled till floppy, with complete disregard for such notions as "al dente," mixed with tomato sauce. The first time I ate it I got slight culture shock from the overboiling, but for a hungry student who used to walk to and from university every day, it seemed good enough, and it too was a dish I inevitably had seconds of. Even at my age, I sometimes reproduce this dish at home with a sense of nostalgia. Photo 1 shows the reproduced macaroni with tomato sauce, but probably firmer than back then. The macaroni they serve in Spain is mostly penne, a tubular pasta cut diagonally at both ends, and as well as that, what they call in Italy "penne rigate," which has furrows. Photo 2 shows "macarrón al huevo," penne with furrows labeled as egg macaroni.
On balance, Spain used to be more conservative about food but has been gradually becoming more gourmet-minded, and as more authentic Italian restaurants have opened up, people have even started saying that pasta must be al dente. However, I think what most Spanish people still prefer is soft pasta. Britons probably share that same preference, so it's mostly soft pasta that restaurants catering to travelers serve to Britons in the popular resort destinations like the Costa del Sol, Majorca Island, and the Canary Islands. Be that as it may, I can give you an example of it being overdone when I once tried canned tomato spaghetti, which I thought was made in the UK, out of a desire to see something shocking. It was whitish spaghetti on the verge of becoming gelatinized, it was drowning in a thick tomato juice and had a weird kind of texture, so after the first mouthful I couldn't take any more.
In any case, food preferences are highly individual matters, so there are probably some people who prefer their udon soft, but like their ramen very firm, for example. I once accompanied a group of Spaniards on a trip to Japan and noted that they were all impressed by the tenderness of the brand-name beef, cooked teppanyaki style, that they ate at the steak bar in a hotel. Nevertheless, some commented that they preferred savoring the flavor of slightly tough beef while giving it a thorough chew, which they thought was delicious. And then, while a food critic might praise a dish with cliched words of praise like "tender," "well balanced," "juicy!" and so on, someone else might say that the same dish "has no chewiness," "is nondescript," or "is gooey."
I think the firmness of your pasta is a question of personal preference, because it is important that the person eating it is allowed the freedom to enjoy the taste as being truly delicious, even if others value genuineness and the orthodox school and put out the message that authentic pasta can only ever be al dente. The same goes for the cooking method. What about an "authentic carbonara" with fresh cream and Dutch gouda cheese, which would probably never be used in the home of pasta, Rome? It wouldn't be tossed out as being entirely wrong, would it? That's because these days people have no problem with a platter of sushi being called "Edo-mae sushi" ("Tokyo sushi") even if it includes salmon "nigiri" ("molded" sushi shaped in the palm of the hand) and tunamayo "gunkan" ("battleship" sushi wrapped in a fence-like strip of nori seaweed).
By the way, I wonder if the majority of Italians, wherever and whoever they are, are of the opinion that pasta can only be cooked al dente. I would be happy to hear your opinion.