Last year I submitted a poor article for the Christmas season about roast suckling lamb, a favorite dish for Christmas feasts in Spain. And I gave a Japanese example: "One of the favorite Christmas dishes in Japan is "Christmas Chicken," roast or fried chicken, right." That was my personal viewpoint, but somehow it seems that this idea has spread to Spain because the other day I spotted in town the Christmas campaign of a fast-food chain where of all things they were running a big promotion of fried chicken, the favorite Japanese Christmas food items, which I commented on last year, thinking I had not been far off the mark.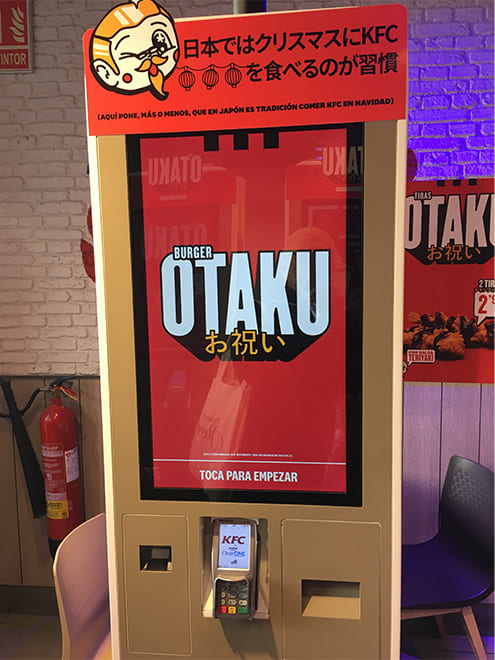 Photos 1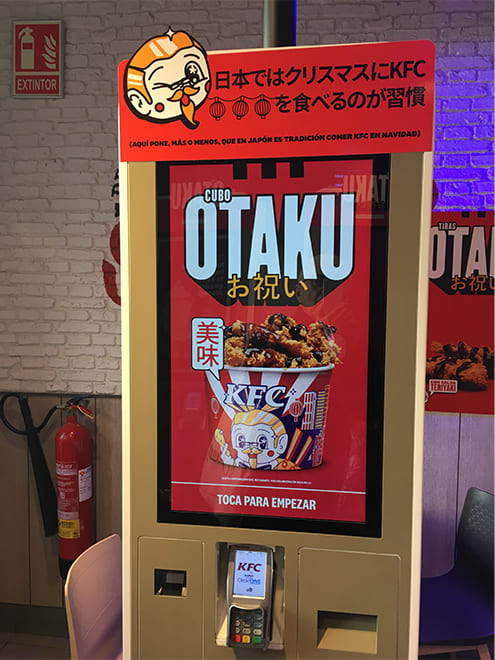 Photos 2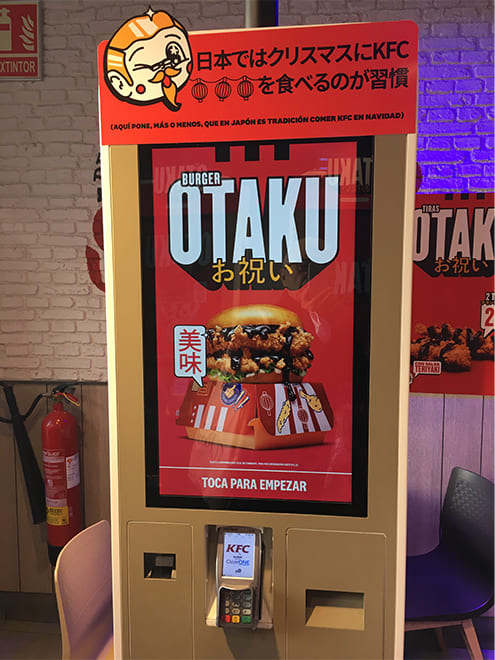 Photos 3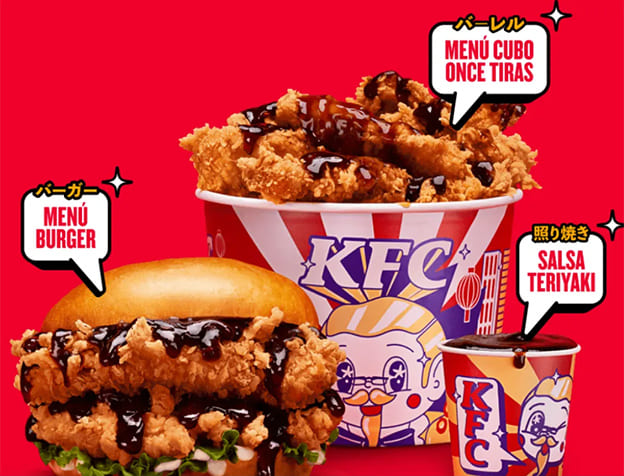 Photos 4
Photos 1 to 3 show the touch panel for ordering inside the fast-food shop. Beginning with the start screen, there were such things as the Otaku Celebration Barrel, the Otaku Celebration Burger and so on, all with exotic writing. There is a translation of the Japanese advertising content attached to the touch panel in Spanish in smaller font at the bottom: "Aquí pone, más o menos, que en Japón es tradición comer KFC en navidad." That means "The approximate meaning of what is written here is 'eating KFC at Christmas is a custom in Japan.'" Photo 4 shows the items in the Otaku campaign.
Here "Otaku" means in Japanese terms, someone who is deeply absorbed in a certain thing and is a fan. It can be expressed in various terms like "maniac," "freak," "fetishist," or "-merchant," but I think, for the most part, Spaniards understand "Otaku" to mean a supporter of cultural pursuits centering on young people as represented in anime, manga, and cosplay.
In the TV program "You wa Nani Shi ni Nippon e?" ("Why Did You Come to Japan?") they call all foreigners "you," and in the KFC promotion, you can sense signs that they are using "Otaku" to refer to Japanese people, and especially young Japanese people and their entire culture. In other words, the fried chicken restaurant from Kentucky with chain stores across the world has probably used "Otaku," a word that might resonate with young Spaniards, as a word that represents contemporary Japanese culture, and as the theme of their Christmas campaign, right. Terms like "Fujiyama," "geisha," "sukiyaki," and "transistor radio" are now ancient history.
And the key part of this Otaku Celebration Chicken was putting "Salsa Teriyaki" (teriyaki sauce), provided for a limited period, on the fried chicken. Fried chicken was originally an elaborate dish where you souse the meat in batter then coat it in at least 10 different herbs, spices, and seasonings, dust it with flour, then deep fry it under pressure. That was itself meant to be the chicken's finished flavor, but I guess they wanted to express something Japanese, somehow represented by the "Otaku," by adding a sweet and spicy teriyaki sauce to it. Photo 4 shows the items in the Otaku campaign. It looks as though putting the teriyaki sauce on makes everything "Otaku."
By the way, I wrote in a previous article about the favorite main dish at Christmas in Spain, either oven roasted piglet or lamb cooked very simply by just seasoning the ingredients with salt then roasting them in the oven, which brings out the pure "umami" flavor of the meat. Contrasting that is the favorite Christmas dish in the UK and the US, probably roast turkey. First, the turkey is marinated to soften it, then it is roasted with butter, potherbs, and so on, and served with gravy and cranberry sauce, which places it as a dish for celebrations. In comparison, the Spanish roast is such an unsophisticated affair, just salted and baked, you can barely call it cooking. Yet perhaps, on the contrary, humbug does not work, and what is required is quality: advanced cooking skills and carefully selected ingredients.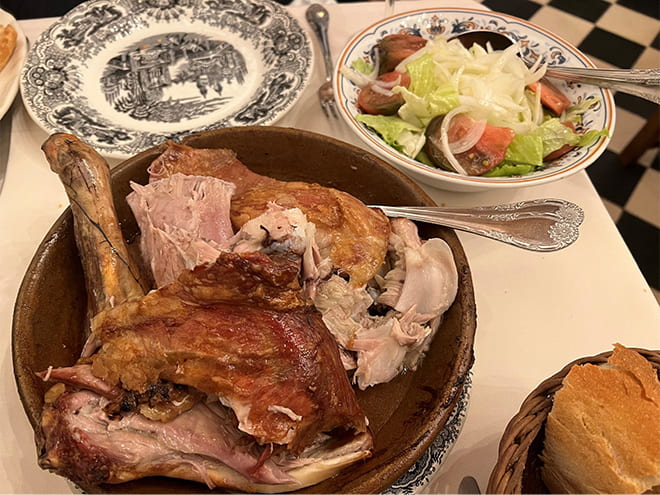 Photo 5
Photo 5: Blunt simplicity for a Christmas celebration dinner, the main dish of roast suckling lamb with a salad of tomato, lettuce, and onion, and the usual dressing of salt, vinegar, and oil.
Speaking of simplicity, it is rare in Spain to have pre-prepared dressings for your salad. Usually, you simply season your salad right there with just the salt, olive oil, and vinegar on the table. It's up to each person to choose the amounts, how to dress the salad, and so on. It's up to each person to choose the amounts, how to dress the salad, and so on. Of course, it's not as though you can't ask the waiter, but normally Spaniards dress their salads themselves, just as the person eating the pork cutlet and cabbage in a set menu dish puts the sauce on themselves.
Here is one of the Spanish traditions to do with dressing salad.
"Para que una ensalada sea perfecta, han de intervenir 4 personas en su elaboración: alguien prudente con la sal, alguien generoso con el aceite, alguien tacaño con el vinagre y un loco para removerlo todo."
"To make the perfect salad, you need the help of 4 people: One careful with salt, one generous with oil, one stingy with vinegar, and a crazy one to mix everything up."