Although I've indicated in my profile as "living outside the capital city of Vilnius," I'll be moving into the city of Vilnius after only my first report. That being the case, I thought it would be a good time to report on the process of searching for and renting a property in Lithuania.First, let me talk about how searching for properties works here. I believe Japan is similar in that there are some Internet sites that list property information. There you can search for properties that you would be interested in. However, there is a bit of a difference in how the system works. In Japan, you are likely to go to the real estate office in the area where you're hoping to find a place, see all the plans that meet all of the requirements you gave them, and then go view the houses you thought were good. Instead, when we find a property that we like on the Internet site, we call the number listed on the page. Then, the agent contacts the property owner, and if he agrees, we can go look at the place. It's rare for a real estate agent to hold the keys to the houses. When the owner is away for work or finds it inconvenient, we're not able to take a look inside the house. If they're away for a few days or a few weeks for vacation, then you have to wait until they come back. That's not such a strange thing here, and in fact, it's happened to me a few times too.Once you are done looking at the property, then the process of signing the contract is quick and easy. All you need is a passport. It's very simple, and there's no need to prepare a tax-income certificate or to have a guarantor like in Japan. There's no need for a security deposit or a key money either. You simply need to prepare these two payments:(1) One month's rent for the current month(2) One month's rent (sometimes two months' rent)With regards to (2), the owner may return it when moving out, similar to the security deposit in Japan, but there are also times when it is applied to the rent for the month (or two months) prior to cancelling the contract. The length of the contract will depend on the owner, but you can sign for your desired length of stay, with the minimum being one month. On top of that, many places are available for next day move-in, which probably makes it more cost effective than hotels if you're a traveler hoping to enjoy a prolonged stay.Most houses in Lithuania come with a TV, refrigerator, bed and basic furniture. Just purchase some daily necessities to start living right away.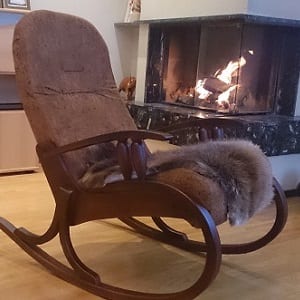 Some properties are equipped with a fireplace.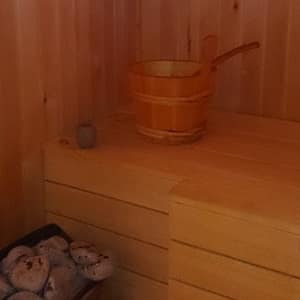 Some have a sauna.
Paying rent can sometimes be done through bank transfer, but in most cases the owner comes in person to pick up the rent every month. Since the real estate company only acts as an intermediary and does not get involved in management, any issues that arise on the property are told directly to the owner. So, the owner coming to pick up the rent each month creates good opportunities to discuss any issues related to the house.The intermediary fee for the real estate agent differs depending on the company. Sometimes it can be free for you if only the owner needs to pay. Sometimes both sides pay a reduced amount and sometimes only the tenant pays. The fee can also vary greatly, ranging from 25 euro to 200 euro, or sometimes it's one month's rent. If you're careful about doing research before searching for a property, you'll be able to cut initial costs.And lastly, peak moving season in Lithuania is the summer. Japan's school year begins in April, but begins in September in Lithuania. So, you'll need to keep in mind that good properties will be quick to go between spring and summer.Well, I hope these points will be of help to you if you ever think about moving to Lithuania (although I think it's quite unlikely).