For Japanese, the popular tourist spots in Italy are probably the cities of Rome, Venice, Florence, Sicily and Milan.The truth is, Milan isn't thought of very highly among Italians. The people of Rome who visit Milan relentlessly disparage the city's gloomy weather. Having lived in Milan for 20 years, my impression is that despite not having the dazzle of Rome and Venice, it's a wonderful city with poetic sightseeing.In my previous post I talked about skeleton bones, and though this time I'd like to talk about some kind of upbeat topic, I don't know what it should be. Perhaps I should tell you about my preoccupation with matters that are chilling. Things that are visible and disquieting are far removed from what is cheerful. In fact, aside from the church of skeletons I wrote about last time, there are still many hidden places of horror in Milan that are creepy and give you the chills. Perhaps because I don't have any kind of sixth sense, there are several places I've passed by without knowing the legends or facts about them and never felt anything out of sorts when going by these places of horror. I'm embarrassed to just be learning about them now after having lived for 20 years in Milan.The Basilica of Saint Ambrose is one of the oldest churches in Milan and enshrines the guardian deity of the city. It retains a stunning beauty that makes every visitor sigh. Enchanted by the beautiful church exterior, visitors fail to notice the white pillar standing to the side of the church. Even I, who have been to this church many times, never once in 20 years realized it was there. The single white pillar looks as if it has been left behind. Actually, it is called "Satan's pillar." Apparently, there are 2 holes in this pillar, but I'd never gotten close enough to be able to really look at these holes. When I thought about that, I began to think it might mean that though I'd thought I didn't have a sixth sense, maybe I unconsciously avoided getting close because of some extrasensory perception. It seems that if you look closely at the 2 holes, there is something stuffed into them—2 devil's horns that got stuck when St. Ambrose cast out the devil…the legend of the 2 holes is full of reality.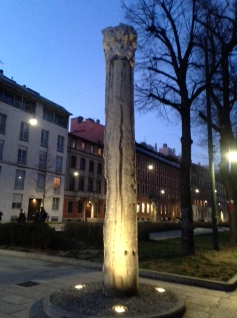 After reading research and history on the Basilica of Saint Ambrose, I recently realized it is rich with various things to discover, so much so that I'm ashamed that until now I'd only looked superficially at the church.Besides the church's general history, there are unusual distinctive features. There is a chessboard embedded into a part of the church wall that looks as if it's being swallowed up, and a bronze serpent adorning the top of the pillar that they say will start moving and crawl down on Judgment Day. Am I the only one who thinks that's spooky?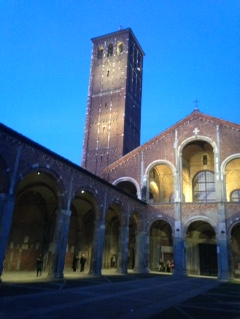 I keenly feel that my explorations of Milan are going to become more and more interesting.