Those of you who work—how did you end up choosing your job?I was born into a music-loving family, so grew up around musical instruments from a young age. It wasn't that I had any special talent for music, but I always had the sense that musicians were artists and somehow wonderful—so I just kind of ended up on that path. Maybe that's why I've lived a life where there's not much distinction between my personal interests and my work.The reason I bring this up is that when I look around at my co-workers and acquaintances, it seems that for the most part they have hobbies that they flee to on their days off. One example that made me smile was when one of the members of the La Scala opera house in Milan self-consciously told me that he brought his beloved mountain biking magazines with him on a one-month overseas tour so that he wouldn't miss it so much.

I couldn't help but smile as I pictured him gazing at the mountain biking photos as if they were pictures of a beloved girlfriend. Those who can't get by with mountain biking magazines alone actually go out mountain biking when they are on tour as well. Now that's serious dedication. On the other hand, it sheds light on just how difficult working life must be for those people.I know a man named Andrea (his designer name is Old Randa), who was working as the stage manager for an Italian television program that I appeared in. By chance I came to learn about his sideline business, which is adding colored designs to leather footwear. Apparently he applies a coating to them using alcohol-based pigments. Andrea grew up in a tiny town called Vigevano about fifty kilometers outside of Milan. It's actually quite well-known for its beautiful town square.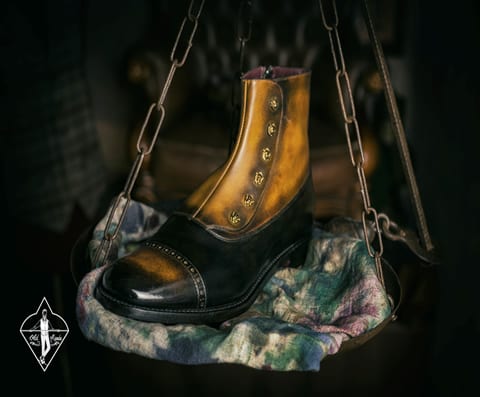 I'm guessing it's a town that has been home to many artisans. I hear that it actually has long been a hotspot for shoemaking, and that Andrea's parents and generations before that were shoemakers and various other types of artisans as well. So he grew up surrounded by artisan tools, smells, sounds, and so on from a young age. They're all familiar to him. No doubt his interest in shoemaking first began with him innocently picking up the tools that were all around him.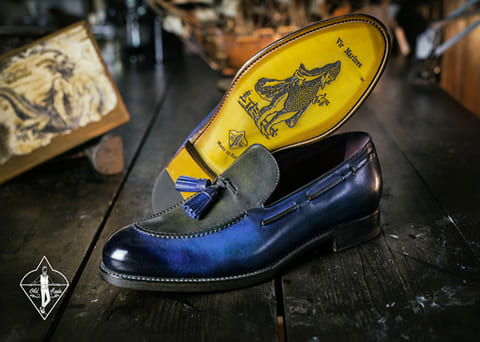 After crafting shoes from leather, Andrea adds color to the freshly cut ecru leather. He says he sometimes works for ten hours straight without a break. And it seems that for the most part, Japanese men are taking a liking to the shoes he designs and colors with such passion. Not only do their unique color combinations and artistic Italian touch make them perfect fashion-forward shoes for those Japanese men who are fastidious about their look, but they're also attractive because they're 100% handmade and brimming with the distinctive character of a one-of-a-kind item. Andrea told me that he creates his carefully-crafted shoes by infusing them with the concentrated value that comes from stopping a precious moment in time and capturing it—much like a Polaroid picture.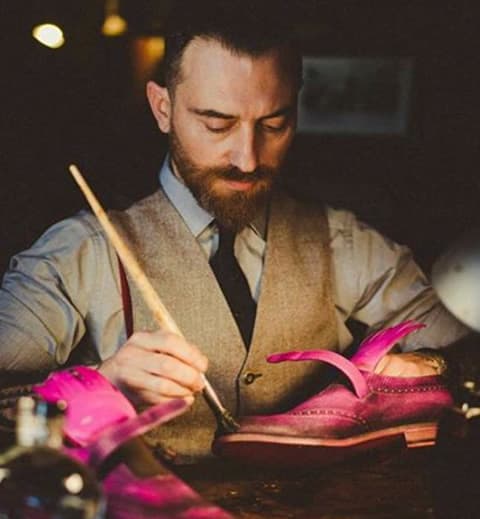 In 2016, the town of Vigevano set up a shoe museum. Will Andrea's designs and passions, which have come out of this town, continue to spread around the world? I'm excited to find out.