The other day, I read an article on the latest album from Italian mezzo-soprano singer Cecilia Bartoli. My resulting curiosity led me to search for information on various topics, eventually leading me into the world of the castrato.
A picture of a person who wasn't clearly male or female took me by surprise… what was this about, I wondered?
I started to read, and discovered that the article was about how her newest album was a tribute to an Italian castrato singer who lived 300 years ago.
And the cover of the album is a half-naked woman wearing a false mustache and disguised as a man.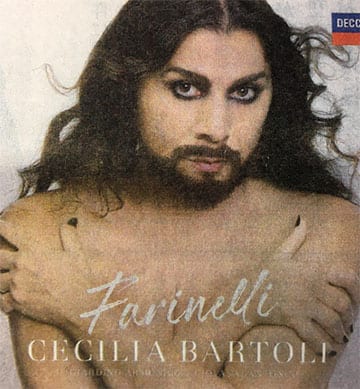 Apparently, the castrati were hugely successful stars in eighteenth-century Italy. Castration is no longer legal, and since this was back in the age before recordings, it isn't possible to hear the voice of a castrato. So all we can do now is imagine a male singing in a high vocal range known as counter-tenor. It is said that women patrons would swoon when they heard the beautiful voice of a castrato—and OK? swoon at a live performance, it definitely made me want to experience the power of it for myself.
It's hard to picture anything but a gruesome reality when we hear the word "castration", so I hesitated to dig into the topic, but it turns out that it wasn't as freakish a practice as I thought. Given the tremendous income the castrati could receive, it was a relatively normal option and a procedure that was performed fairly frequently.
Given the culture at the time, there were even establishments with signs advertising that they castrated boys!
These boys were castrated by their parents in the hopes that they would become stars. That said, not everyone could just be castrated and become a singer. It was time when many boys were castrated without knowing whether they had the talent to become successful.
Now that's truly tragic.
So there were parents who would castrate their sons in the hopes that they'd end up making an extraordinary amount of money. Apparently it was an age when heartless ignorance drove scores of parents to abuse and berate their children when they later found out that they had no singing talent after all.
Before that, the church only castrated men as punishment for lascivious and licentious behavior, but it also allowed these abandoned castrated boys and castrato who either couldn't make it professionally or who had retired into the priesthood. Because they started offering refuge to them, their stance on castration began to change.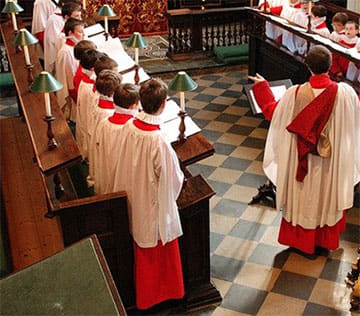 Incidentally, there are still boy sopranos who sing in a high vocal range, and their history extends beyond that of the castrati. But the vocal richness and roles that the operas popular at that time demanded meant that their immaturity caused problems in terms of their ability to perform. There was also the issue of finding another boy soprano once their voices started changing, making the castrati increasingly sought-after.
Furthermore, the church did not allow women to sing in those days, which had a great impact on the castrati as well.
Interestingly, the voice of countertenor Jochen Kowalski, now considered the best in the world, isn't favored much in Italy—despite the fact that he is an internationally recognized singer.
I wonder whether the countless tragedies during the peak of the castrato era have affected their attitude…