The coronavirus threw a wrench in the Italians' vacation plans this summer.
It's finally August, and though they finally lifted the restrictions that prevented people from visiting other European countries in their private vehicles, neighboring countries like Austria had staunchly closed their borders to Italians up until a month or two ago, so that wherever you went, there was still a feeling that they weren't welcome.
So 2020 was the year when Italians were strongly encouraged to travel within their own borders. Given that, I decided to head to Elba Island in Tuscany. It's idolized by ocean-loving Italians, who herald it as a paradise.
At this time of year, it's about a half-day's drive from Milan. The final leg involves putting your car on a ferry and crossing over to the island, which takes about forty minutes. Just five minutes after you leave port, you're surrounded by green mountains and tucked into valleys, the entire landscape impressively covered in so much greenery that's often called la macchia mediterranea (the shrubland of the Mediterranean).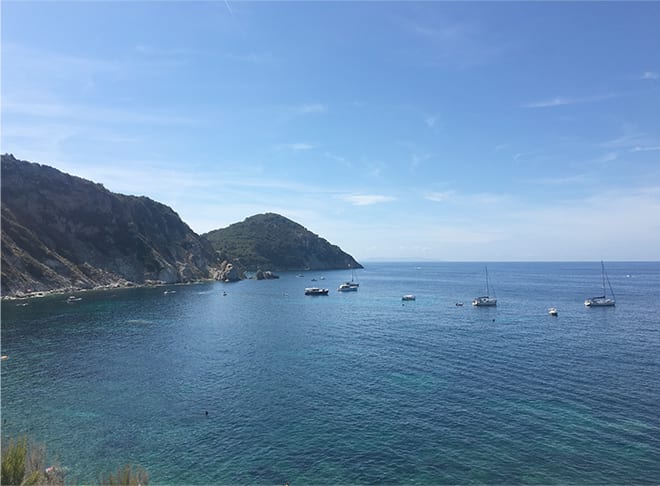 Napoleon was banished here once after having lost a battle to the Russians, which legend says gave rise to the famous palindrome, "Able was I ere I saw Elba."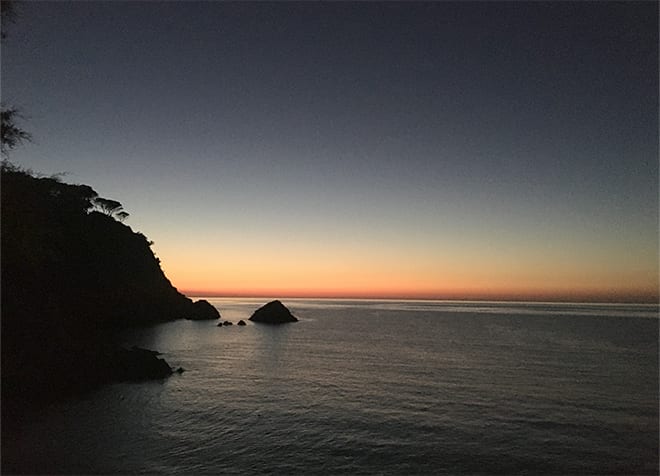 This idyllic landscape hardly seems appropriate for punishment, but apparently Napoleon managed to escape in less than three hundred days with the intent of restoring his leadership—so he didn't even spend a year on the island. The way he lived while he was here is a testament to his character and dynamism. His residence was a simple one, as was the villa he kept about five kilometers away. He planted shade trees and vineyards to make wine, constructed a theater and a hospital, contributing greatly to the economic health of Elba Island. The national flag of Elba has three bees on it, which I thought was a curious design. One explanation says that they stand for the beelike industriousness that Napoleon insisted upon.
You may find it strange to learn that Elba has its own national flag, but the people of Elba consider their island a sovereign nation. I thought it was interesting that the captain of the ship I rode said, "on a clear day you can see Italy from here," underlining the fact that to them, Italy and Elba were separate places.
Incidentally, the main port you enter when you travel to Elba by ferry is called Portoferraio, or "steel port". This comes from the fact that there are several coal mines on the island, all of them offering tours. They're currently dormant, though the locals told me that they could all be restarted in a pinch. They even said that if war were to break out, Elba could be an important weapons manufacturing site. It seems like a joking explanation, but I'm pretty sure they were half-serious. A perspective that's a parting gift from Napoleon, perhaps?
Elba is surrounded by several smaller islands, but the one I was most curious about was Monte Cristo. The island was made famous by Les Misérables, but I came to find out that it's incredibly difficult to get to. They limit the number of visitors to just two thousand a year, and all the 2020 reservations were sold out. In any case, once I read the fine print I realized that you need to be thoroughly prepared if you want to go see it.
I wonder if I'll ever be able to go there someday…