There are plenty of things to admire about Italy—the architecture, the cars, the handsome soccer players… but one thing everyone can agree on is that the Italians have amazing fashion sense, particularly when it comes to shoes.
It's to the point where you can find amazing shoe designs even in the inconspicuous little shoe shops scattered throughout town. Maybe it's because it's still part of their culture to keep your shoes on when you come in the house, but the Italians are incredibly good at matching their shoes with their clothes. Seeing all these Italians dressed in their perfectly coordinated outfits from head to toe has led me scold myself on many occasions for not upgrading my own fashion sense and paying attention to style details. I mean, I'm living in Italy after all. Whether they're going for an elegant, dressed-up look, something casual, or something sporty, they seem to think of everything—from coordinating colors to creating a unified sense of style. They're chic to the last detail, right down to their toes. I know a woman who doesn't seem to pay that much attention to fashion, but when I was invited to her house I discovered that even she had an unbelievable number of shoes. Italian men make fun of Italian women and their attachment to dozens of pairs of shoes by saying they'd be even happier if they were born a millipede!
As for my own collection, I have far more black heels than anything else, which is probably because I'm a stage performer. I have one pair of running shoes, and it wouldn't be exaggerating to say that I basically closed my eyes and picked whatever my hand hit. Who cares about color and design as long as you can run comfortably? Although I'm sure the sneaker fanatics out there will criticize me for going about it all wrong.
I took a peek at some of the Nikes the young Italians are always cooing over, saying how cool they are, how well designed, how much they want a pair… and they've got a 700-dollar or 800-dollar price tag! As someone who's never spent a fortune on a pair of sneakers, I almost fell over from the shock.
One of my friends called me a "sneaker noob" for being so surprised. He told me I should go to Dropout in Milan. Dropout is a boutique that resells limited-edition sneakers and streetwear. I was shocked to see it full of items carefully protected in individual glass cases. There were even a few items that were not for sale—the most famous of them a sneaker called the Nike Air Jordan 1 Shattered Backboard. They're so rare that shoppers and tourists apparently file endlessly into the store just to take pictures of them.
It all started when Andrea, the owner of the store, noticed something strange when he got home and took a new pair of sneakers he had purchased out of the box. When he looked closely, he discovered that the Nike emblem was sewn on upside-down on just one of the shoes.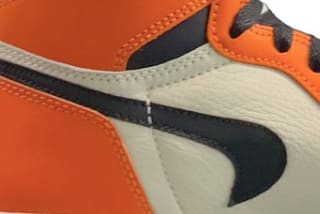 Figuring he couldn't resell them, he was planning on returning the defective shoes to the store. But something came over him and he decided to see what reaction they'd get on social media. The positive reactions exploded—but that wasn't all. People even started offering to buy them for 3,000 euros! They didn't see them as defective, they saw them as a work of art. When he tried putting them on eBay, bidders eventually drove the price up to 148,000 euros (nearly 180,000 dollars)!
Apparently there's a fine line between failure and great success…