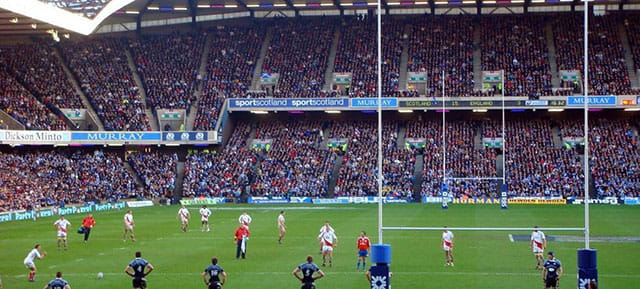 Australians love to play sports and whatever the discipline, their practice takes up a very substantial part of their lives, to such an extent that most of their free time (what they do not occupy by making BBQ with friends and relatives) is dedicated precisely to play sports and train for them!
Australians are crazy about sports and fitness and they attribute to many sports strong nationalistic connotations. And not only do they love sports, but they also love winning at them, as shown by the numerous medals that the Australian team has managed to win in the last Olympic editions. Despite these excellent results in the international arena, the most followed and appreciated sport is Australian football, easily comparable to a kind of tribal combat with purely national boundaries. The salient features of this agonistic activity, decidedly unsafe, are the long kicks, the markings and the brutal tackles that animate the adverse supporters and glue millions of TV viewers to their TVs.
A small minority believes, instead, that it is rugby the national sport. It is mainly practiced in the Northern Territory. Requirements necessary to be able to approach this activity is undoubtedly a good, if not massive, physical constitution to be able to oppose the strength of the opponent. The rugby with thirteen players is the brother of the classic rugby with fifteen players.
Soccer has a shorter tradition but its popularity is on the rise. This is thanks to the national soccer championship.
Another sport, much loved and practiced, is swimming, a discipline in which Australia excels in the international arena and that most of the population habitually practices. Indeed, Australians claim to be able to dodge even a shark if they encounter one! A sport, instead, decidedly inherited from the beloved British crown, is cricket that still boasts adepts, despite being a rather boring sport and a game can last even five days !
An internationally renowned tournament that every year attracts a large audience of spectators, is the Tennis Open which is always held in Melbourne.
An all-Australian peculiarity is netball. This is a sport halfway between basketball and handball which is widely practiced by Ozzie women. Another spectacular event that takes place in the Melbourne street circuit in March, is the Formula Uno Grand Prix and, after about 200 kms and a few months, two-wheel lovers can watch the Moto GP in the circuit of Philip Island.
Australia hosts two of the biggest camel racing event in the world: the Camel Cup held every year in Alice Springs, and the Boulia Desert Sands, held in Queensland.
Camels do not look like racing animals? Then you should know that they can reach the speed of 65 km per hour and keep the speed of 40 km per hour for up to an hour.
Camel races, just like horse racing events, also encourage a lot of bets, camel beauty contests, and even markets selling camel-related products, such as milk.
The lists of sports, loved and practiced in Australia, is truly endless, from the most traditional to the strangest and most bizarre, such as the traditional 'race with the wife on the shoulder' in which, however, Australia has not yet managed to snatch the first place from their Estonian and Finnish competitor teams! And again, in order not to get bored, a very popular sporting event that also takes on folkloristic connotations is the Melbourne Cup in which the inhabitants go to the racecourse dressed in a carnival-like manner to say the least: with funky hats, tuxedos, colourful underpants or funny dresses!! As you can easily see for yourself, in Australia there is something for all tastes and physical prep both for those who practice sport and for those who prefer to just follow it comfortably sitting in the stands or in front of the TV. The choice is yours…