Some friends of mine back in Italy are planning their trip to Australia for when the borders will reopen (Ouch! It seems it will still take a loooong while) so they can have an itinerary ready once they will be able to come visit me here and they would like to visit some places near Sydney too during their stay.
Australia is such a beautiful country but (another Ouch!) it's so big and vast one would need at least 2 months to have a nice trip here and not many people can afford to take 2 months off work so I'm suggesting my friends who would come to visit me to just stick to Sydney and visit perhaps the Blue Mountains and Murramarang National Park.
We can find the gorgeous Murramarang National Park on the coast of New South Wales, 3 hours south of Sydney.
It is here, in this little slice of paradise that a couple of years ago I had chosen to spend a weekend getaway away from the city, to taste the simple pleasures of camping and to experience the OZ bush and that's where I'd like to take my friends to repeat the experience.
But let me tell you about my experience in amazing Murramarang National Park that I had some years ago so you may get familiar with this place not too far from our beautiful Sydney'.
The Murramarang National Park hosts many endemic animals such as kangaroos, echidnas and a vast variety of parrots.
Also, for flower and plant lovers, Australia is truly a paradise. Exotic and wild species are scattered everywhere in Australia, from the oceanic coasts to the rocky areas and Murramarang National Park is no exception.
It has many exotic plants like the forest of majestic spotted gums, one of the biggest ones in NSW. The forest stretches right down to the ocean and is truly amazing to see.
The road from Sydney is long but worth it every bit.
The time I went I was with my friends and, along the way, we took a few short fuel breaks to get some energy drinks and fuel and to have a detour to go to a supermarket to stock up on camping supplies.
We had left Sydney very early in the morning and, in the middle of the afternoon, we finally left the main road to get onto a small dirt road that goes through the eucalyptus trees to enter the national park. I was a bit worried about the condition of my car when I had to leave the slick surfaces of the paved road but I enjoyed those bumps!
We got to the most famous beach in the park: Pebbly Beach, heaven on Earth!
Our camping was small, modest and with a block of showers and even a few cabins for rent for vacationers who want more comfort.
On the grass, we saw a few kangaroos busy grazing, while the trees are inhabited by king parrots (red and green parrots) and rainbow lorikeets (parrots of all colours).
At the campsite, on our neighbours' camping table, I even noticed a kookaburra which had landed on the edge of a portable stove…the bird observed its surroundings for a few long minutes, then took off again.
They are my favourite OZ birds, with their typical laughter…
At Pebbly Beach, a wide white sandbank opened out to the ocean, a bay bordered by wooded hills. In swimsuits, we ran to play in the waves, we took advantage of this incredible privilege of proximity of sea and lush forest: a true show of the beauty of Australian nature. The water was warm and after a long swim we returned to camp relaxed and happy. A good shower then everyone dispersed to collect firewood and take out the provisions for barbecue time!
But, apparently, Mother Nature had something else on her mind: clouds were rapidly approaching and the storm was closing over our heads. It was in a fine downpour that I kept our fire going so that our sausages and steaks could grill.
Unfortunately, it rained the whole next day too so we basically enjoyed only one day at this wonderful location.
PHOTO GALLERY By Alberto Ferrando
The only photo I took before hell broke loose and a huge thunderstorm 'ruined' our weekend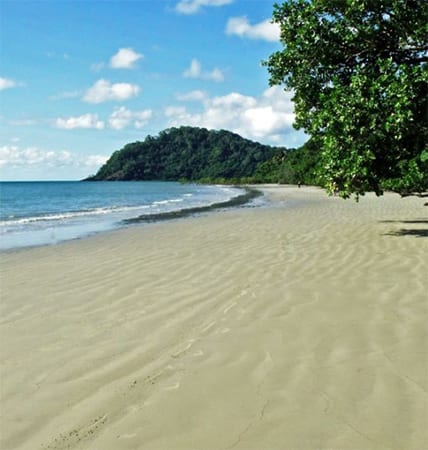 Murramarang National Park