I first visited the U.S. two years ago. I remember being really stumped about what kind of souvenirs I should buy for my colleagues and friends. In Japan, no matter where you go there are lots of sweets sold as souvenirs, including items unique to a certain site. They're also individually wrapped, making it easy to hand them out. I think it's safe to say that when you visit a Japanese tourist site, there's almost always a souvenir shop. Of course, in the U.S. there are also many products sold as souvenirs, including original mugs and keychains specific to an area, but I worry about the cost of buying souvenirs for so many people and the weight restrictions on luggage when going home…Also, when talking of famous American things many probably think of things like hamburgers, pizzas, and steaks. Naturally, those can only be enjoyed on the spot and can't be taken back home with you. I recommend buying items such as sweets and spices at supermarkets, but recently well-known American sweets can be bought at shops that import them in Japan. So, in this post my personal recommendation for buying American souvenirs is this shop.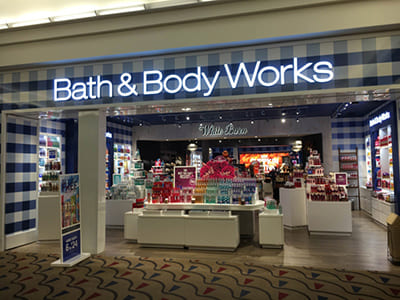 "Bath & Body Works." The shop was established here in New Albany, Ohio in 1990. It's a popular American brand that now has 1,665 stores nationwide. (It's not in Japan yet!) It sells body care products including body creams, hand soaps, and perfumes, as well as things like room sprays and candles. There are many different fragrances for each of the products, which have unique, cute names. All of them smell really good. New fragrances are added one after another, depending on the season, so it's fun to visit anytime. When I visited, the shop had just added Halloween, Thanksgiving, and winter products. The displays are always amazing and give a feel for seasons and events. I get kind of excited when I go to the shop.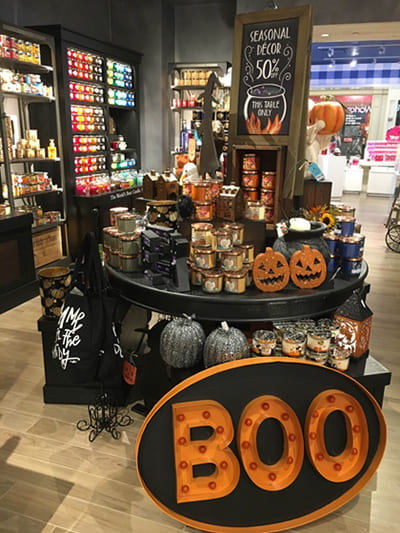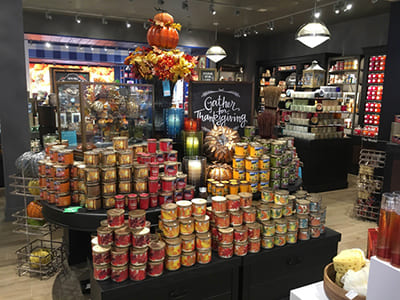 The theme for this display of candles is fall. The candles have names you're not likely to see in Japan, such as "Pumpkin Spiced Cheesecake," "Golden Autumn Day," and "Marshmallow Fireside."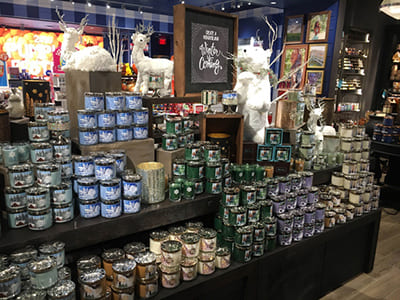 The theme of this display is winter. It features candles with interesting names like "Fresh Sparkling Snow," "Vanilla Snowflake," and "Sweater Weather." Personally, as a Japanese person I was happy when I saw there's also a "Japanese Cherry Blossom" series. It has a really wonderful smell, too, and is a popular series.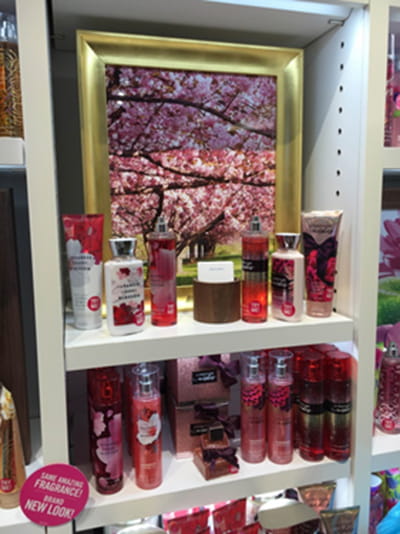 Depending on the product, there are often discounts such as "Buy 3, Get 2 Free," so it saves money to buy several at once.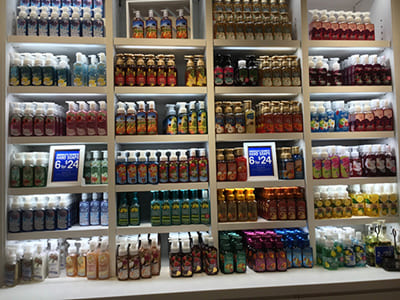 These hand soaps that come in many varieties were sold at six for $24. One of the products I recommend is the hand sanitizer.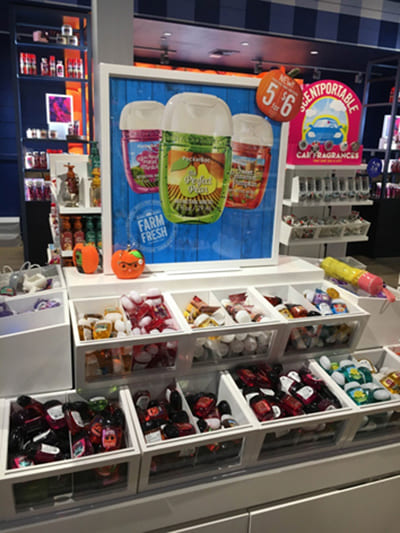 The hand sanitizer is a germ-killing, disinfecting gel for hands that I often use before eating out at a restaurant, for example. It may not be a very familiar product in Japan, but in the U.S. almost everyone carries one with them. Hand sanitizer is also often put at entrances to places such as shopping malls, restaurants, and offices.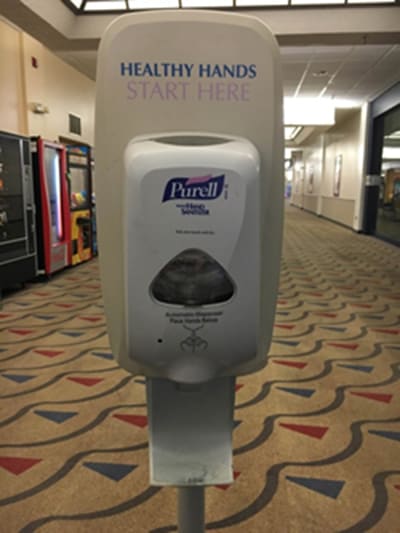 This hand sanitizer is small and won't take up space. I think it's a useful souvenir for men or women.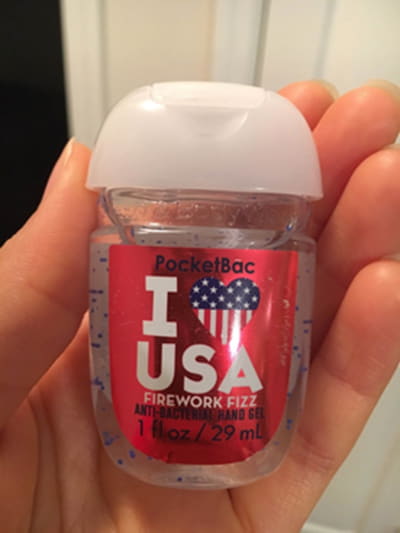 The package says, "I ♡ USA," so it's perfect for an American souvenir! There are also other products that make great souvenirs, such as mini-size hand creams and room sprays.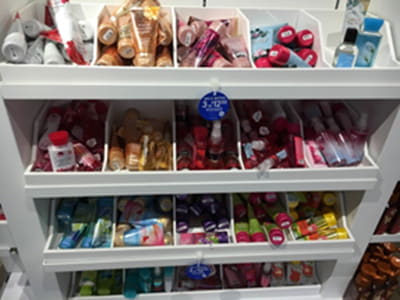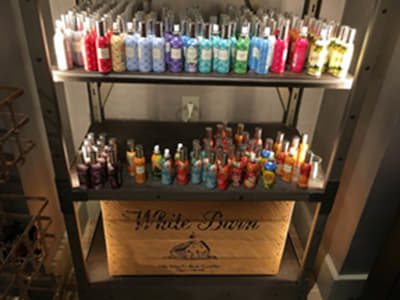 They come in a wide variety, from sweet scents to refreshing scents, so it's fun to look for the fragrance you like. You can try out hand soaps and creams when you find a fragrance that appeals to you. Of course, there are shelves of products for men (body sprays, body soaps, etc.) as well as women. Plus, the shop also sells products from the long-established American pharmacy, C.O. Bigelow. I recommend those, too. The products are high quality and have fresh fragrances, so I think they'd make souvenirs that either men or women would be happy to get. The packages are stylish, too. They can be bought in Japan at boutiques, but here they're around half the price.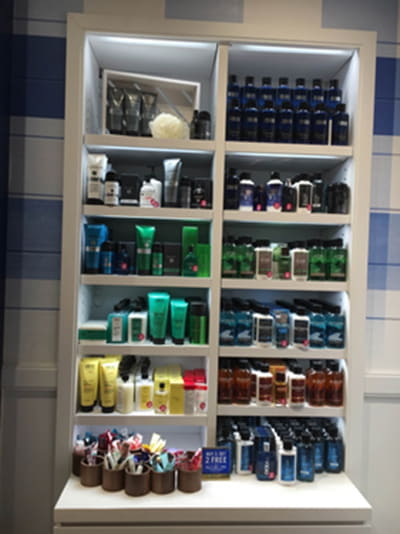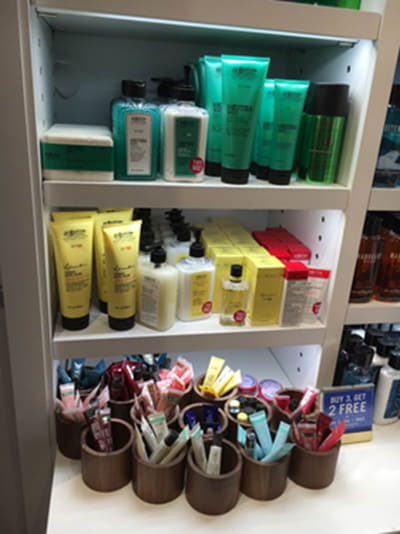 People visit different places in the U.S. and have different preferences, so it may not suit everyone, but if you don't know what souvenirs to buy family, friends, or a special someone, I recommend visiting Bath & Body Works. I think that finding a fragrance just right for them will make a wonderful, thoughtful souvenir.
REPOTER
Erika Anderson

Age

Sheep( HITSUJI )

Gender

Female

Job

housewife
I moved to the United States in May after getting married. My hobby is baking.I want to spread the joy of delicate and delicious baked sweets I learned how to create in Japan.