A friend of mine visited from Japan the other day. She works as a wedding planner in Japan. She wanted to check out some American bridal shops, so we had a look at three shops in the local area. Although they're called bridal shops, anyone is free to go in and have a look around the whole shop. Here is the first shop.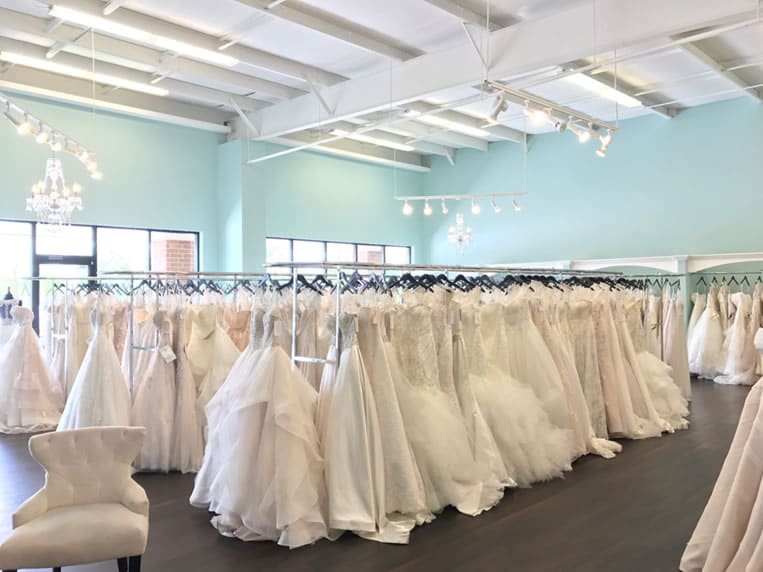 When we opened the door we saw a lot of beautiful, gorgeous wedding dresses in rows. Just looking at the dresses made me feel happy. The white dresses looked great against the tiffany blue walls. They came in various colors, cuts, and fabrics, but they were all truly fabulous. What surprised me about each of the shops is that most brides must end up wondering how to narrow down their selection to one dress out of the huge variety on offer. It seemed it must be quite hard to come across the one dress of their dreams. As well as wedding dresses, there were of course a lot of different dresses for bride's maids, and the fitting rooms were very spacious.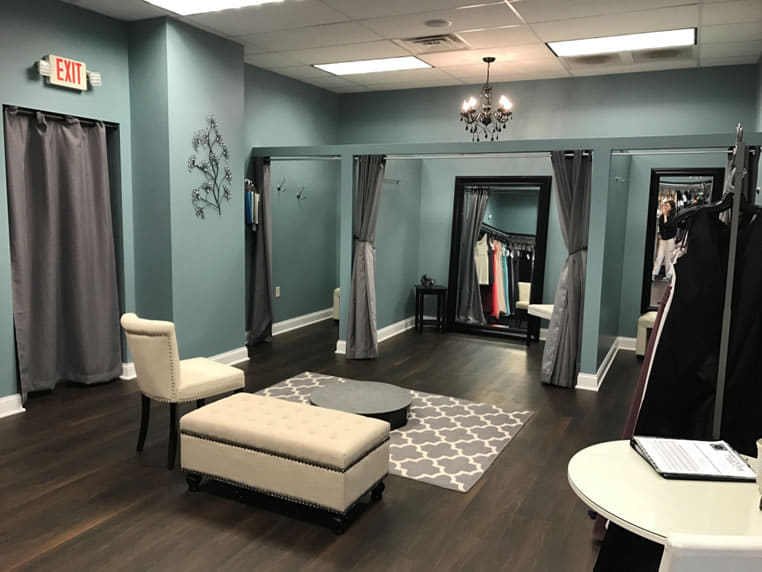 We found various accessories, gorgeous long veils, and wedding shoes, apart from the dresses.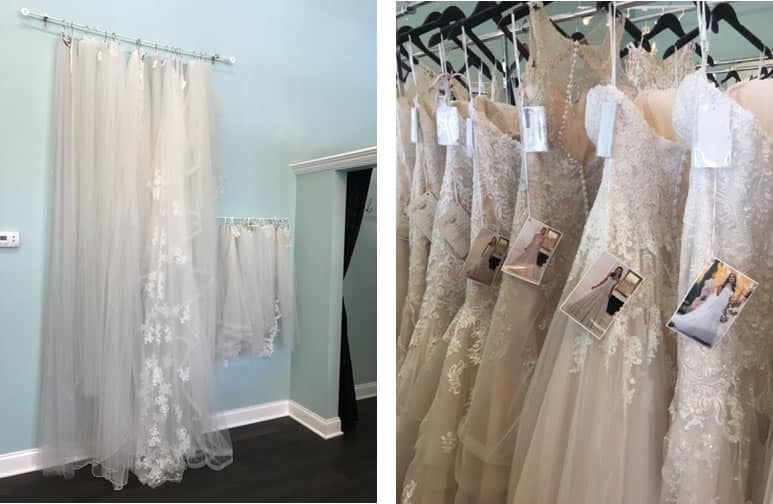 Attached to each dress was a helpful picture showing a model wearing that dress.On to the second shop, which had a high ceiling and had the glamor of a hotel. That said, the shop assistant was very friendly, and after she gave us a brief introduction to the shop, we were free to have a look around.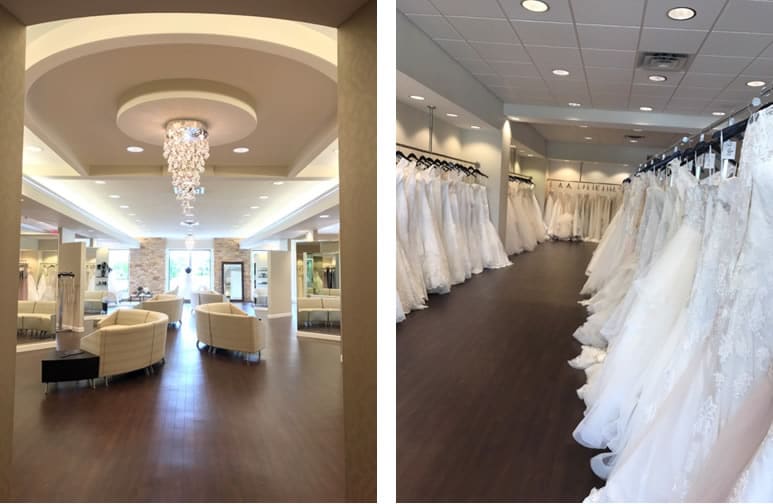 There were glittering accessories and a lot of different sash belts.The last shop we went to was a big one offering a comprehensive range to meet all wedding needs, including dresses as well as gifts, decoration goods, and accessories used on the day of the ceremony. The atmosphere here was more casual than the other two shops and it had a wider range of dresses, including formal and party dresses as well as the wedding, bride's maid, and flower girl dresses.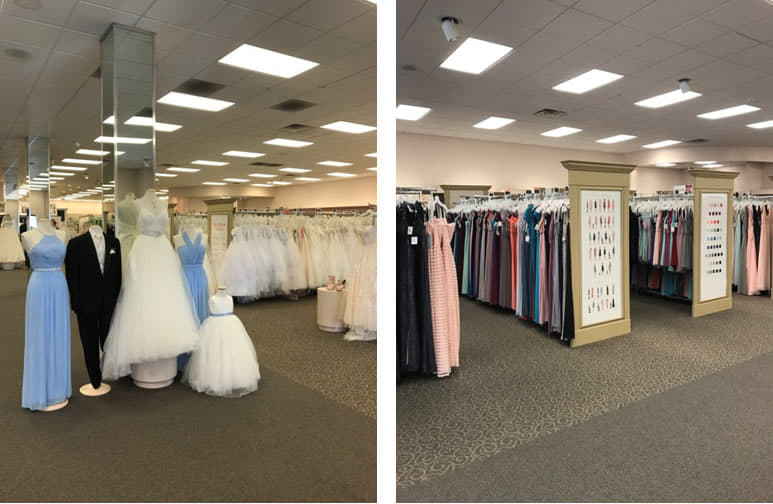 At most wedding ceremonies in the US, you will find bride's maids and groom's men helping out, so this shop also had a lot of goods for them.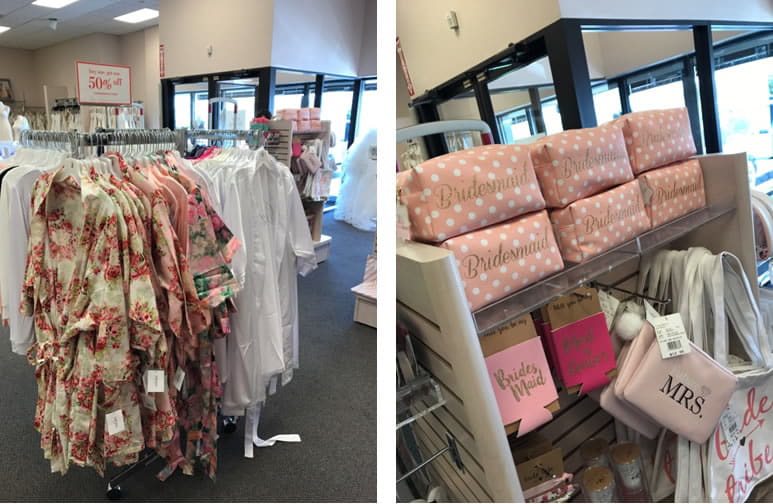 Personally, I thought these goods were rather interesting.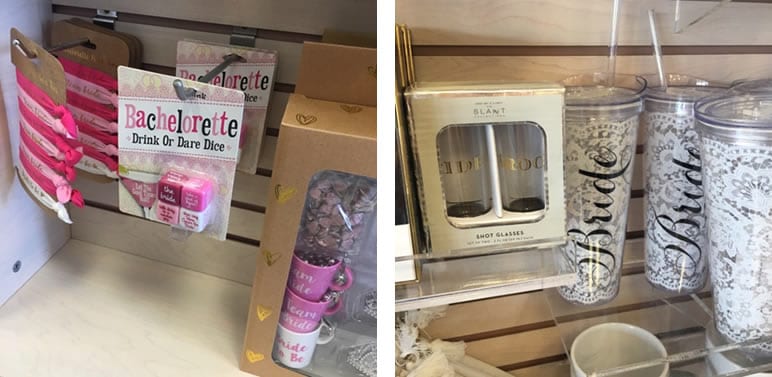 The cute and colorful dice in the left-hand photo are for a bachelorette party game. You play the game by rolling the dice then doing what it says on the dice, for example "Person A does ABC, or XYZ," which are generally pretty crazy things to do, for laughs. Five of the six sides of the dice tell players to drink something alcoholic, so the second thing written on the dice to come up would be "Drink some beer" or "Take a shot of vodka." As the name on the package says, these dice are meant for drinking.The shot glasses in the right-hand photo have "Bride" and "Groom" written on them, so true to name, they are meant for the bride and groom to take shots. One of the things that surprised me when I first attended a friend's wedding in the US, some time ago now, was how things got started. Right before the wedding started, the bride and groom, as well as the bride's maids and groom's men, emptied shot glasses of tequila at the toast!! Not one person ended up with a red face or got unsteady on their feet. Amazing! I was so impressed.Last, here's something else you wouldn't see at a wedding in Japan.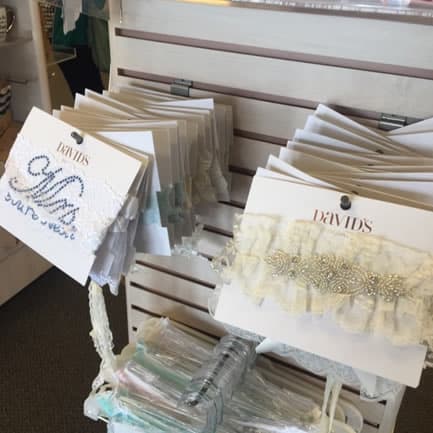 These are garters for the bride to wear on her thigh. It's probably pretty common in Japan too to see the bride throw the bouquet toward the single women, but in the US there is a male version of this ritual called the garter toss. The groom slips under the bride's dress and takes off the garter, then throws it toward the single men. Just like the bouquet toss, tradition has it that the one who catches the garter can be the next to marry.Dress shops and bridal salons in Japan have an exclusive atmosphere about them, and unless you're actually preparing for a wedding, you wouldn't have much chance of going to a bridal shop there. But, if you're planning to come to the US sometime, you might enjoy going to a bridal shop here. You are free to look around the whole shop without a booking. Even if you're not planning a wedding, it's a great opportunity to buy some accessory that takes your fancy, something for that day that might come for you, or to choose a present for the newly weds. You might even get some inspiration or ideas. Just looking at beautiful things, appealing things, is comforting. And as well as being comforted that day with my Japanese friend, my heart was also fluttering.