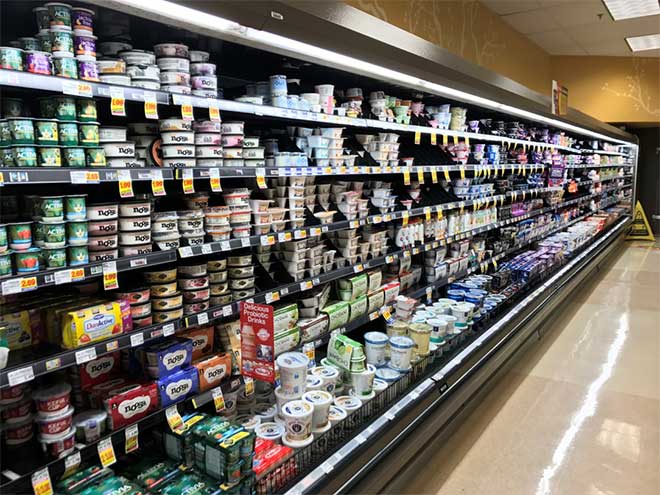 I've been eating a lot of yogurt since I came to the US. I mean, with this many different types lining the shelves, it's impossible not to try them. What really interests me are all the yogurts they have from different countries. I've tried several that have caught my eye, so I'd like to share some of my personal recommendations. Make sure you try them for yourself if you ever get a chance to visit the States!
Here's the first one, called Siggi's.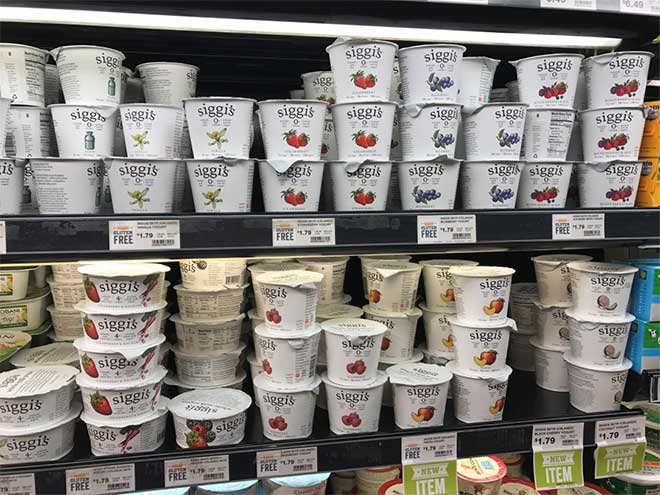 Siggi's is a whey-free yogurt made using traditional Icelandic techniques, which makes it incredibly rich and packed with protein. It actually seems more like cream cheese than yogurt. In addition to plain and honey varieties, you can also get interesting flavors like strawberry & rhubarb or lingonberry & strawberry. Plus flavors I'm pretty sure you rarely find in Japan, like coconut or banana & cinnamon. I recommend Siggi's as a healthy option, since it's made with natural ingredients and isn't too sweet. The best part is the adorable packaging, which has me often reaching for it. The second one is called Noosa.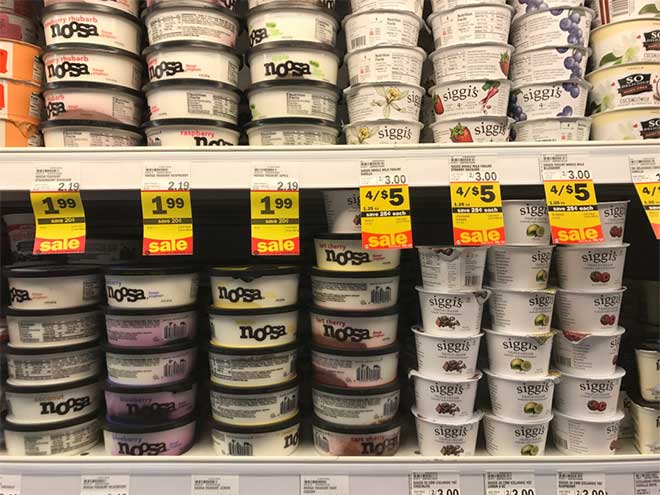 Noosa is an Australian-style yogurt out of Colorado. I tried it on a friend's recommendation, and now I'm hooked. There's a layer of pureed fruit at the bottom, which makes it seem like you're eating a dessert. In addition to classic flavors, they have "tart & sweet" combinations like pear and cardamom or strawberry and hibiscus, plus two "sweet heat" flavors—blackberry and serrano (a type of green chili) and raspberry and habanero…! Of all those flavors, the ones I recommend are honey, lemon, and pumpkin! Pumpkin might be a seasonal flavor, but pumpkin puree and yogurt is such a great combination.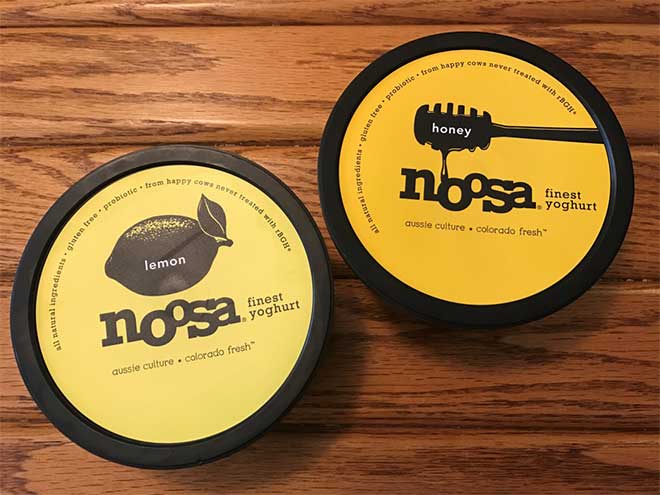 Here's the third yogurt—Brown Cow.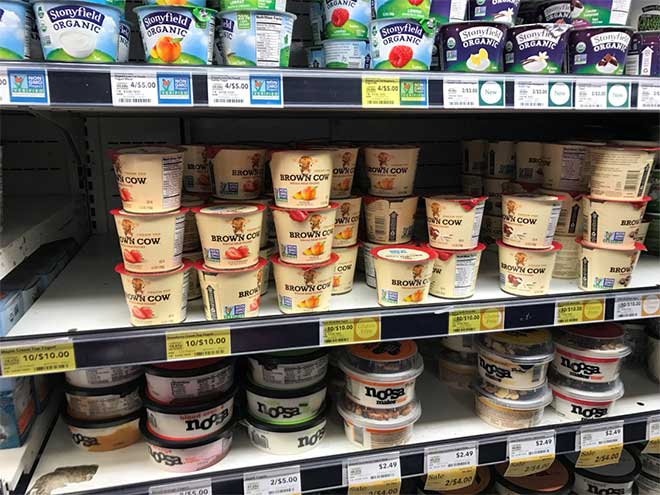 Brown Cow is an organic yogurt made from natural ingredients. Here is the one I really love—maple flavor. The first time I peeled back the top, I was amazed at the wonderful maple aroma that wafted up. The containers are perfectly sized, and the yogurt itself has a thick, creamy texture that resembles Japanese yogurt. The taste is light despite the density, however, and you can't miss the maple taste. There's even a cute picture inside once you finish eating it.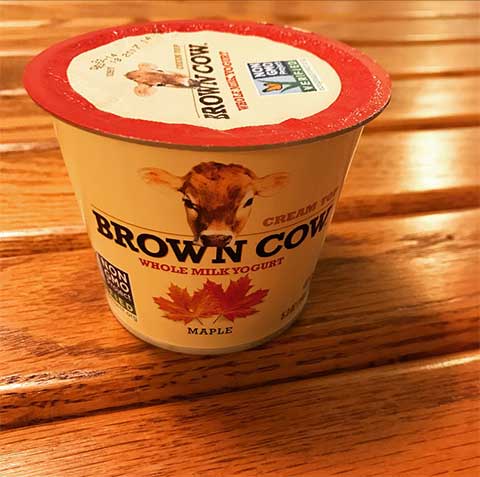 Finally, there's Oui.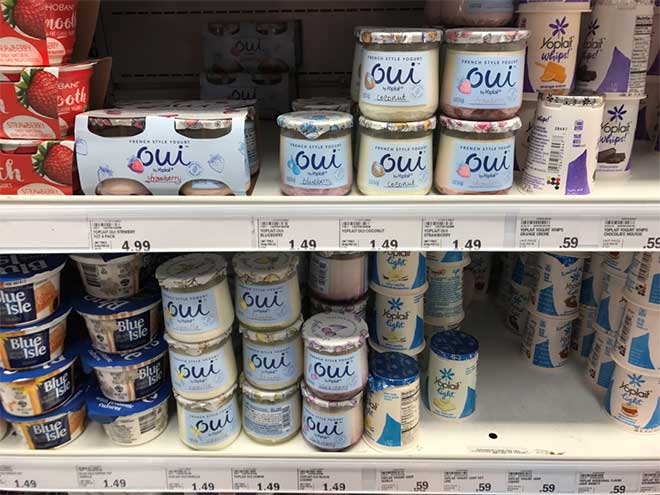 Oui is a French-style yogurt sold in a chunky glass container with cute packaging that immediately had me reaching for it. There's fruit jam at the bottom, and the yogurt is thick, springy, and not too sweet.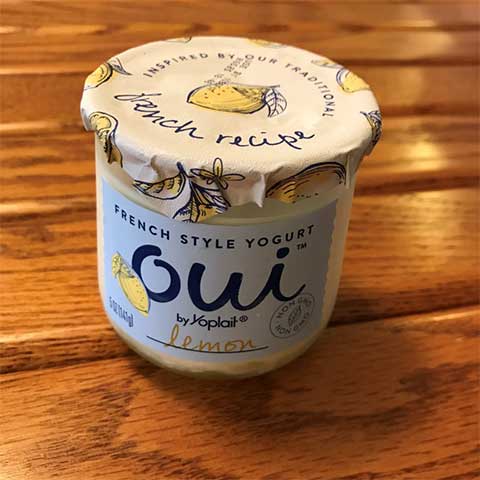 So there you have the four types of yogurt that I personally recommend at the moment.
We looked at Icelandic, Australian, and French yogurt, but of course there are also countless varieties of incredibly popular Greek yogurt as well. Plain Greek yogurt is frequently used in cooking. People mix it with various spices and use it as a chicken marinade, and in my house we even add it to tacos. You can spread it on a crepe and have it for breakfast, and many people put it on bagels as well.

You can also get dairy-free yogurt made from coconut milk or almond milk. Some of the major brands are Chobani, Oikos, and Fage. They even have yogurt in tubes that kids take with them to school as a snack.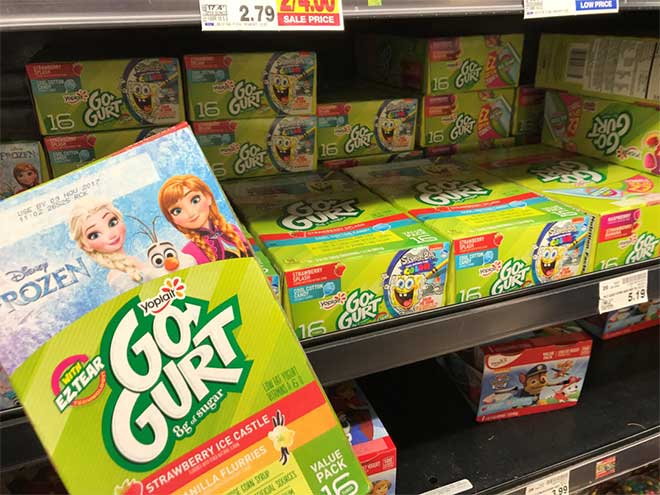 Every country defines yogurt differently, making it with different ingredients and using different methods. Yogurt also varies depending on the taste preferences of the people in each place. One of my favorite things to do is pick out yogurt from the countless available varieties to enjoy for breakfast or as a dessert. I did that today, and several of the ones I told you about are now sitting in my family's refrigerator.