During June and July when hours of sunlight are long, the skies start to darken after sunset and it's not until past 9pm that night finally arrives.From around 7 p.m., people march out onto the streets from their workplace or home as the blistering heat of the day gradually subsides. From this time of the day to midnight, it's the socializing time of summer. The night air can be fully enjoyed as you walk the streets while chatting with friends, eat ice cream or see an outdoor concert or movie.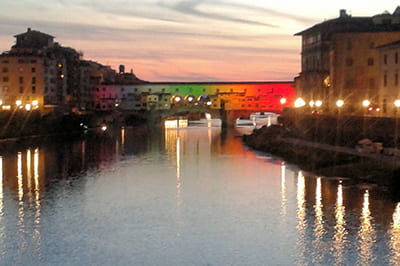 A summer night illumination event of the Ponte Vecchio, a bridge in Florence
The open-air cinemas that operate only at night and are held even in small towns of various places between June and September, has an especially Italian feel.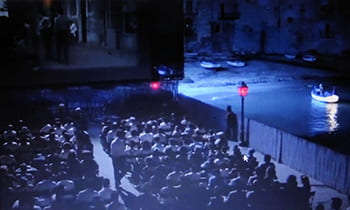 Outdoor movie theater on the beach–a scene from the movie Cinema Paradiso
The famous director of modern film Giuseppe Tornatore's movie
Cinema Paradiso
uses richly poetic images to depict what cinemas were like back when movies were the most popular form of entertainment and also the Italians' passion for movies. A scene of the open-air cinema specially arranged on the beach also tells us much about the atmosphere back then.In Italy, when you ask friends or someone you know about movies or directors that they recommend, they always have some kind of useful suggestion to give you. Everyone speaks with excitement when talking about famous scenes or lines. Some talk as if they were actually present at the scene, and some talk about the details of the movie such as its historical backdrop, dialect, and customs. Everyone is such an expert when it comes to movies that you feel the urge to take notes of what they say.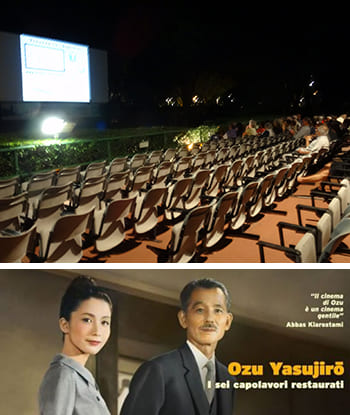 An outdoor movie theater with seating for 250. On this day, the theater was showing a film by the late Yasujiro Ozu, Japan's world-renowned film director. (5 euro)
The national character of enjoying discussions and trying to enjoy beautiful nights of summer to the full is what makes movies not simply an indoor culture but also an open-air entertainment during the summer.In the city of Florence, there are more than five open-air cinemas for the summer as well as various events such as an admission-free film festival, making them enjoyable all throughout the summer. With seating capacity of 250 to 500 people just like a normal cinema, open-air cinemas with a fixed location can accommodate quite a few spectators. For cinemas that aren't fixed, it's necessary to look up the time, location and programs. The locations, such as historical plazas and parks or even a botanical garden where a noble family used to grow lemons, are superb and contribute to a romantic experience.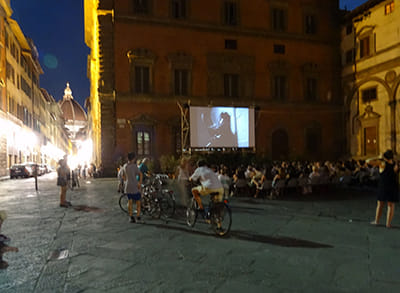 A movie event held at the plaza in front of the Santissima Annunziata Church in Florence. (Free)
As for the programs, different productions like popular films of the previous or current year, much-discussed works, etc., are screened as revival films that change from day to day during the summer. That makes it also a good opportunity to watch all the films you missed at once. There are also small cinemas that narrow their theme to classic specials from the silver screen of the past or foreign movies such as those of Asia and Middle East.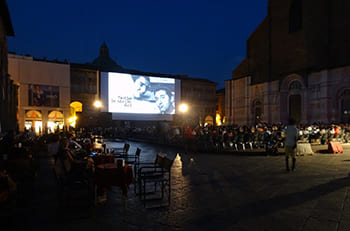 One of the world's largest screens placed at a plaza in Bologna. (Free)
In recent years, there have been increased cases of open-air cinemas being promoted as featured culture events of the summer, and some screenings whether large or small are free of admission. With a boost from the promotion called "Cinema sotto le stelle – Film under the stars," watching movies at open-air cinemas has become more enjoyable and exciting. Watching the silver moon slip in and out of view between the trees and old townscape as it slowly moves over the movie screen adds an indescribable emotion to the story.After laughing, gasping and sharing emotions together under the stars regardless of age or nationality, the time is already past midnight when spectators head home. Then on the next day, they enjoy lively discussions about the movie. Such is a typical scene of everyday life in Italy.