What are the typical meals you enjoy with your family?
In Japan, it's often sushi or hotpot, right?
And Americans and Europeans tend to go for pizza or pasta?
In my country, one of our classic everyday meals is mu kratha—a kind of Thai barbeque.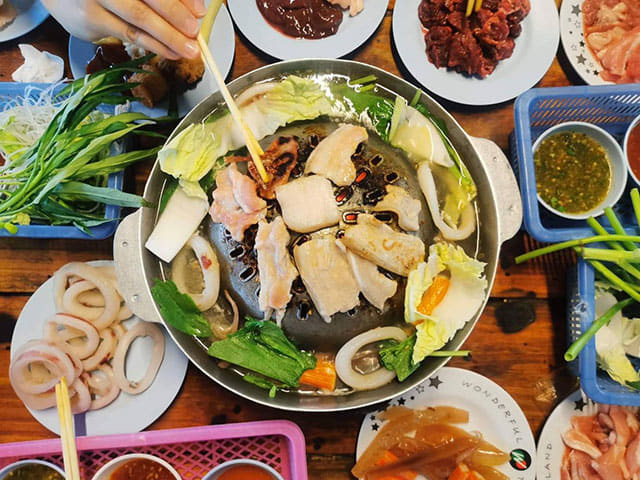 So what is mu kratha?
Mu kratha is a hotpot dish that involves grilled meat.
Thai people started eating mu kratha about sixty years ago. Several Southeast Asian countries, among them Singapore, Malaysia, the Philippines, and Indonesia, have a grilled pork hotpot they call mookata. The dish is thought to be influenced by the hotpots popular in China as well as by Korean barbeque.
One story goes that members of the ancient Mongol army cooked and ate meat from their metal helmets during wartime. The flat, hat-shaped mu kratha pots are said to have evolved from those Mongol army days.
When the dish first came to Thailand, it appeared on menus as "Genghis Khan barbeque," and you could only get it in restaurants.
The "mu" in mu kratha means "pork," while kata means "shallow pot."
The mu kratha dish involves grilling meat on the raised center portion of the pot and adding water to the trough around the edge, which catches juices from the grilled meat to create a broth for boiling vegetables or other ingredients.
Some of the typical ingredients used in mu kratha are pork, chicken, beef, seafood, leafy greens, steamed egg custard, and Thai sausage. Once they're cooked, they're dipped in nam chim sauce and eaten.
Whether nam chim is served at home or in a restaurant, it always comes with at least two types of Thai suki sauce, which are then mixed together to create the desired flavor of nam chim. Restaurants also offer extremely hot Thai suki sauce, so be careful if you don't like spicy food!
Most Thai people love pork, and some just eat mu kratha with pork and vegetables.
Almost all mu kratha is cooked over a charcoal fire, but simpler electric mu kratha pots have recently become popular, where the plate for grilling meat and the pot are separate. Some people like putting tons of vegetables in the pot and enjoying them that way.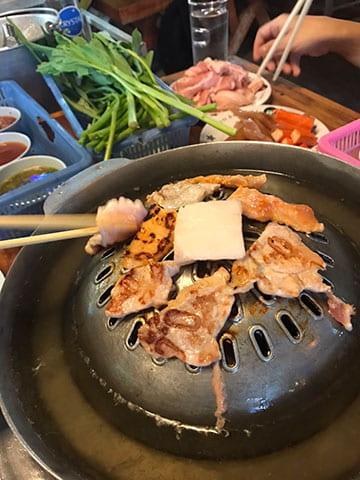 A mu kratha pot in the shape of a flattened hat
Mu kratha is a wildly popular dish in Thailand.
It can also be easily prepared at home, and all of the ingredients can be purchased inexpensively. That's why mu kratha is the first thing people think of when there's talk of having a dinner party!
Thai people eat mu kratha when they are traveling, visiting their childhood homes, at going-away parties, or at get-togethers with friends.
More restaurants specializing in mu kratha have been popping up in recent years, and ones that offer buffet-style eating are quite popular. These have thirty or more items available, and are reasonably priced for 90 or 120 minutes of all-you-can-eat. They even offer seasonal fruit or ice cream, allowing people of all ages to take their time and enjoy a good meal. But because they're so cheap, you'll get charged a fine if you order something just because it looks good but don't finish it. So be forewarned!
There are other types of Thai hotpot that I'd like to tell you about in addition to mu kratha, and those are jim jum (a Thai-style stew made with an herbal broth), Thai suki (Thai-style sukiyaki), and jaew hon (a hotpot from northeastern Thailand). All of them are known for their spicy broth, so be careful if you're sensitive to hot foods!
Mu kratha has been the popular favorite for twenty years running, and everybody loves it so much that people even say it'll become the national food of Thailand one day! Of course, that's probably an exaggeration (lol).
It's an approachable food even for non-Thai people, so I definitely hope you'll try it!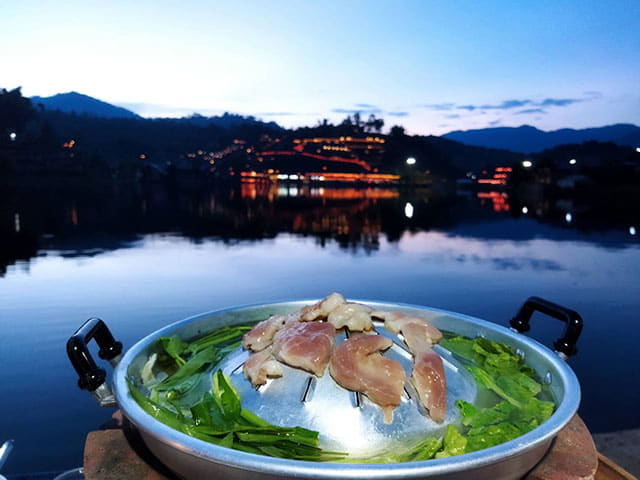 There's nothing like eating mu kratha against a scenic backdrop.