China has more people than any other country (as of 2022).
And there are undoubtedly Chinese people living in every other country in the world as well.
There are a lot of Chinese in Thailand, too. The highest concentrations in the big cities are said to be along Yaowarat Road in Bangkok, as well as in Chiang Mai, Nakhon Sawan, and Songkhla Province's Hat Yai in far southern Thailand. But the most Chinese anywhere in Thailand can be found in Phuket, a tourist destination that's popular with people all over the world.
Chinese New Year, or Lunar New Year, has been celebrated in Thailand for nearly a century. The ancestors of many ethnically-Chinese Thai people came from the southern part of China. They speak the Teochew dialect, which is closely related to Mandarin.
The first Chinese who came to Thailand were Mahayana Buddhists or Taoists. They were later influenced by Theravada Buddhism, which tied them to Thai Buddhist practices—onto which they layered the traditions they brought from their home country. That's why important Chinese holidays like the Lunar New Year, the Mid-autumn Festival, and the Qingming Festival (which is like the Obon Festival in Japan and known as Tomb-Sweeping Day in English) are also celebrated in Thailand.
These events are designated holidays outside of China as well, in places like Singapore, Korea, Vietnam, and Malaysia.
But the most important of all is the Lunar New Year.
Lunar New Year marks the first of the year under the old lunar calendar in Greater China. It is the most important traditional holiday of the year for Chinese people all over the world. Lunar New Year falls on Sunday, January 22 this year, and people will take seven days of vacation between January 21 and January 27.
No matter what country they're in, Chinese people living abroad must celebrate the holiday. Offices and schools close so that people can prepare for New Year's Day, and many return to their family homes in the countryside, do spring cleaning, or go shopping.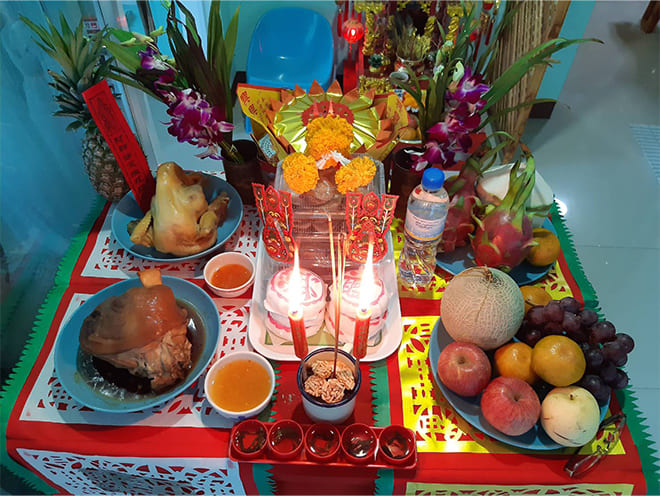 During the three days of the Lunar New Year, Thai Chinese dress in red and gather at their family homes, where they make offerings and prayers to deities, their ancestors, and their deceased relatives. The offerings are more special than at other times of year, and include things like boiled pork, boiled chicken, Chinese-style simmered duck, steamed fish, rice, pounded rice cakes (a Chinese-style dessert), fruit, spirits, tea, and paper money.
The offerings in every home are different. Large families and large companies (if the owner is of Chinese descent) set out lots and lots of them. Once the prayers have finished, everyone eats the offerings together or shares them with their neighbors.
They finish by setting off firecrackers in front of their homes.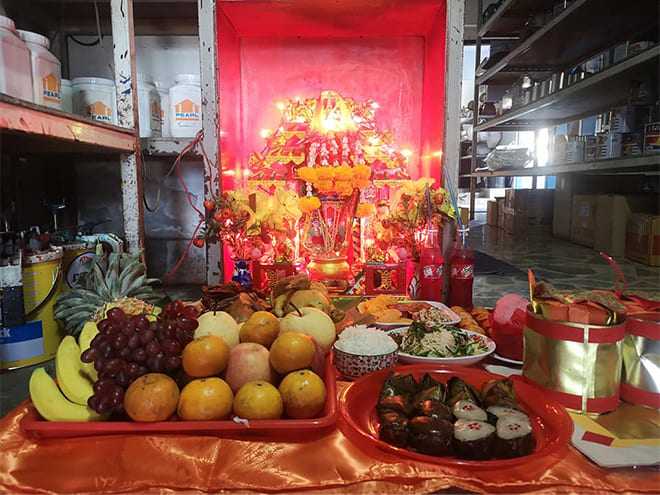 What's your favorite part of the Lunar New Year?
In large families, those who are married and working give their kids or younger family members (those who don't yet work) red envelopes with money inside.
(The envelopes are called ang pao in Thailand.)
In companies, the president sometimes hands out monetary bonuses to the employees on top of their salaries.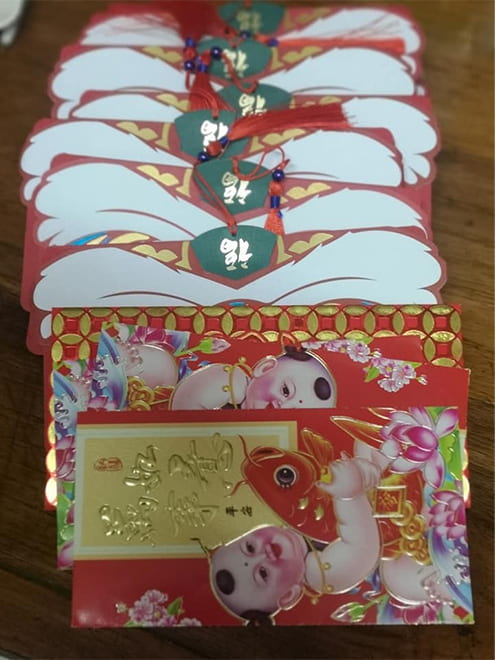 Ang pao (monetary gifts)
On the third and final day, the family goes somewhere to have fun together and melt away the stress of the previous year.
It's a wonderful time with family that everyone looks forward to.
Thai Chinese celebrate the Lunar New Year the same way in Thailand.
Even though I'm not ethnically Chinese, I've still got the chance to participate in many Chinese New Year celebrations.
It's such a happy time, with delicious food, monetary gifts, and fun with family.
Which do you like more—delicious New Year's food or New Year's cash?