Although when people think of New York think of its nightlife, its iconic attractions such as Central Park and Times Square and think of an urban concrete jungle, the Big Apple is a cultural center with no competitors in the United States and art is all around the place.
Other than in its prestigious museums, art is also lived in the streets here.
The incredible street art works in
Bushwick
make this district in the Brooklyn borough one of the most creative neighborhoods in the world.
It is perhaps the largest art gallery in New York and, being outdoors, it is totally free, always open and constantly evolving. It always reserves something new and you could go there every week and find something different.
It is the incredible collection of street art in Bushwick, a small neighborhood with an industrial past and now residence of hundreds of artists, whose walls are continually covered in outstanding murals and colorful graffiti.
One can observe the works of art that bloom, at every corner, on the walls of Bushwick and, on a sunny day, the area looks like an enchanted land shining with bright colors.
It's incredible how in New York, a city that implements very strict policies against those who 'dirty' the walls, therefore particularly risky regulations for street artists, this enclave has arisen where graffiti is tolerated, if not expected.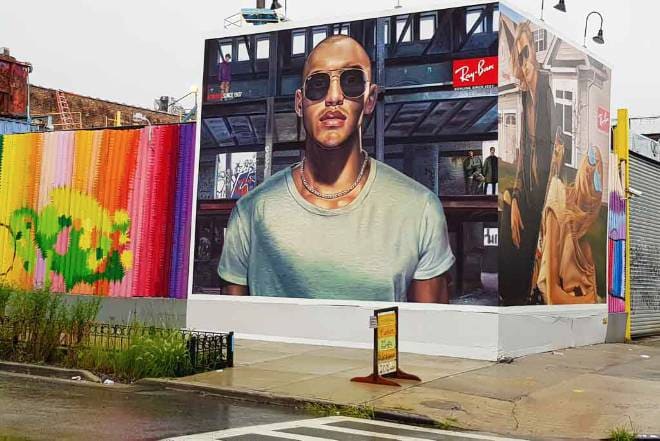 Bushwick (also called East Williamsburg) is an area in Brooklyn that is experiencing a phase of great transformation. It was born, like several other areas in Brooklyn, as a village on its own, then incorporated during the strong urbanization of the New York City area.
From being a working-class neighborhood, it is fast becoming one of the most vibrant and creative areas in the City. The area is still heavily industrial, but next to the warehouses and factories there are hipster clubs and condos full of studios inhabited by young artists, who - probably - make it the largest artistic community in North America.
In recent years the local muralists established a festival which annually brings together artists from all over the world who come to paint the walls of the neighborhood. Walking around Bushwick means finding, in a handful of streets, an anthology of street art, from the beginning years until today.
From simple tags (the name or initials of the street artist) to more complex works, often inspired by politics or by recent news.
In the Sixties, street art was used to pass on the messages of activists and the request for equality and rights but, as times have changed, so has art and, consequently, new fanciful genres were created.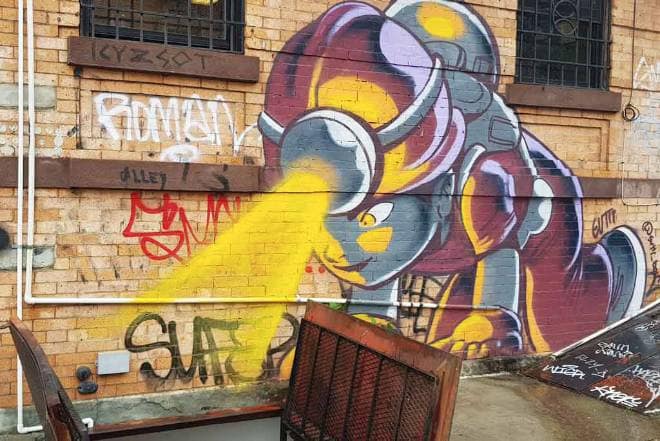 The artists nowadays got more ingenious in working out gimmicks to get around the strict laws against vandalism that give expensive fines to writers and some murals are now done on billboards which can be removed from the walls.
The works of street artists are increasingly becoming real wall paintings for which the authors can also draw inspiration from great masters of art history and often the works are so beautiful that the artists begin to work on commission, paid by local companies to paint facades, signs and sluices.
But artists do not stop at canvases or walls and contaminate everything they touch. In the streets of Bushwick you will find painted drains and antennas and street art installations all around.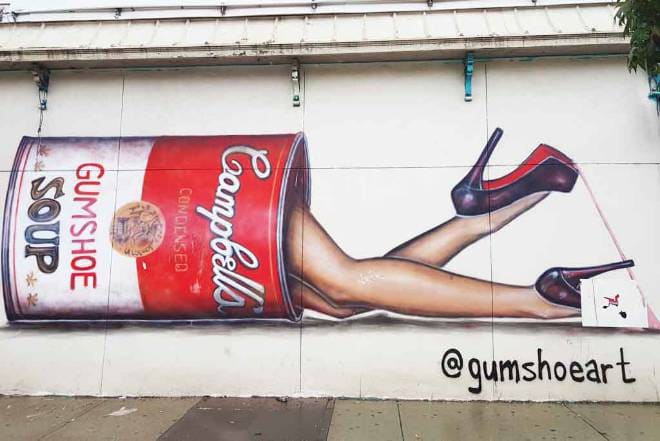 The best way to see street art in Bushwick is to join a guided tour like I did.
If you are not a fan of this type of art, as at the beginning I was, go anyway because you will inevitably come back seduced by it...as I was.
Bushwick is a place where Hipster culture is emerging together with the Slow Movement (aimed at reducing waste by recycling, consuming local and organic food and protecting the environment).
In this neighborhood, you can be away from the noisy and sometimes 'stuffy' Manhattan and its huge buildings because in Bushwick and nearby Williamsburg, you only have small buildings.
This area also offers many bars and restaurants, as well as clothing, vintage jewelry and home furnishing boutiques.