If you have been to New York City, you surely have visited Times Square.
And there you may have seen "The unofficial New York Tourism Ambassador," perhaps the most recognizable character in the City and one of the many attractions of the Big Apple (almost to the level of the Statue of Liberty!): the great performer, the Naked Cowboy.
Robert Burck is a beloved character both by New Yorkers and tourists alike. Known as The Naked Cowboy, he is an American street performer with a guitar strategically positioned to give the illusion of his nudity. He hangs out in Times Square every day and he even has a Facebook page where he posts photos and updates on his whereabouts. Regardless of rain, hail, snow and terrorist threats, this beloved character is always there where he belongs, in a square full of neon lights and billboards, where too much is never too much.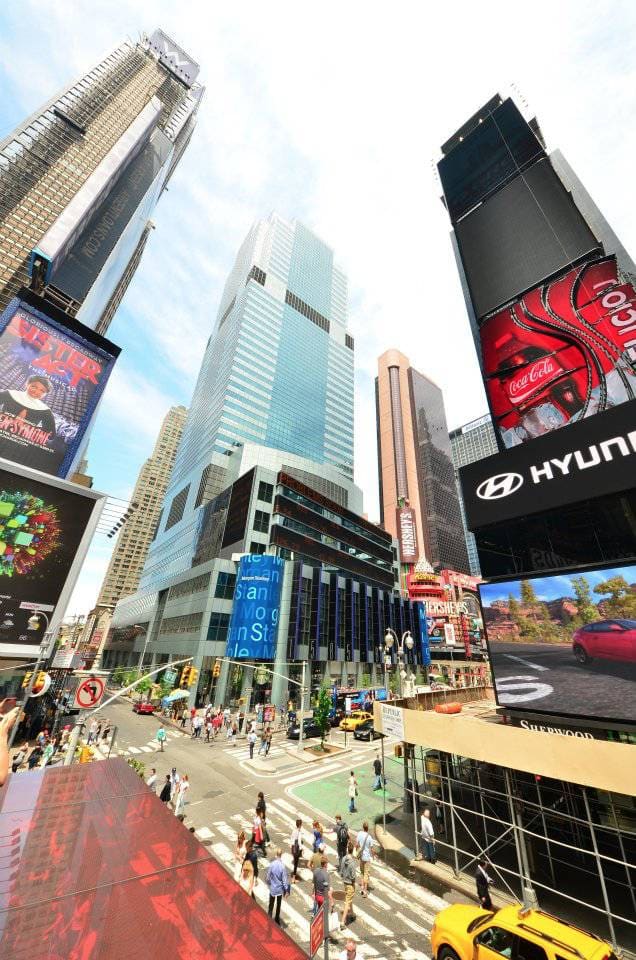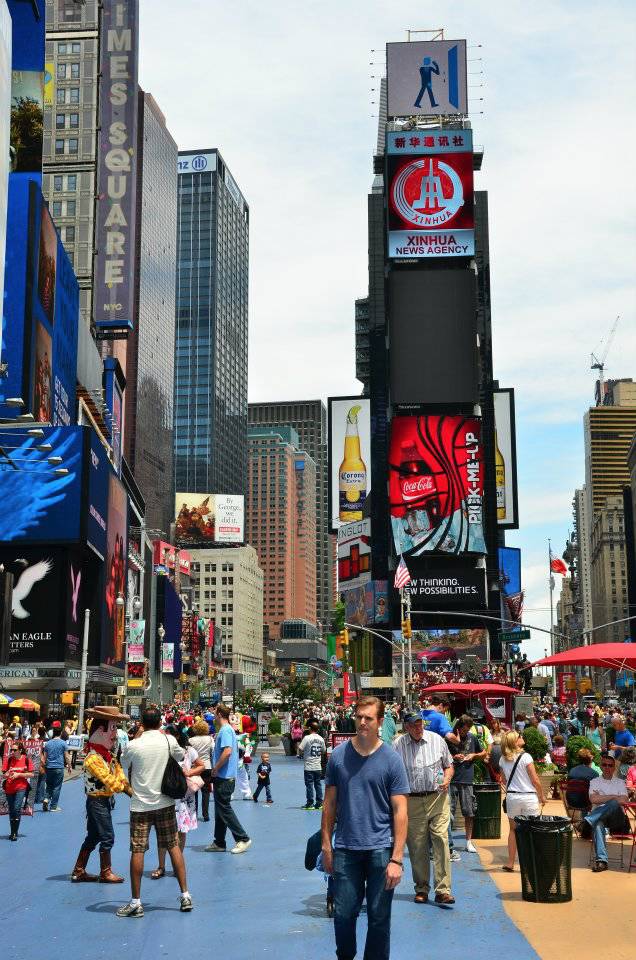 So, if you ever go by Times Square in Manhattan and see a seemingly naked man wearing only cowboy boots and playing the guitar, don't worry. You've just come across one of New York's most famous characters!
He is so famous that even city guides point at him during their tours and tell his story: he's originally from Cincinnati, Ohio and, after getting a degree in political science, he began performing near the crowded Venice Beach in Los Angeles. After a friend suggested him to wear only a pair of shorts while playing, he realized he was getting a lot more money from passers-by thanks to his statuesque body.
Today the Cowboy Nude keeps on performing in Manhattan and he occasionally appears in television shows (especially morning shows airing from Times Square) and media events. He has given life to a franchise, and anyone who wants to be allowed to perform as "Naked Cowboy" around the United States has to pay him a fee of $500 a month. Many are in fact his doppelgangers and some female versions of him, the Naked Cowgirls, usually performing in a duet, can now be seen on Times Square some days.
He has long been a legend and, to be precise, he made his first appearance in 1998 when he first performed in Venice Beach, Los Angeles.
He has been working as a street musician since and, after performing on the streets of the French Quarter in New Orleans during the famous Mardi Gras carnival, in Cincinnati for Memorial Day and in some cities around Texas, he came to the place he loves the most: Times Square, New York.
When the good season begins he can better withstand the temperatures of the Big Apple so he spends more time on the square.
Although his name is 'naked' cowboy, he wears white briefs, cream-colored boots and a wide-brimmed beige hat on his head. The guitar is always under his arm and with a cunning smile on his face, he entertains tourists and nosy Parkers, singing his favorite hit I'm the naked cowboy and accepting the requests of his many fans impatient to be photographed close to their idol. It is said that for his performances he earns up to $1000 a day, not counting all the appearances on television and music videos, advertising campaigns and documentaries.

Many funny characters on Times Square
Various gadgets inspired by him, from underwear with his name to comics in which his adventures are told, are sold in the shops on and around the Square.
The famous metropolitan minstrel even tried to candidate himself as mayor of New York during a press conference, challenging Michael Bloomberg.
In spite of his bizarre character, the Naked Cowboy presented a serious campaign whose main goal was to 'bring transparency at all costs' suggesting tax breaks, tourism incentives, more same-sex marriages rights and safety measures.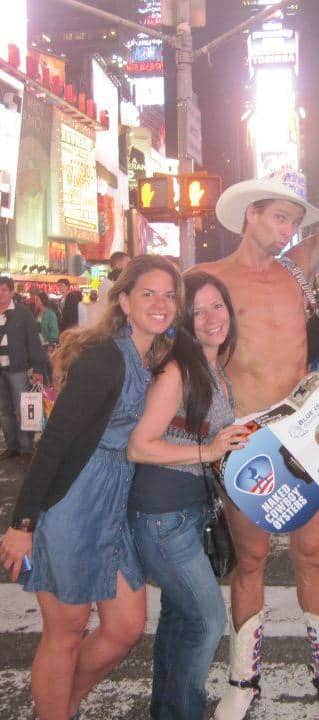 My friends with the Naked Cowboy (a friend didn't want to be posted so I cropped her out)