More so than elsewhere in the United States, New York City is a mecca for sandwich lovers and delis traditionally were 'born here.'
Ideal for a quick and tasty lunch (and New Yorkers are always in a rush and on the go), there is nothing better than a Delicatessen. A Delicatessen, or deli, gets its name from German and it is a small shop which sells high-quality ready meals, cheeses, cured meats and cold cuts, often imported ones too.
But in New York City delis are more than that. Some of them are both shops and sit-down restaurants where customers can find excellent delicacies such as smoked meats, breads, sausages and homemade dishes. New York is the American city that, par excellence, is associated with the art of gastronomy, also thanks to its long history of welcoming Jewish immigrants.
The best and most traditional delis in the city? Here they are:
1. Katz's Delicatessen
By far the most popular deli out there, Katz's Delicatessen is a real institution in New York and it has also been included in the guidebooks under the most famous restaurants in New York.
Particularly known for its long history (they are still going strong after over 125 years of activity), and its quality signature salami, Katz's is an emblem of the Lower East Side's history of immigrants and it still retains its original Jewish heritage in its menu (lox, a type of smoked salmon, is a famous dish here), and its past shows in the photos hung on its walls. Their sandwiches are above average both in quality and price, but the size of the portions and the top-notch ingredients justify the price.
Katz's is known also for its egg cream, which contains neither eggs nor cream but it is made with chocolate syrup, milk and seltzer.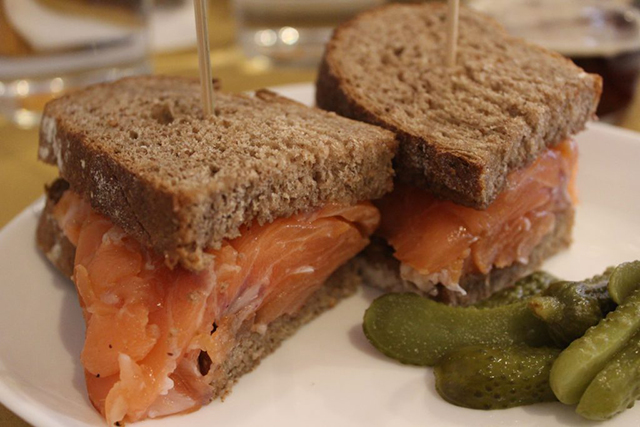 Lox sandwich
2. Barney Greengrass
Not every institution comes to celebrate its 110th birthday, but this is exactly what Barney Greengrass did last year. Possible thanks to Barney's 'no frills approach,' which offers delicacies in an elegant setting, the place is well-known for its excellent bagels with smoked salmon and cream cheese and it is located on Amsterdam Avenue on the Upper West Side.
3. Carnegie Deli
This deli has been around since the 1930s and it is perhaps the best place to go to for ready meals in Manhattan - not just for its freshly smoked and baked food - but also for its amazing location, just opposite the iconic Carnegie Hall theater. There's a reason why the hot pastrami sandwich is so famous and it's the number one food on the to-order list. They even serve New York style cheesecake here, and a pretty great one too!
Due to the restaurant's popularity, it's not easy to find a place where to sit, so expect queues outside to get a table, especially before or after the theater shows.
4. Pastrami Queen
Pastrami Queen lives up to its name!
The small but lively interiors of Pastrami Queen are just a warm up for the main course. This underrated restaurant in the Upper East Side shows its menu on a chalkboard, so you can choose what you want. The best aspect is that there are always seats available, despite the small rooms, so you can grab a chair and enjoy your meal quietly. Thanks to its proximity to the Upper East Side, Central Park, many museums, iconic shops, and attractions, many patrons choose to get a take-out meal and enjoy it nearby.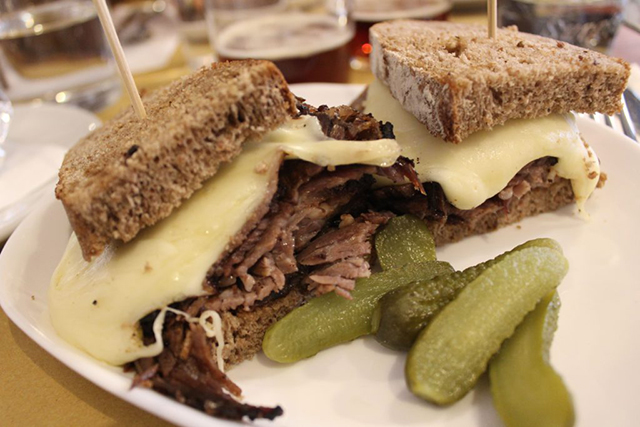 Pastrami queen
5. 2nd Avenue Deli
Last but not least, is 2nd Avenue Deli on the Upper East Side. The name is a bit inaccurate, since the restaurant is actually on 1st Avenue, but it retains its original name, despite it changed location over the years. On the menu there are hot dogs, omelets, sandwiches, and beef, as well as traditional Jewish specialties such as matzo ball soup, latkes, matzo brei pancakes and chicken cracklings. The proud Jewish ancestry that inspired the entire restaurant is easily recognizable by its décor and the keepsakes on its walls.