According to a recent census I found in a local newspaper, there are about 50% of Christians in London (therefore including Catholic, Protestant, Anglican and other subdivisions of the Christian religion), about 13% of Muslims, 6% of Hindus, 2% of Jews and smaller percentages of most other religions of the world because London is a true melting pot of cultures and religions.
Apparently, about 20% of Londoners admit not to have a religious creed, while some people would prefer not to declare their religion at all.
From the point of view of religion, London has, throughout its history, been dominated by Christianity and the city has a significant number of churches.
The biggest ones in the City are certainly St. Paul's Cathedral and Southwark Cathedral which are at the head of the Anglican Church, while official and royal ceremonies usually take place either at St. Paul's or at Westminster Abbey.
Westminster Abbey is a relatively new building and it is also the largest Roman cathedral in England and Wales combined.
Despite this, the percentage of Anglican practitioners is very low in England and, on the other hand, this rate is much higher for Roman Catholic and Orthodox Christian communities.
London is also home to important Muslim, Hindu, Sikh and Jewish communities.
Many Muslim groups live in the neighbourhoods of Tower Hamlets and Newham, and the most important Muslim building is London's big mosque near Regent's Park.
The Central Mosque of London welcomes worshipers from several continents and it has a very cosmopolitan character, given the diversity of people who visit it.
With its golden dome and its imposing minaret, the grand mosque in the heart of London dominates Regent's Park.
True worshipers come here five times a day to pray, both British converts or those whose parents have immigrated from Africa or Asia, or tourists from the Middle East visiting London.
But the Central Mosque of London is not just a place of prayer and meditation, it is also a place of socialization, where they organise courses of Arabic and religious education.
The building complex also includes a conference room, a library, a bookstore, a store and a restaurant.
The Hindu community of London resides in the north-western neighbourhood of Brent, home to one of the largest Hindu temples in Europe, the Neasden's Temple of the BAPS Shri Swaminarayan Mandir in London.
It is an authentic Hindu temple located in Neasden, a north-west neighbourhood of London, which explains why it is often called the Neasden Temple here for short.
Built using Italian marble and limestone from Bulgaria, it was largely carved by hand in India by over 2000 sculptors and then assembled in the suburbs of London between 1991 and 1995.
It is one of the largest Hindu temples in the world outside of India and it welcomes visitors of all religious creeds.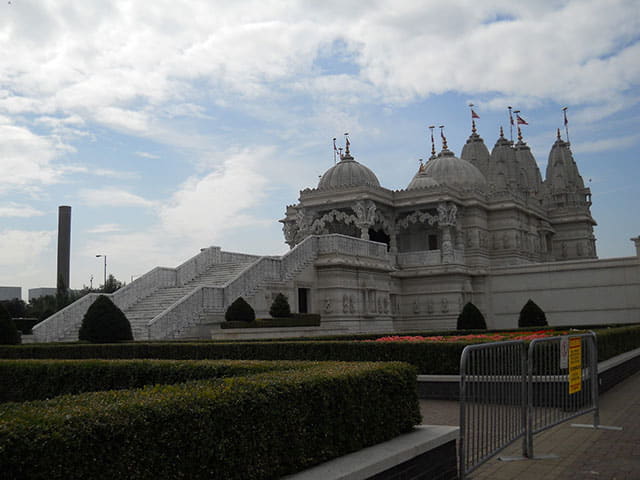 the BAPS Shri Swaminarayan Mandir
I visited it without problems but one has to remember that this is a place of worship so some rules apply: it is forbidden to use cameras inside the temple and you must remove your shoes upon entering, wear clothes that cover shoulders, belly, upper arms and legs and trousers or skirts at knee length or longer.
The temple offers an audio guide rental and guided tours.
The Sikh community is located in eastern and western London, which is also home to one of the largest Sikh temples outside India.
The majority of British Jews live in London, particularly in Stamford Hill and Golders Green in North London.
The Bevis Marks synagogue is the oldest one in the United Kingdom and it is located on the street bearing the same name in London.
This site is one of the most historic ones for the Jewish community and it is also a place of visit thanks to its outstanding architecture.
The modern Jewish community in London established here in the mid-seventeenth century for the first time because here, for the first time, they were free to live and practice their religion.
The building in which this temple is now, was completed at the beginning of the eighteenth century.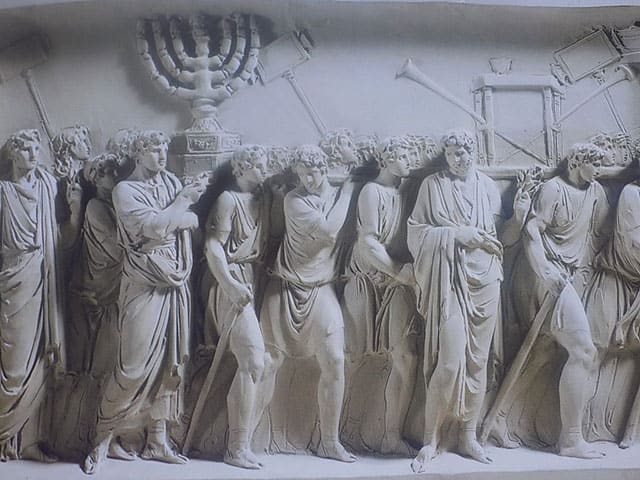 Inside the Jewish temple, Menorah