Nothing can compare to an evening spent on a lawn with good food, good friends, great drinks and culture, under a (hopefully) starry sky. Sometimes not even the pouring rain (quite common unfortunately in our English summers...) could take away the magic from these outdoor theatres events organised in the city every summer.
As all lovers of live shows know, there is no city in the world that can boast a greater number of stages and theatres than London.
The British capital is a veritable mecca for theatre-goers and there is no playwright who does not dream of seeing its play sooner or later represented here.
From May to September we Londoners can indeed attend the most awaited summer appointment by fans of outdoor shows: open-air theatre events!
For the public this means really being spoiled for choice, however, there are not too many outdoor spaces in which to enjoy a professional representation, or with a stage and sets worthy of the name, professional actors and directors, cutting-edge lighting and so on.
My favourite shows are the ones organised by the Regent's Park outdoor theatre.
Regent's Park is one of the most beautiful and most loved Royal parks in London and, in general, Londoners like to spend nice and relaxing days here at the park, among its trees and ponds, admiring the view and the skyline of our city.
Families enjoy picnics on its English style lawns, while tourists photograph squirrels and budgies.
The peculiarity of this beautiful park in London lies in being available to the public even in the evening hours, when initiatives are organized, such as outdoor cinemas or theatrical performances.
The season of the outdoor theatre in Regent's Park starts in May and ends with the arrival of autumn.
The Open Air Theatre is a landmark in London and a must-go-to event for the summer in the city.
Since 1932 it has also been one of the largest theatrical events in London and over the course of several years its stage has been used for classical performances, such as Shakespeare's plays, comedies and musicals, such as Jesus Christ Superstar and even rock and pop concerts.
The events season lasts about eighteen weeks on average, and brings together over 100,000 spectators, who finance the performances solely by purchasing tickets.
Last year I attended a couple of shows.
One of them was 'Peter Pan', a musical on the magical world of the island that does not exist, inspired from the stories of Barrie.
The other one was 'The small shop of horrors', a successful musical about the events of a strange plant with a voracious appetite, based on the story by Howard Ashman.
This year's program includes plays like 'A Midsummer Night's Dream', 'Evita', 'Our Town' and 'Hansel and Gretel' but also comedies and stand-up comedy shows are also planned every year.
Some plays (the most famous and sought after ones) usually run for two weeks up to a month while the others usually are on the bill for about one week.
Also the Globe Theatre organises open-air events.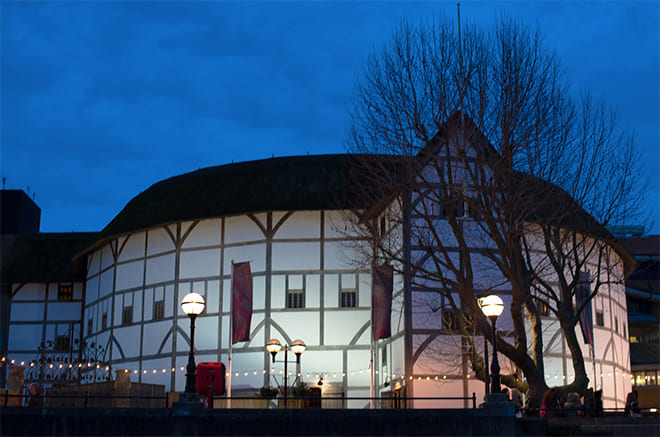 The Globe Theatre
Rebuilt a few steps away from its original site, the Globe is one of the few thatched buildings in London. The lively atmosphere and the splendid architecture will remain etched in your memory forever just like its Shakespeare's classics that take place from April to October each year.
The summer season usually kicks off with 'A Midsummer Night's Dream' followed by many other Shakespearean classics.
Covent Garden's Iris theatre is an outdoor theatre right in the heart of London.
It is located in the 17th century gardens in Covent Garden and its shows explore all styles (from classical theatre plays to circus acrobatics) satisfying everyone's tastes.
Last but not least, I'd say it's the Scoop, an amphitheatre that can accommodate up to 1,000 people at the foot of the Tower Bridge and a place which offers a free program including musical performances, theatrical productions and film screenings.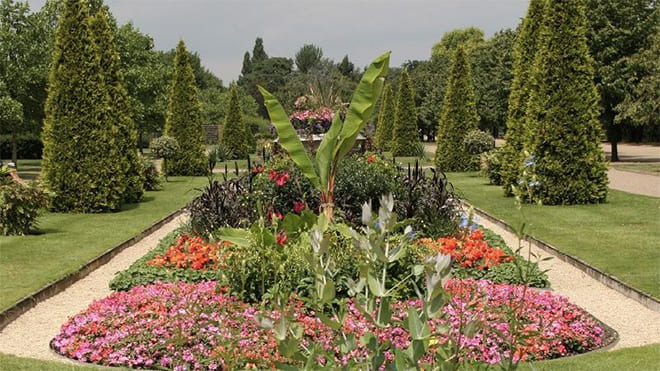 Regent's Park by day