English cuisine is very close to the gastronomic tradition of other Northern European countries.
I have already talked about the English breakfast, which is typically prepared with bacon and poached, scrambled or fried eggs, accompanied by buttered toast and jams or the notorious beans with ketchup.
For the afternoon tea time, instead, the British prefer scones with butter and strawberry jam, accompanied by lemon curd, whipped cream or custard, or sometimes even savoury specialties such as sandwiches accompanied by Marmite, the typical dark brown salty spread obtained from yeast extract.
Typical English dishes are meat and fish dishes.
Among the meats, beef is the most appreciated, and among the most important recipes we remember the roast beef, a true and own national English dish, which is usually served with baked potatoes, horseradish sauce and mixed steamed vegetables.
Other meat dishes include stews, braised meats and wild game pies.
But the true kings of the English cuisine are the desserts: the most famous are the puddings, prepared in many variations, such as the Yorkshire pudding and the Christmas pudding.
Other typical English sweets are the rhubarb crumble, the plum cakes and the ever-present blueberry muffins.
Another staple dessert is the Victoria cake, a high and very soft cake, stuffed with cream and strawberry jam.
The carrot cake is a classic carrot cake but with the addition of various spices and nuts.
The most recognizable dessert is perhaps the Red Velvet Cake, a deep red layered cake covered and filled with a white vanilla cream cheese. His mini version is often found as a cupcake.
Crumpets are another typical Anglo-Saxon recipe that I actually tasted for the first time in Scotland at my friends' home, who kindly gave me their recipe.
These are soft muffins with an absolutely neutral taste and for this reason they are suitable to accompany both sweet and savoury sauces.
They have a typical spongy appearance, absolutely perfect for breakfast on Sunday mornings to vary from the most popular pancakes.
Very easy to make, you just have to remember that compared to crepes and pancakes they need some time for leavening, but I assure you that it is absolutely worth it, because they will repay you with their irresistible softness and their extreme versatility.
In short, you must try to make these crumpets, stuff them with butter and jam and enjoy them.
How to make English crumpets
INGREDIENTS FOR ABOUT 10 CRUMPETS:
Warm water 150 ml
Flour 300 grams
Warm milk 360 ml
Sugar 15 grams
Salt 1 teaspoon
Dry yeast 5 grams
Bicarbonate 2 grams
Butter (your preference)
First off, you must mix together yeast and sugar with milk at room temperature in a bowl. You continue by adding sifted flour and salt working them slowly with a whisk. Finally, you must mix together the baking soda with warm water and add it to the batter, which should be quite thick.
Then the mixture must rest for about ten minutes or until bubbles start to appear on the surface of it.
At the same time, you must melt some butter in a non-stick pan, pour a ladle of mixture into it and cook over medium-low heat for approximately four or five minutes.
When the mixture looks firm, remove it from the pan being careful not to burn yourself and, when bubbles have appeared on the surface of your crumpet, turn it with a spatula and also cook the other side for a couple of minutes.
Continue like that until you have used all the batter.
You can serve these crumpets with butter and jam, or indulge yourself with the ingredients you prefer the most, such as fruit or cheese.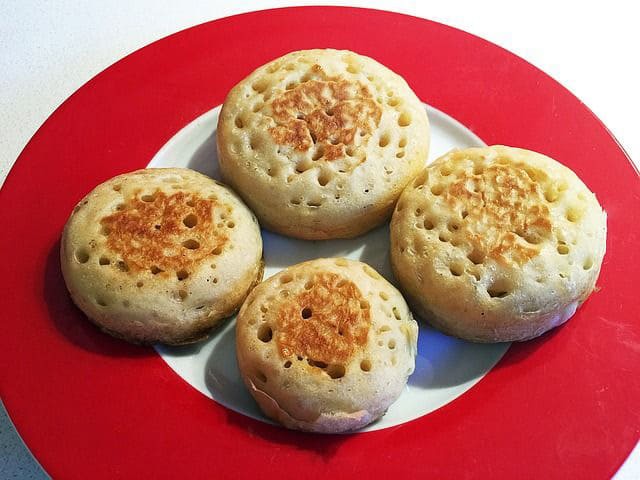 Plain Crumpets