The Cotswolds is a gorgeous region in southern England which is very popular with tourists but also with Londoners who like to go there on the weekends to breathe some fresh air, have a picnic or visit the typical Cotswolds houses.
In some of these unique style cottages you can also have an afternoon tea with scones served by a local old lady telling you the story of this amazing countryside region.
The Cotswolds is an expanse of hills between England and Wales that embraces 6 counties, that of Gloucestershire, Oxfordshire, South Warwickshire, Worcestershire, Wiltshire, Bath and North East Somerset.
This area is about a couple of hours by car from our capital city.
Autumn is the perfect season to enjoy the best of what this region has to offer.
During this season there are fewer tourists than in July and August and, consequently, there is an even more British atmosphere. The advice is to opt for an on-the-road trip because the distance between one village and another are really short and, changing destination every day, it is a continuous immersion in other eras, between honey-coloured villages and castles, ancient medieval inns and churches.
The Cotswolds have been declared an Area of Outstanding Natural Beauty and it has been called the English Beverly Hills as many VIPs have a home in these hills.
Prince Harry and Megan own an estate right next to the Beckhams in this region where all the villages look like enchanted kingdoms.
The houses made of stone with pointed roofs are decorated with flowers and bridges that lead away from chaos.
Another aspect that makes the Cotswolds so unique in the world is nature and the wonderful greenery that frames it.
Leaving London and returning to London, following a ring-shaped itinerary that reaches almost to Bristol is ideal.
The first stop I suggest on the way to the Cotswolds it is the Windsor Castle in the homonymous country outside of London.
Built at the end of the 11th century, it is one of the royal residences and the most famous one after Buckingham Palace.
Once the visit is over, it is worth walking around in the village, enjoying an afternoon tea.
In a nearby village, already in the Cotswolds region, one can find Highrove, the summer residence of Prince Charles and Camilla, which is a stone's throw away and a visit to the gardens is a must, accompanied by an expert guide, where you can admire endangered plants and let yourself be carried away by the scents of the flowers.
Close by is also Bibury, defined by Morris as 'the most beautiful village in England'.
Thirty minutes by car later from there you arrive in the midst of the traditional Cotswolds villages made of cottages nestled along the river with Arlington Row being the most photographed street where you can get lost to admire the swans or have fun fishing for trout.
About thirty miles north of here is Campden, a pretty village with honey-coloured churches and stone houses, inns with a wooden ceiling and very low doors.
Before getting there, it is almost obligatory a detour to Cotswold Lavender, a farm specializing in the cultivation of lavender, where to buy dried flowers, soaps, essential oils and lavender jelly.
In the Cotswolds region one can sleep either in one of the more modern cottages converted in a bed and breakfast or in a medieval manor house also converted into a bed &amp breakfast.
They say that Oscar Wilde and Claude Monet once slept in the rooms of this medieval manor too.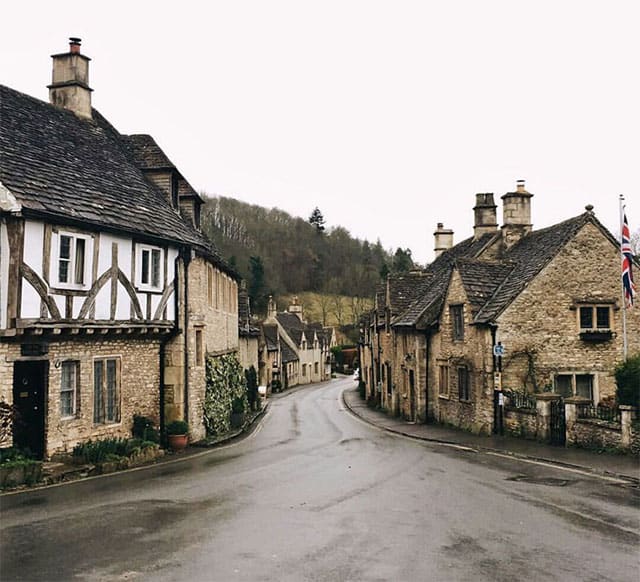 Cotswolds homes – photo by my friend Tamara Frazier