When they visit London, not all tourists venture out of the city centre and this is often a mistake because interesting parts of London are missed that way.
A visit to Richmond Park is well worth the effort of taking public transportation and venture out of the city centre I think.
It's a huge park three times the size of Central Park in New York and with different habitats.
Around its ponds you can see cormorants and herons, while in the wooded areas you will find squirrels and timid badgers. But it is the wild deer that dominate the park's fauna and spotting them is really something not to be missed.
They say there are over 600 deer in total and you should have no problem seeing one and deer have been in Richmond Park since the mid-16th century.
In late summer/beginning of autumn the males are looking for a female to reproduce, they are therefore quite aggressive and full of hormones and signs all over the park warn visitors not to get too close to them.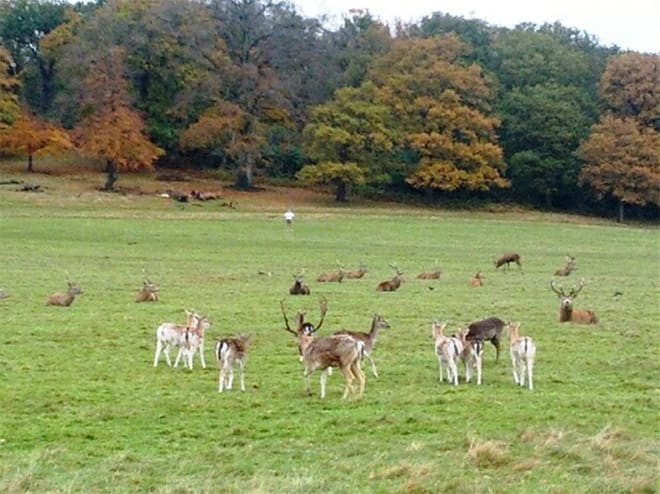 it is the wild deer that dominate the park's fauna
Richmond Park is the largest wooded city park in Britain with its 950 hectares and it is located in south London near Richmond, Kingston, Wimbledon and East Sheen.
Richmond Park is home to wild deer, squirrels and rabbits but there are also numerous varieties of plants, flowers and mushrooms.
Collared parakeets also live in the park.
There are also small corners to visit such as Isabella Plantation that are worth visiting in the spring and which was created only after the Second World War.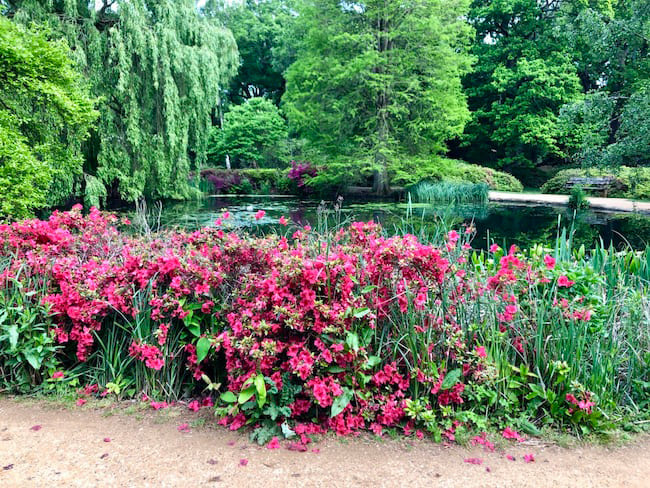 There are also small corners to visit such as Isabella Plantation
If there is a place in London where rhododendrons and azaleas in bloom are a real spectacle, that is the Isabella Plantation in Richmond Park. In late April and early May the flowering of this wooded garden is enchanting but you can still visit it at any time of the year, there are always things to discover - many varieties of native and exotic plants!
Near the gate of Roehampton, one of the ten that leads to the park, there is the White Lodge, the hunting house built by George II.
Today there is the dance school of the famous English Royal Ballet here.
The Queen Mother's Copse is a small area of Richmond Park delimited by two entrance gates to the park, so named in honour of the queen mother, Elizabeth Bowes-Lyon, who died in 2002, mother of our Queen Elizabeth II.
At the beginning of the seventeenth century, King Charles I moved his court to Richmond Palace to avoid being infected by the London plague and made the park a hunting lodge. Today Richmond Park is famous for its luxuriant fauna, in fact it is a place of great scientific interest and is considered a Natural Reserve.
This hillock at the top of Richmond Park is said to be the place where King Henry VIII waited for the light signal from the Tower of London informing him that his wife Anna Boleyn had been executed.
The King Henry hill is the highest point in the park, perfect for taking panoramic photos and admiring splendid views of the Thames valley, the London Eye, Windsor Castle and St. Paul's Cathedral.
If you feel hungry after so much walking, treat yourself to a snack at Pembroke Lodge. This beautiful historic building is located on King Henry's Mound, has been restored and is now renowned for its 'afternoon breakfast' offering all types of tea, sweets and pastries, served in Georgian-style rooms or on the panoramic terrace.
Inside Richmond Park you will also find the Richmond Park Golf Course, a huge 36-hole golf course perfectly integrated with the surrounding nature; the Kingston Gate Playground and the Peterham Gate Playground, two areas designed for children with spaces decorated with wooden bridges, benches and shaded areas and also the Pen Ponds lake where you can fish.