Only one news has replaced Covid vaccination record numbers, new covid cases reports, covid restrictions revocation and covid stories in the newscast lately here in the United Kingdom and that is that on April 9th 2021 Prince Philip Duke of Edinburgh died in his Royal residence in Windsor.
He wasn't perhaps technically 'our King' but he was the dear husband of Queen Elizabeth of England, he was a beloved 99-year-old man and he was quite a funny old fella too if I may humbly say so.
He died at Windsor Castle where he had retreated to be isolated and avoid any contact with people but his death was announced at Buckingham Palace as per Royal protocol.
He spent his last months of life at Windsor Castle because his health was critical and, in order to protect him from Coronavirus infection, they kept him there and far from London and from his other family members.
The Duke of Edinburgh, who had married the Queen over 70 years ago, had long been ill and had recently been hospitalised for some heart problems.
Mourning started in the Kingdom as soon as the news of the death of Prince Philip was publicly announced.
The announcement came directly from the English royal family though a short speech and a sign was also hung on the 9th of April on the gate of Buckingham Palace which read: "His Royal Highness died peacefully this morning at Windsor Castle."
He would have turned a century old on June 10th and there would have been a big celebration for that perhaps, Covid-permitting.
Obviously, flags appeared at half-mast at Buckingham Palace and at many other official and unofficial locations across the Kingdom for the eight days of mourning following his death as decided by the Royal Family.
It would be predictable to write about his life and that is something that can be found all over the Internet too.
I can just say that he was a discreet but at the same time funny and clumsy man who made some funky appearances in public both in the U.K. and abroad and he will not be easily forgotten.
His funeral was scaled down and the ceremony was obviously organised according to the times and following Covid protocols to protect the Queen, the Royal Family and the Brits who cared to pay him a tribute of course.
As I previously mentioned in one of my blogs, the Royal Family, which I expressly capitalise, is very important in the lives of English people so many people went to Buckingham Palace in the hours and days following his death to pay a personal homage by bringing flowers, a note, a stuffed animal or a drawing even though the public was formally asked not to gather or lay flowers at royal residences.
The Government in fact urged people to continue following and public health advice, particularly on avoiding meeting in large groups and minimizing moving around.
The Royal Family asked people to consider making a donation to charity instead of leaving flowers in memory of Prince Philip although there is no official website or chosen organisation for giving donations in his memory.
I must admit I did too pass by Buckingham Palace the following day since I was passing nearby anyway, partially attracted by curiosity and also to pay my modest homage so I brought a flower too.
I might make a donation too but I make donations regularly for the causes I believe in anyhow, regardless if someone dies or not.
It impressed me there were children's drawings representing him next to his Queen, notes citing some of his most famous funny blunders/quotes, British flags hung or lying on the sidewalk and loads of flowers of course.
He won't be easily forgotten.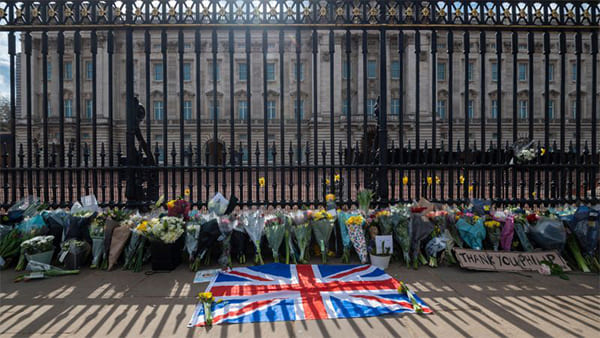 Homage to Prince Philip Duke of Edinburgh