Although British food is often criticized, London is certainly one of the most avant-garde European cities in the culinary field and it is also at the top of the list of the most vegan cities in the world right now.
The exceptional melting pot of cultures of the British capital is also reflected in its restaurants, and that it's included in its vegetarian and vegan options.
The vegan diet, or cruelty-free diet, is now more than ever a reality in London and London is certainly a vegan friendly city, with many restaurants to eat according to this philosophy as I had already spoken about in a previous blog.
The novelties now are the new vegan shops opening up and all the vegan "fast-food" chains.
In the logic of London life though, whether it's seen from the point of view of the 'resident worker' or as a 'tourist,' the concept of lunch always corresponds to a quick and affordable lunch break.
With this in mind, London offers broad perspectives and can truly satisfy all palates, religions and nutritional philosophies.
The capital is full of spots where lunch becomes fresh and of quality at affordable prices for all.
The Pret à Manger chain, found throughout the city, offers sandwiches packaged on the same day that vary the ingredients according to preferences.
It has always been excellent for vegans offering options like the baguette sandwich with dried tomatoes, salad, caramelized onions and pesto.
The chain has opened a new veg branch in Soho called Veggie Pret offering an entirely vegan and vegetarian menu, with more than 20+ veg options a day including sandwiches, salads, soups, pies and desserts.
It was created as an experiment of the Pret à Manger chain, which had asked its customers for an opinion on the introduction of new dishes, which initially had to last just a month but it had such a turnout and demand to continue in its mission to cater not only to vegetarians, but also to vegans.
The city is home to La Fauxmagerie for instance, the United Kingdom's first plant-based cheese shop, one of a kind in its genre, at least in Europe.
Furthermore, La Fauxmagerie does not just create plant products, but is also committed to respecting the environment, perfectly embracing the vegan philosophy and reducing the environmental impact by using packaging entirely made from recycled, recyclable or biodegradable materials.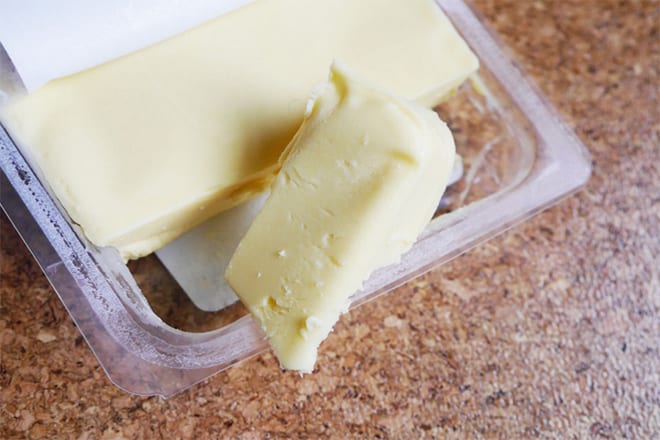 A vegan cheese I bought from La Fauxmagerie
Formula 1 driver Lewis Hamilton's vegan burger restaurant, Neat Burger, opened recently and hopes to open at least 100 more within the next years.
Neat Burger, which opened its first London store on Regent Street, is currently raising up to £ 15 million to finance the expansion. It has invested in restaurants in Covent Garden and Kings Cross, and it is planning a US launch next year with the goal of opening tens of stores in Europe over the next two years.
If, on the other hand, you want to eat vegan fried chicken (yes, it's strange, but that's a novelty too) then your destination is the Temple of Seitan.
"Do it for the animals, do it for yourself" is the slogan of this place.
The dishes are all based on seitan to replace the meat proteins.
In Camden town, a popular place amongst locals for cheap and quick vegan fast food is Hungerdog, where you can enjoy excellent vegan hotdogs.
They not only have the classic plain soy sausages or tofu options, but they also sell carrot marinated tofu dogs and have sausages dripping in a spicy vegan sauce and topped with herbs.
In short really super creative hot dogs!
A well-known organic/vegan-vegetarian friendly supermarket in the city is the American chain Whole Foods Market which is present in different parts of the city now in areas such as Piccadilly Circus, Camden, Richmond, Kensington and the poshest areas given its high prices.
There are many vegan products offered, but certainly the best are the desserts.
Their vegan cupcakes and biscuits are definitely worth a try despite their cost!
The good thing about this chain of supermarkets is also that (pre-covid) one could just sit down and enjoy his meal at the market itself as they offered a sort of salad and deli buffet area with recycled material containers, a seating area for customers with a microwave oven, cutlery (environmentally friendly ones!) and recycling bins to dispose of your waste.
Amongst the supermarkets offering vegan foods we find Planet Organic that, with its presence in seven different stores, precisely in Tottenham, Westbourne Grove, Muswell Hill, Kensington, Islington and Whitechapel makes it quite easy to find all over town.
These supermarkets are particularly well stocked with juices and smoothies all freshly prepared with organic fruits and vegetables on the site.
There is not a huge selection of vegan desserts but, at least, you can find both vegan and gluten free desserts and they are excellent in flavour.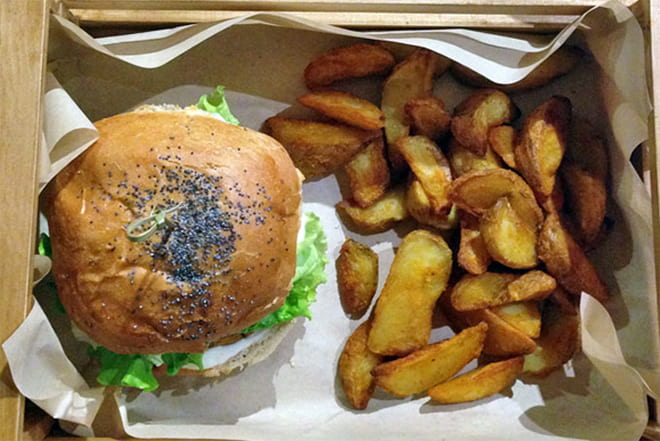 Vegan Burger with sesame seeds bread