London is unique, endless and ever-changing.
By unique I mean there is no place like it.
Endless because you never grow tired of exploring it as it has so much to offer and so much to be discovered.
Ever-changing because you have no time to explore one of its neighbourhoods or eateries that they are about to change once again.
London is the city where many musical trends were born and where many trends and lifestyles were conceived.
I am always keen on learning more about the city as I personally love change and I love exploring.
A very cool place I would recommend to anyone who is up for something unusual is the Growing Underground tunnel farm.
It is an underground farm housed in former World War II civilian shelters, tunnels that could accommodate thousands of people in total autonomy for several weeks.
Today, they have been converted into an urban farm where lettuce sprouts are grown at a depth of about 30 metres under the street level.
This amazing place can be visited in small groups, with a tasting of produce at the end. If the Sky Garden is now well known to tourists, another roof terrace also worth a visit in the City and located on the 15th floor, is quite simply the largest public terrace in central London: The Garden at 120.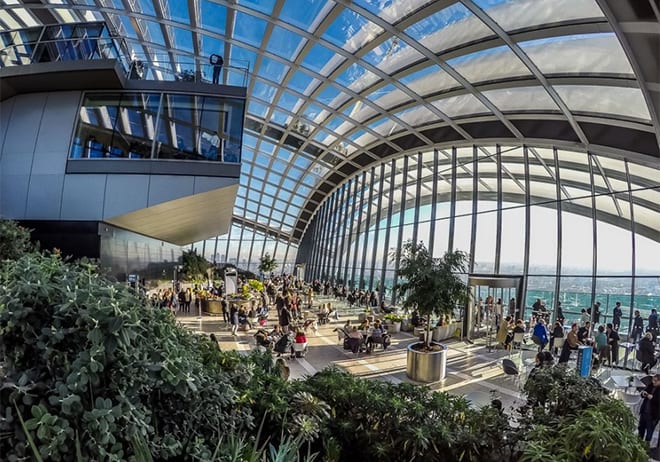 Sky terraces are very popular in London these days
Gardens, pergolas, terraces and ponds with a 360° view of London.
Simply exceptional!
You are close to the skyscrapers of the City and, while strolling on this roof, one can observe the smallest architectural details of the Gherkin or the Shard.
Another good reason to visit it is that it is completely free of charge and there is no need to book in advance.
All you have to do is show up during opening hours to get on the lift that takes you to one of the most beautiful viewpoints in London.
And as this terrace is not yet well known to tourists, it is much quieter here than at the Sky Garden.
Many employees from the neighborhood come to take a break here with their sandwiches for lunch.
Another great finding is the Mayfair market.
Located super close to Oxford Street, the Mayfair market is an excellent food court which combines a magnificent location and yummy food.
It occupies the former American Church of St Mark's.
You have read it correctly: a food court inside a church!
You choose your dishes from one of the stands and once you get your order, you can eat it in the nave or on the balconies.
There are seats, tables and entertainment.
They hold regular concerts here and the children have room to frolic while the parents can enjoy a show or just chat.
There is a play area for them inside the "church"!
It is a truly excellent and unusual address for a gourmet break in Mayfair.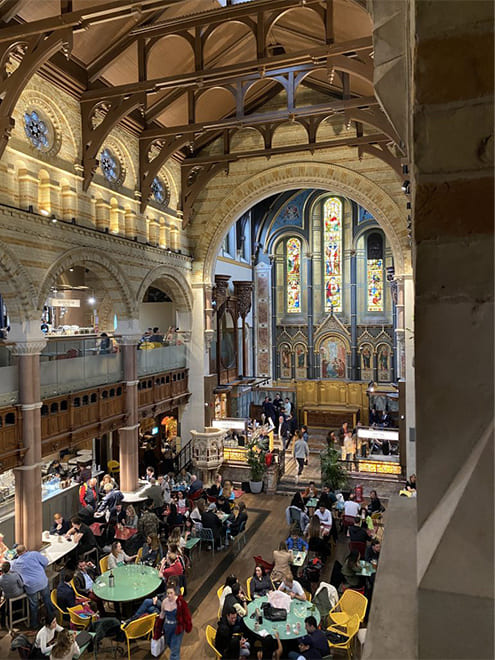 Mayfair market inside a former church
My last 'jewel' of the day is the Castle Cinema.
It does not look very special from the outside and it is located in a rather uneventful neighborhood but, once you arrive on the first floor, you discover a sublime bar which looks like you have travelled to a palace of the Roaring Twenties.
And good news: the prices are very reasonable for London!
With its soft carpet and its huge velvet armchairs installed under gilded stucco, the place is cosy, refined and yet the atmosphere is soothing.
This independent cinema was renovated by a couple of enthusiasts thanks to crowdfunding and it offers older films which rotate on a weekly basis.