At the start of a new year, it is always fun to exchange New Year's greetings with friends from around the world. What is even more fun, though, is to talk about the different New Year's customs of different cultures. I think the most interesting thing is to rediscover the unique customs of your own country that you have been accustomed to forever without thinking about the origin. People have asked me, "In Japan, we eat ozoni (soup containing rice cakes and vegetables) during New Year's. Does the Netherlands also have this kind of custom?" At first I was thinking that the somewhat simple food culture of the Netherlands does not have any special New Year's dishes like osechi ryori (special foods for the New Year) with deep traditional meaning. Then, I was walking through my town one day and saw the lavishly decorated truck in front of the shopping district that always gives off sweet aromas and remembered the unique Dutch New Year's food culture I had forgotten.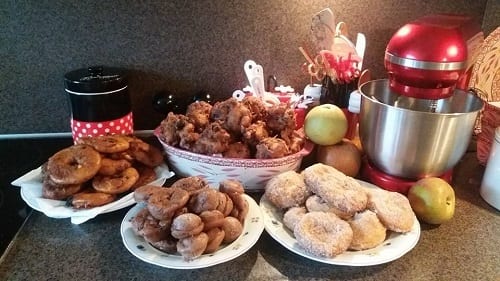 What I was seeing was the Dutch Gebakkraam (baked goods truck). In November, when the weather begins turning cold, we start seeing mobile retailers in vivid colors and dazzling decorations everywhere in the Netherlands from urban to rural areas. In front of these trucks there are always long lines of people who were lured there by the sweet smell wafting along the cool winter breeze. These baked goods trucks sell many different things, but the most famous are Oliebollen (literally, "oil spheres") that are sweet deep-fried dough balls that look a little like sata andagi (Okinawan donuts). There are many different versions, such as sprinkled with icing sugar or filled with dry fruit. In addition to Oliebollen, the baked goods trucks also sell foods like Appelbeignet (apple pie) and Berlijnse Bol ("Berlin balls") that are deep-friend dough balls filled with whipped cream or jam. While the breads with fillings are also delicious, the most popular is still the Oliebollen as a special New Year's treat. One newspaper company in the Netherlands holds an Oliebollen contest every year and the entire country watches the results closely. This year too, tons of people woke up early on the morning of the 31st to line up at the winning shop so that they could eat the tastiest Oliebollen on New Year's Eve.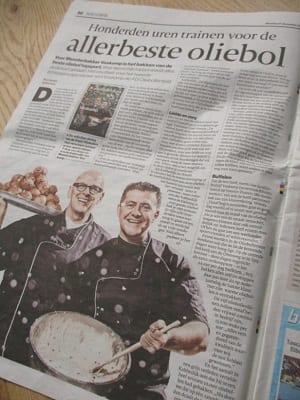 Seeing these people frantically lining up to get a taste of the Netherlands' most delicious Oliebollen and reading newspaper features saying that shops practice for over 100 hours to make the best Oliebollen made me think that this sweet food culture of the Netherlands is considered very special. I have been asked, "Then why do they only sell them in winter?" and the answer to this question actually did not come to me immediately. This is because I have never before considered why Oliebollen are a winter-only treat in the Netherlands or what the cultural background is behind the snack. I searched for the history of Oliebollen and found many theories. According to one legend, for example, medieval Dutch people had a custom of eating oily cookies when the Christian fasting period ended to increase their weight, and that was the origin of Oliebollen. Even today, warm and sweet snacks like Oliebollen would surely give energy to people who have become weak in the cold winter. According to a different story, Oliebollen are originally from Portugal and were a snack brought to the Netherlands by Jews in the 15th century. According to an even older legend that is somewhat mysterious, Oliebollen were originally a snack of the Germanic people who once lived in the Netherlands. The devil would threaten to cut open people's bellies at the end of the Germanic year, so Germanic people would eat oily foods such as Oliebollen to prevent this and to strengthen their stomach.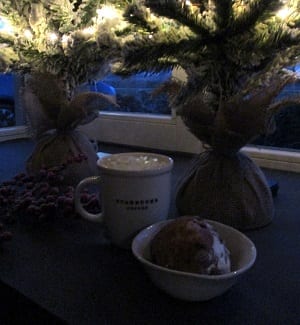 We still do not know which of these stories is true. Even if we do not clearly know the origin of Oliebollen, they are no doubt a very popular treat in the Netherlands today and are an essential winter snack. So, what is an indispensable part of eating Oliebollen? As you might guess, warm beverages go perfectly with Oliebollen. In particular, chocolate milk topped with heaps of whipped cream that is drunk together with Oliebollen is very popular to soothe your soul in winter. Similar to Oliebollen, this Dutch-style chocolate milk also has a long history. Perhaps you know the Van Houten brand. In 1828, a Dutch man named Coenraad Johannes Van Houten invented the current form of chocolate milk made from cocoa butter, and it is said that he is to thank for today's chocolate milk that we can enjoy. Many people say (or want to say!) that not only is the sweet taste delicious, but it also has beneficial effects like energizing your mind. If you drink it while eating Oliebollen that are said to strengthen your body, this year will surely be a good year.The cold, harsh days may continue, but how about relaxing and enjoying Dutch Oliebollen or a warm beverage for afternoon tea?