Savona is a town located about one hour by train from Genoa and it is the second biggest city in Liguria. This town is famous for white farinata, a wheat glutinous flatbread, for its Priamar fortress and for its main square, Piazza Mameli, also called the square of the fallen.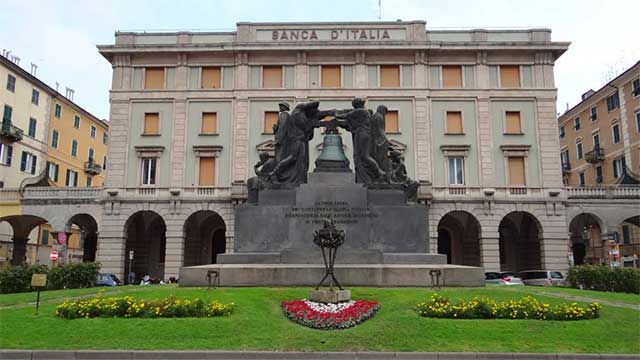 The Bell of the Fallen, la Campana dei Caduti
Although this square is not particularly beautiful, it is famous all over Italy because in its center there is a big bronze bell with a long tradition behind it.
A writing under the bell reads: "The sacred voice of those who fell for the glory of Italy. Knowledge, emulation and sacrifice for future mentions."
This square is a very crowded place during the day because it is a busy intersection. There are many businesses facing the square, bus stops, taxi stands and parking places but everything freezes every evening at 6 o'clock.
The big bronze bell placed in the middle of a huge flower bed, punctual as a Swiss watch, every evening at 6 sounds for one minute and during this minute pedestrians and vehicles stop moving. Traffic is controlled by traffic police officers who make sure that everyone complies (no matter if you are in a rush or if you are from out of town, tradition mandates it!).
But why should traffic be stopped during rush hour in a major transit area? The reason is as simple as it is peculiar: in Mameli Square in Savona, the bronze bell is a monument to the fallen, built to remember those citizens who died in the wars. From the first toll, and for a full minute, pedestrians, bicycles, cars and motorcycles must stop to show respect and to pay homage to these victims. The chimes are 21, as the letters of the Italian alphabet, and enclose the initials of all the names of Savona's fallen citizens.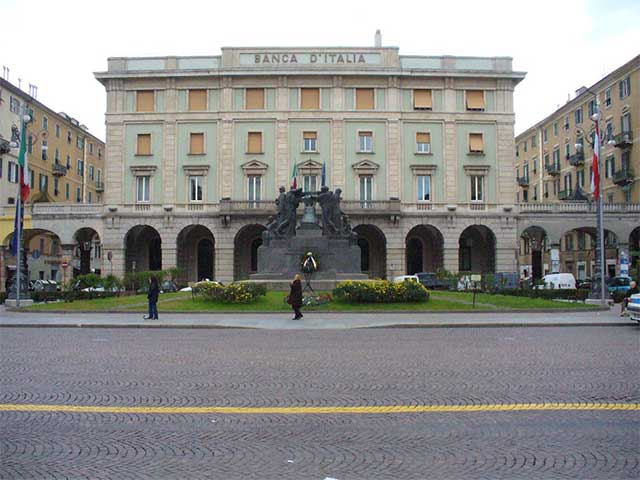 People freeze and cars stop every evening at 6 pm
This 'ritual' has been going on for 80 years but, if you happen to be in Savona for the first time, it's really something very moving and exciting because it's emotional to see everyone interrupt their daily activities, even for just a minute, to remember the soldiers and the civilian victims.
When you attend this 'event' for the first time - if you don't know the story behind it - you may think you are participating in a flash mob type of event or you feel like time just froze.
Years ago, there had been a referendum to abolish this tradition but Savona's residents voted to keep it although it creates problems with an already congested traffic at a critical time of the day.
Only ambulances and emergency vehicles have the right of way during this minute of silence dedicated to the fallen and the traffic police may fine those who do not comply.
It's very unusual to see people freeze like that and during that minute the square becomes a surreal place, at times only 'interrupted' by crying babies or exuberant dogs.
The square is dedicated to Mameli and it's not by coincidence that they chose to name this important square to him.
Goffredo Mameli was a poet and patriot, born in Genoa in 1827. He studied at the university of Genoa and, in November 1847, he wrote the Italian national anthem, the Inno di Mameli (later named Fratelli d'Italia).
It became the official Italian national anthem in 1946.
Mameli met Garibaldi in Genoa and followed him to Rome where he injured his leg in a battle. Mameli became famous for being brave and faithful to the country and later on his chant was chosen to symbolize the nation.