In Liguria, summer means outdoors but it also means eating because plenty are the food festivals – sagre – around our beautiful region. But there is an event just on the hills of Levanto, a small village near Genoa city, which is a must do for both hiking aficionados and Ligurian food and wine lovers.
It is not a marathon nor a race (after all it would take away the pleasure of eating along the way) but it is a sort of community event open to everyone fit enough to hike some mildly steep hills and old enough to drink wine. It is held on weekends in July and it's an absolute must do to discover our food culture and landscape heritage. Too many people in fact think of Liguria only for the sea but the countryside is just as precious.
Once you arrive in Levanto, just near its train station, you can find a stand where they register you and give you a kit to participate. The kit comprises a map, which also indicates the itinerary with the various parking lots and refreshment points, and a card to be used along the way to try foods and wines at local eateries and wineries positioned on the path at a discount price.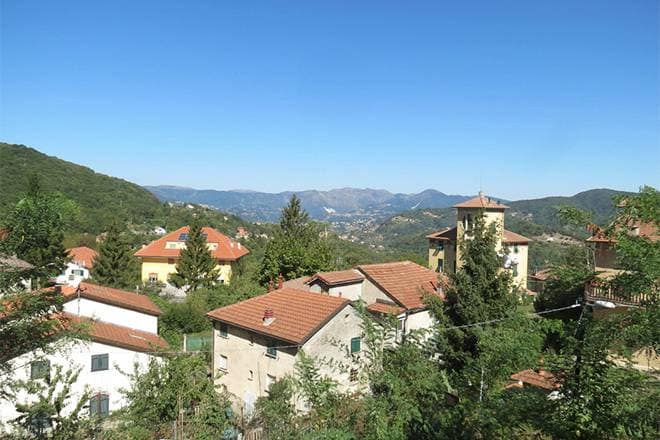 Villages on the Ligurian hills surrounding Levanto and Genoa
The Levanto food & walk hike is a fantastic gastronomic sport experience because, immersed in the green of nature, with glimpses of land and sea, in a festive and relaxing atmosphere, it is possible to walk about ten kilometers in the hinterland of the Genoa province. It is a unique opportunity to discover the area by hiking at a moderate pace, tasting the local specialties, admiring the precious and hidden villages on the hills. Since it's not a race, you can take your time and take as long as you want to complete it (you can even choose not to but you won't get the gourmet prize at the end) and you can stall and sit in one of the picnic areas along the path accompanied by live music, because in various places there are tables and drinks available. The climate is very goliardic, everyone eats, drink, dance, and sing along...it feels like a true village party.
It is a loop starting and ending in Levanto and the first stop along the path is the municipality of Fossato, where we are welcomed by music and typical focaccia bread.
Focaccia is a Ligurian product par excellence, with that particular taste that gives it the extra virgin olive oil produced here. The next stop is a drinking stop in Lizza, a village famous for the production of a very sweet type of white wine. The path leads us to the third stop in Lavaggiorosso, which is the highest peak of the path. But it is worth to mention that along the way connecting the two previous villages is an old mill which sells hot farinata (a chickpea flat bread typical from Liguria) just baked inside a real flour mill!
In Lavaggiorosso the typical dish is instead pasta alla contadina, a pasta served with oil, fresh seasonal vegetables, beans and potato chunks.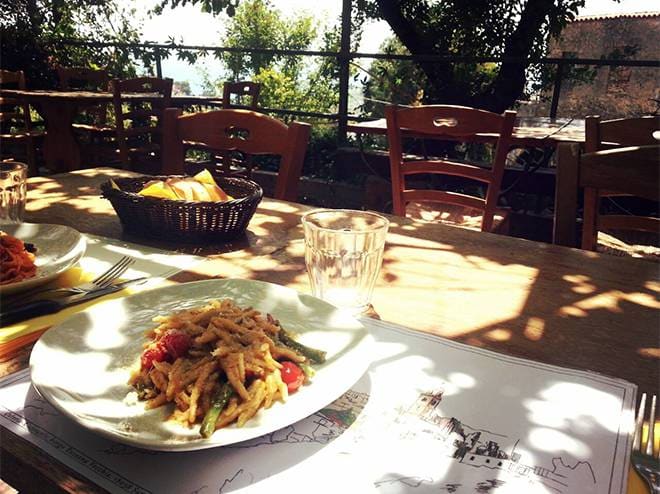 Pasta alla Contadina with fresh local veggies
In this village there is a stage where local bands play music so that the participants in the hike can rest and enjoy the show or dance if they like.
At this point the climb should be over, also because the belly begins to be full and it gets more and more difficult to hike those ups and downs typical of the Ligurian mountains but there are two more stops. The next village is Dosso where they serve zimino style cuttlefish, another typical dish, somewhat spicy and very tasty. And the last stop before returning to Levanto is Casella, famous for its vegetable caponata, a mixed vegetables dish. This village is very characteristic and I had mentioned it in another blog because there is a cute little panoramic train connecting this place to Genoa city center.
Levanto, the beginning and ending point of this hike became famous in the past for its gorgeous bay, and it soon became the favorite place of writers, poets and painters who decided to move here to find their inspiration. We can still find traces of this glorious past here because many are the artworks located around the town and it's a cute little gem.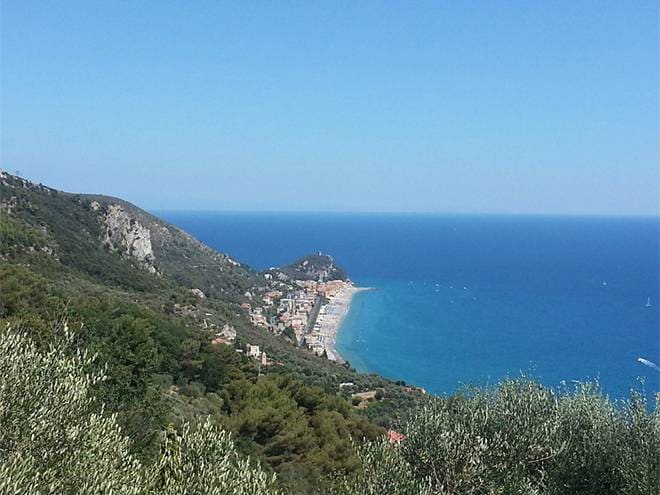 Levanto Bay