After such a long time in quarantine and with a forced lockdown due to the Coronavirus, Italy is slowly opening back up.
Phase 2 started last May 4th and that's when people were allowed to move freely around their region and when some shops and businesses started to open back up. They were then followed by some other services and stores which opened on May 18th and finally on June 3rd Phase 3 started.
Phase 3 entails that all Italian regions are now open and that means that people can freely move across all regions while before it was against the law to do so and you had to have a permit to travel from one region to the next.
Luckily, during this short window of time between phase 2 and 3, I was able to visit a gorgeous place here in Liguria which is normally too crowded and busy with tourists from out of town: I took a hike to Punta Chiappa, a beautiful promontory stretching on the Ligurian sea.
People have a strong desire to enjoy the outdoors this year and many people are exploring trails and predictions say that this summer many Italians will go on holiday in the mountain or the countryside to avoid crowds and to be in contact with nature.
The hike I did started from a small fishing village immersed in the Portofino park: San Rocco di Camogli.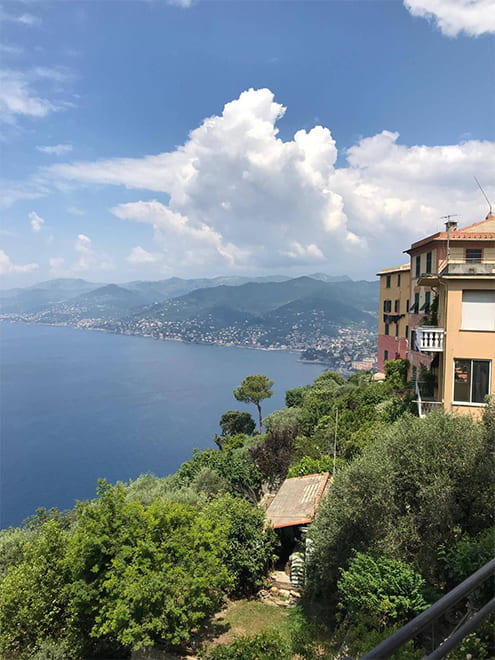 View from San Rocco di Camogli
San Rocco is a small village perched on a hill overlooking the Portofino bay on one side and the Genoa bay on the other. San Rocco is famous because every year in this village they give an award to a man's best friend (a dog) for its bravery in some occasion.
Punta Chiappa is undoubtedly one of my favorite hikes around Liguria: it is a short but intense trip, which in the warmer months allows you to cool off in the protected bay of the Portofino Regional Natural Park and sunbathe on the rocks that stretch out onto the sea.
Punta Chiappa is a magical place, reachable only on foot or by ferry, where it seems to be back in time, with its typical colored houses and fishermen's nets hanging on the railings behind its cliff.
If you are a good hiker, you can even extend your hike and head to Camogli where you will find a road that runs inland along a stream.
The first part of the trail winds along a mule track and goes through some farmland, olive groves and typical Ligurian houses.
The climb is a bit steep, but facing it with a slow and decisive step you will reach the top in a short time.
In about half an hour or so you should arrive on top of the hill and the view over the bay of Camogli is absolutely spectacular and it is worth stopping to take some pictures and admire the landscape.
Before reaching Punta Chiappa, after a while, a suggestive staircase begins, which will take you to your destination in about thirty minutes.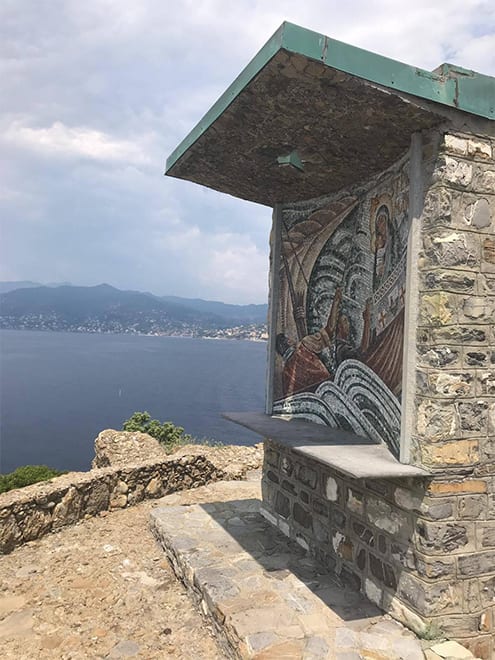 Mosaic on the Punta Chiappa promontory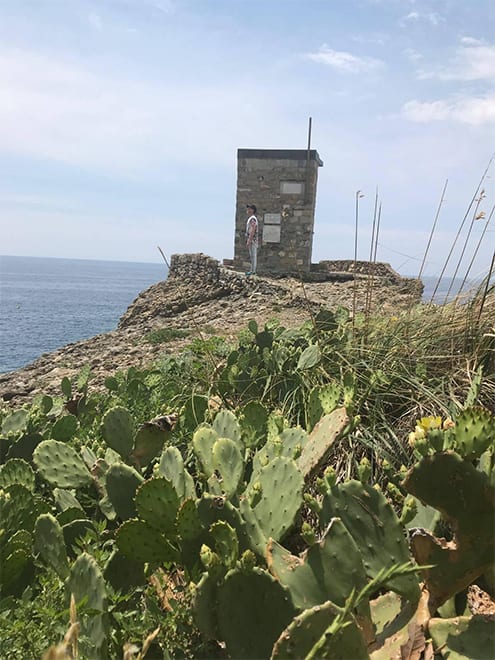 Punta Chiappa promontory on the sea
Along the way, you will find the medieval church of San Nicolò, built in the 12th century, whose square offers a breathtaking view of the sea.
You then continue through a wooded area, which gradually thins out until it opens up completely when we reach the small seaside village of Porto Pidocchio, where in the summer you can find a couple of restaurants where to eat.
It is amazing how these local restaurants get their provisions by sea because there is no way to access this place by car.
It is therefore possible to taste local products thanks to the presence of these typical restaurants, one of which is a fish restaurant serving only fresh fish caught that day.
At this point, part of the path is excavated in the rock and you finally reach Punta Chiappa.
Wonderful both during the summer, during which it is possible to snorkel in the Protected Marine Area, and on beautiful winter days, when the sky is clear and you can visit the area without the crowd of swimmers who normally meet in the warmer months, this place is open year-round.
It is a real corner of paradise, with its huge rocks overlooking the sea and crystal clear water.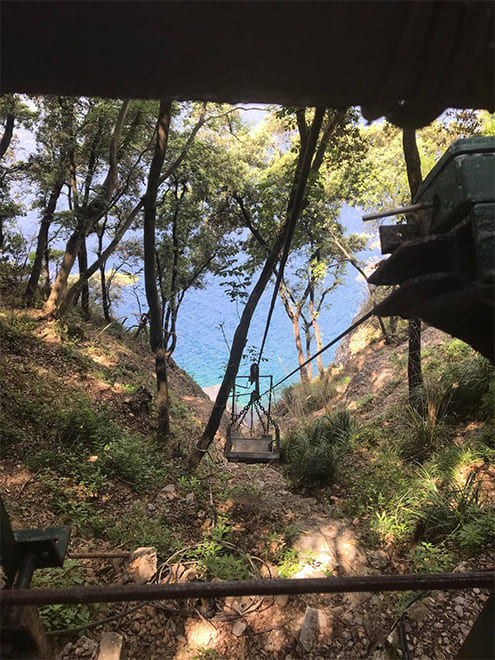 Some houses and restaurants are so remote that they need to receive provisions by boat