A few months ago I tried two traditional local products that I had never tried before: Panera gelato and chinotto liqueur as a digestive.
I was in a beautiful local osteria (inn) where they make homemade trofie pasta with homemade pesto and, in order to have a full Ligurian experience, I decided to end my meal with this typical dessert and this exquisite digestive drink.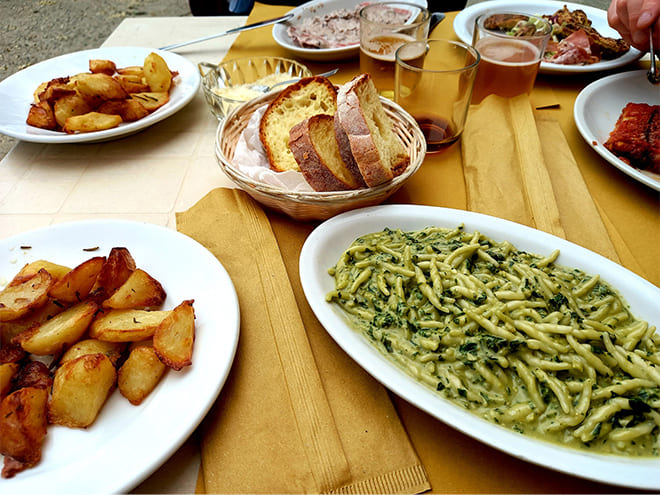 Typical Ligurian meal I had
Gelato, more simply known as ice-cream, is popular and good all over the Italian peninsula but, perhaps, not everyone knows that Liguria also boasts a traditional ice-cream flavor, typical of the city of Genoa, called Panera.
The Panera flavored ice cream is more precisely a parfait made with cream and coffee and some local Genoese people get actually angry if you call it ice-cream because they say it's a semifreddo which technically means parfait.
The origins of this ice cream are quite ancient, in fact they date back to the nineteenth century. According to tradition, the name pronounced pànera, with the accent on the first "a" derives from the word pa – cream – and nera - black.
Without the original recipe (which I heard it's secret and every restaurant makes its own) I have made several attempts to develop a recipe that is close enough and I propose the best one so that you can taste this delicacy making it yourself.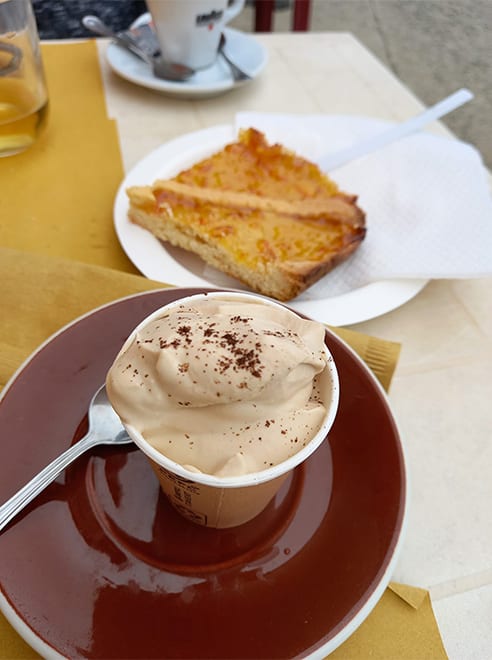 SEMIFREDDO PANERA
25 grams of coffee powder
250 ml of whole milk
200 grams of granulated sugar
Whipped cream
Preparation:
Dissolve the coffee powder in the milk, add the sugar and heat over a low flame until the sugar is well dissolved.
Let it cool completely, then filter with a fine filter to remove any traces of coffee powder.
Pour the mixture into a low and wide container and place it in the freezer to solidify. Take out every half hour and mix quickly with a whisk to make it homogeneous. When it is creamy, but not yet completely frozen, add the whipped cream in two stages and put it back in the freezer to complete the cooling, still stirring it occasionally.
CHINOTTO LIQUEUR
In the past, many Ligurian and French cafés owners placed on their counters a vase with a majolica teaspoon full of small green citrus fruits immersed in Maraschino liqueur: they were chinotti from Savona, alcoholic citrus fruits famous and unique for quality, aroma and excellent as a digestive. This citrus fruit is grown in Liguria with the Slow Food Presidium in the coastal area from Celle to Varigotti. Despite being a plant native to China, it seems that around the 16th century, a Savona navigator transplanted it to the Ligurian coast and here he found an ideal environment which, over time, improved its qualities.
The characteristics of the fruit give the liqueur a strong taste, leaving a wonderful citrus aftertaste and delicately bitter hints in the mouth.
According to the traditional method of making such liqueurs, officinal herbs and natural extracts are macerated in an alcoholic base composed of ethyl alcohol and spring water later mixed with cane sugar.
I have tried both the original chinotto liqueur made with the citrus fruit alone and its newer version with an addition of basil, mint and sage.
In the last one the citrus scents of lemon and chinotto are complemented by the herbaceous notes of basil and sage while the mint leaves give it a pleasant freshness so I preferred the latter.
Although some say that Panera should be eaten alone I very much liked the combination of the dessert followed by the digestive liqueur.