On weekends I love to visit vintage markets.
They overflow with memories and objects from other times, and it gets even better when they are set in small picturesque villages on the Ligurian riviera or held in the squares of historical towns.
In Italy it isn't Sunday without an antiques and memorabilia fair or vintage/secondhand market nearby and they are found throughout the country, mostly held on weekends because that is when people have more time to attend and buy.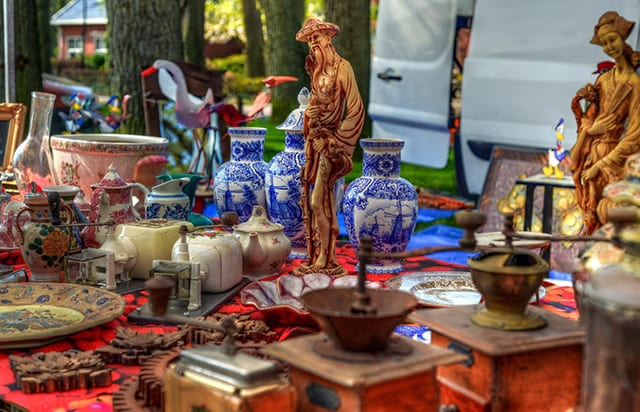 Vintage market – (Chiara Vassallo's photo credit – my friend)
In Genoa, there is a huge market held every Sunday in the old alleyways by the old harbor.
On its stalls there are many small antiques and collectibles, from walking sticks to postcards, from dolls to old laces, from black and white photographs to magazines of the past. Furthermore, one can find vintage clothes, antiques, furniture, jewelry, all items may be antique or simply old style.
For over twenty years, dozens of exhibitors have been crowding the streets of the historic center.
I particularly like to browse collectables, old relics, furniture, paintings and dolls.
There is another market I like which is held the first Thursday of the month in Lavagna, a small village near the city.
Among its stalls I can find a little bit of everything, from old vinyl (which I sometimes buy for my mom who collects them) to antique furniture, from magazines yellowed by time to the most curious and extravagant objects.
I got even more passionate about such markets in the past few months because of a new show on TV titled "Cash or Trash?", a show in which five merchants compete in an auction to get at the best price vintage items or items found in the attic. Regular people attend the show and present their 'goods'.
They first get a quote from an expert who tells them the potential value of their items and later they attend an auction with the five merchants who are unaware of the expert's quote.
It's a funny show because the participants sometimes present junk but they get away selling these items for a good prize thanks to their business skills.
Since I started watching this show, I browse the markets more carefully trying to find a potential 'treasure' among all the junk.
I have learnt a bit about what to look for and it's a great 'treasure hunt' game to do for fun.
Vintage markets in Italy are always well stocked because people often sell or donate what they find in old attics. They do it when they must free up space in their homes or perhaps when they inherit their grandparents' house.
There are several ways to sell and donate these things.
One can call a 'svuotacantine' (literally translated as 'empty basement expert'), a person who comes with a small Italian Ape car (similar to a three-wheeler rickshaw, also known in English as a 'tuk-tuk') and who takes everything for a small flat fee (yes, you heard that right! You must pay for such service).
Another option is to give things away to a service called 'camioncino di quartiere' (translated as 'neighborhood truck'), a small truck which comes once a month to a specific location in the neighborhood – sent by the municipality – to collect sellable junk people wish to get rid of.
A third – and most convenient – way is to try sell the single items to a local thrift shop or a secondhand market. You will find your goods for sale at a local market for a much higher price but at least you'll make some money in the process.