Portland offers more than 550 food carts which are spread out throughout the city on both sides of the river.  The city has been elected the place with the world's best street food by several food magazines around the globe.  This curbside novelty is slowly taking over almost every vacant parking lot in the city, also thanks to the development of an amazing network of public transportation and the popularity of bicycles, which have been pushing more and more Portlanders to abandon the use of cars to move around town. Portland certainly is the city which offers the most variety of street food since its food carts offer cuisines from over 60 different countries from Mexico to Mauritius, from Georgian specialties to Israeli delicacies.  Unlike other cities' mobile food trucks, most Portland carts are parked alongside other trucks in dedicated "pods" around the city, making it easy to try several dishes at the same time. From traditional British fish and chips to unique vegan burger recipes, the Portland food carts scene has definitely something for everyone. The largest downtown collection of Portland's famed food carts is located downtown near the business area, between Southwest Ninth and Southwest Tenth avenues. Most carts are open extended lunch hours on weekdays, making it a convenient spot for office workers to have a quick and delicious lunch break.  Some carts even offer small tables, but most customers prefer to take the meal to-go and eat at a nearby public park or back at the office. Some of the most popular trucks propose Asian-fusion rice bowls, creative sandwiches and Korean BBQ dishes, but one can also find an assortment of Indian and Thai carts and even a very popular Czech cuisine truck.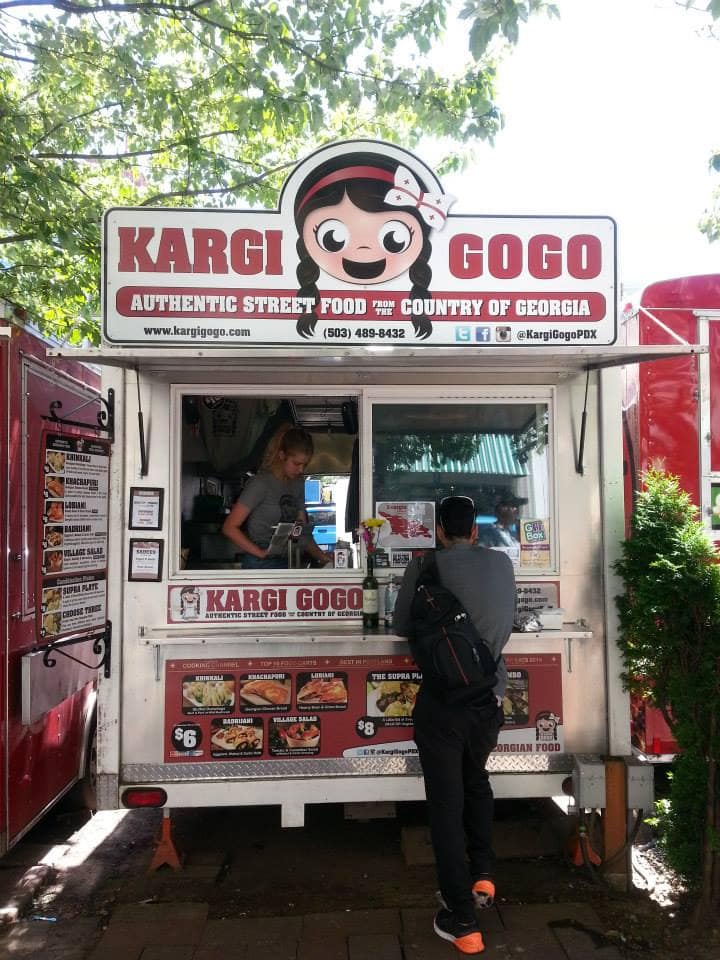 The Georgian food cart is a rare find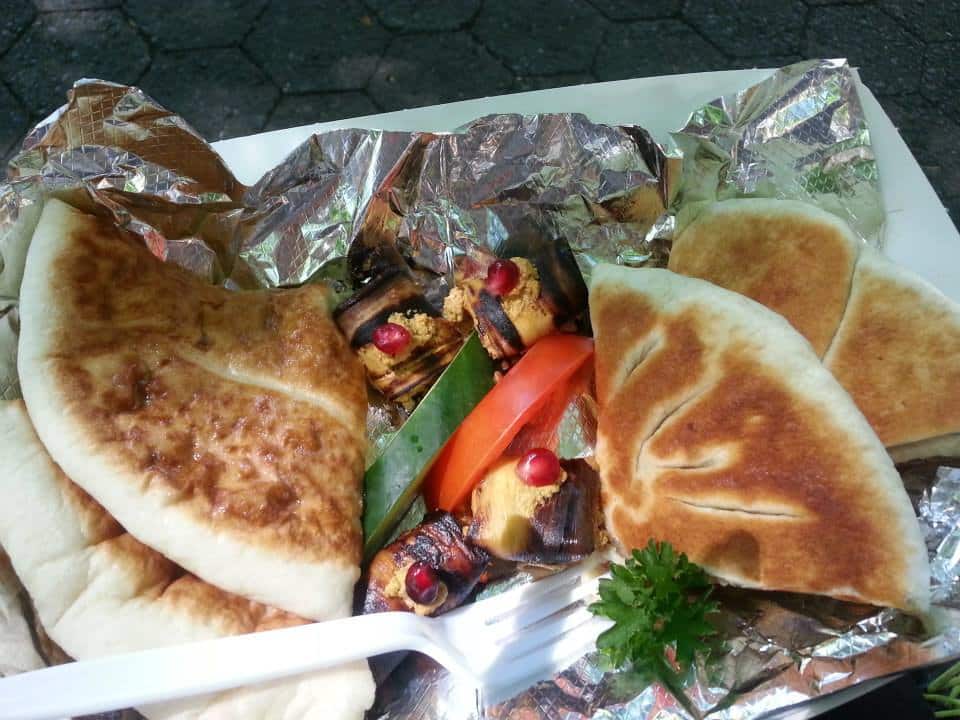 Georgian food is one of the many specialties to try on-the-go
Another popular pod of carts is located by the waterfront and it's found in the middle of a big public park overlooking the Willamette River.  Very few carts offer seating here, but the proximity of the park make it a perfect spot to buy a few dishes and have an impromptu picnic with a view. Located in the south end of downtown, the Portland State University pod is convenient to the university campus and the shady South Park Blocks and it's perfect for the students who often prefer to eat here rather than at the University's cafeteria.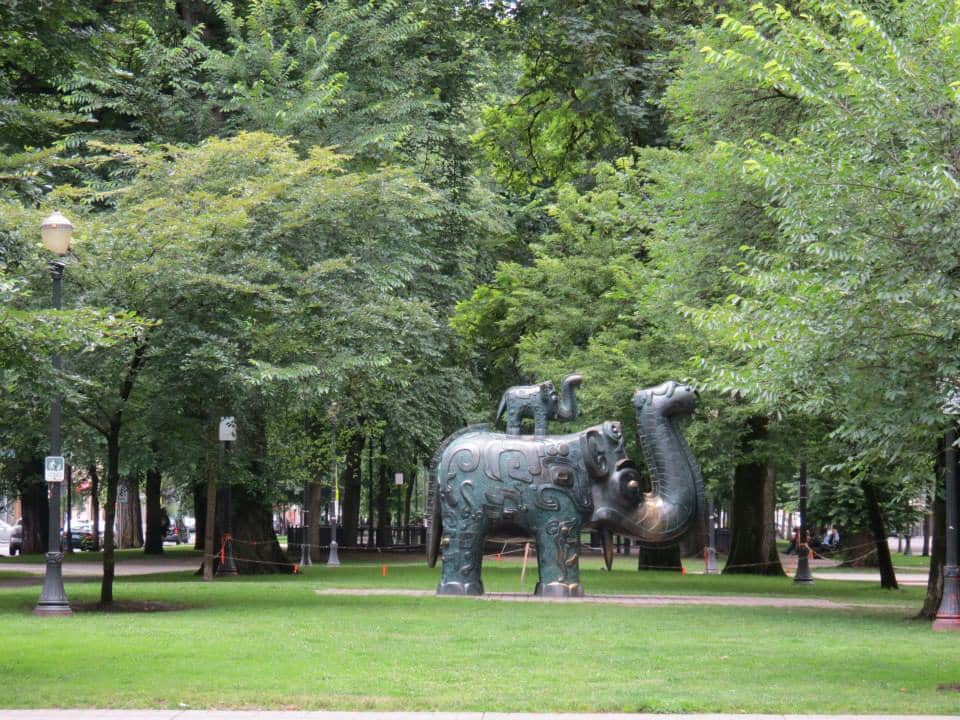 Portland's parks are a perfect spot for picnics
Since Portlanders have a reputation to be food lovers or foodies, most food carts around town offer gourmet dishes and use only local produce or high quality products to prepare their recipes.  Portland is also proud to have the highest percentage of vegetarians and vegans in the Nation and most carts need to have a vegetarian or vegan option in their menu in order not to lose customers. Many carts present exotic specialties from Thailand, India, Mexico, Italy or American fares but many choose to dare and create their own fusion recipes, perhaps combining Italian classics with Asian ingredients or preparing American burgers with unique ingredients such as horseradish, honey or beets.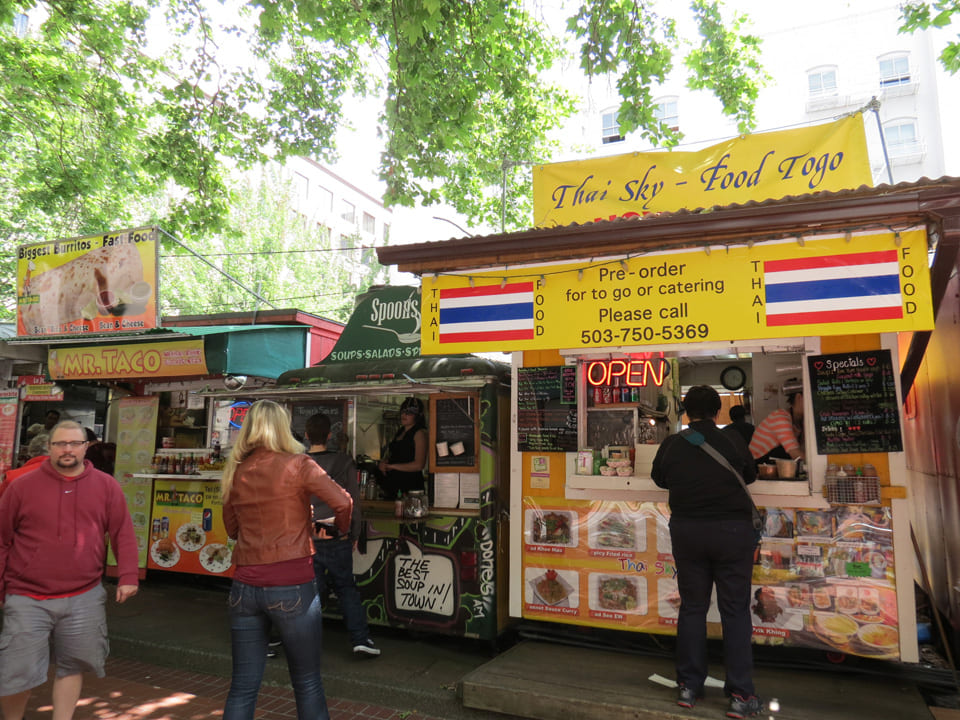 Food carts offer dishes from many different countries
An all-time favorite cart in town is Cartopia, which prepares crispy, double-fried French fries in thick cheesy gravy.  Cartopia is one of the few carts around town offering a covered and heated seating area and its extended opening hours make it a must-go-to spot at night, especially for the young crowd.   PBJ Grill shares such seating area with Cartopia and offers unique and delicious panini, like a smoked goat cheese sandwich made with almond butter, bacon and apricot jam on olive bread. Truly unique to Portland, the Cartlandia Food Cart Pod is a bike-centric food cart pod which is easily accessible from the nearby cycling path and which has over 30 international food carts, a dog-friendly eating area and a children play area.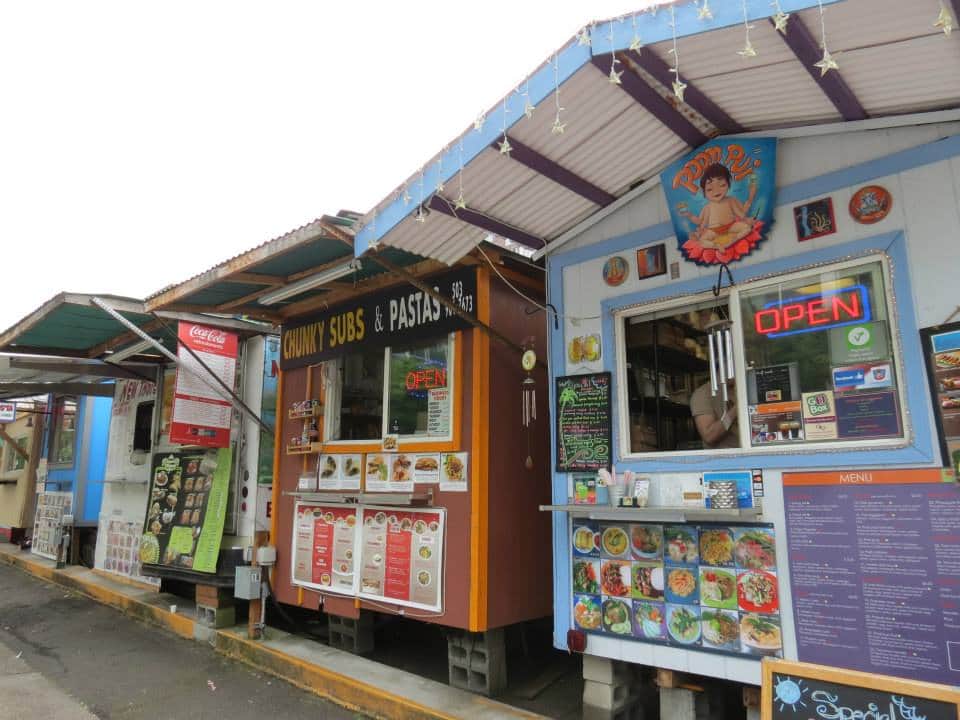 A popular food cart pod offering International cuisines
It's not by chance that this food-cart fever has spread in Portland because the city already had a reputation of being daring when it comes to dining. Portland has been offering ethnic and innovative restaurants for ages since it's a very open-minded melting pot of cultures and nationalities which make it an exceptional international oasis in the Pacific Northwest. Some specialized tour offices offer food carts walking tours covering the history of the carts and the socioeconomic conditions which have helped them thrive and, of course, such tours include some tasty samples of local flavor. The city tourist office also suggests a Portland food carts and neighborhoods tour, a guided bus tour exploring the city's diverse neighborhoods and their selection of food cart pods, with several food stops along the way and a special and unique insight on the preparation of food inside these small street carts.