As I previously mentioned, it rains a lot in Portland.  In my previous blog I discussed how reading is one of the favorite activities in the city.  Portland is artsy and art oriented and films also play a large role in the city's entertainment scene.  The city of roses offers a unique cinematic experience called living room theaters or theater-pubs.  The founders of this concept are the McMenamins, two brothers who chose the business mission to preserve State landmarks by turning them into independent hotels, local restaurants and entertainment centers.  Most theater-pubs feature second-run movies or independent (indie) films for about $3 or $4 a ticket. Portland's beloved movie brewpubs or living room theaters often play avant-garde movies or foreign films while offering a gourmet menu and a full bar. Most of these cinemas have small screening rooms featuring cozy couches or recliners which offer the feel of a homey living room.  Cinema goers can order a full meal from an extended menu before entering the cinema room and receive their meal just before the film starts.  Unlike regular movie theaters, movie brewpubs have also the license to serve alcohol and therefore viewers can also choose to have wine, beer or even a cocktail with their meal while watching their movie of choice. Some of the most popular theater-pubs in Portland are the St. Francis School Theater, the Laurelhurst Theater, the Kennedy School and Cinetopia in nearby Vancouver, Washington which is just across the river. The St. Francis School Theater is a non-profit cinema run exclusively by volunteers featuring second-run and indie films, alongside special screenings for film events and marathon sessions. The Laurelhurst Theater is a Portland landmark which was built in 1923 that proposes older films, pizza and local beers on tap.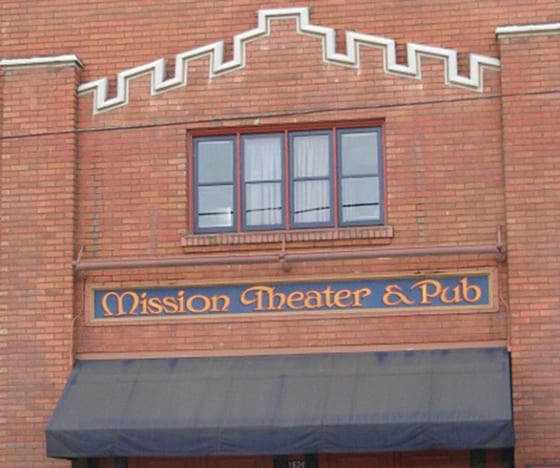 Mission Theater Pub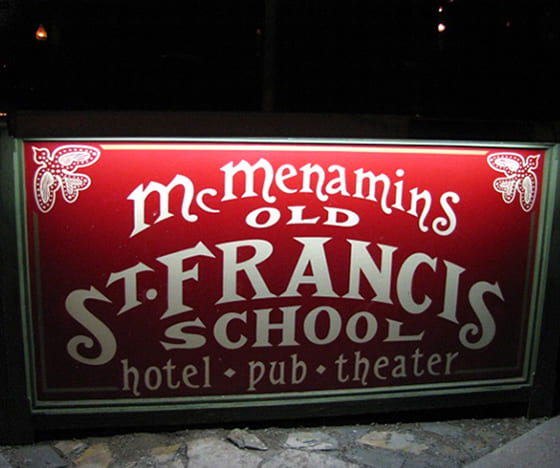 St. Francis School Theater Pub
One of the most peculiar theater-pub in Portland is located in the McMenamins' Kennedy School, a former elementary school converted into an entertainment center which hosts three bars, two restaurants and a movie brewpub.  The Kennedy school showcases local artworks, pictures from its school past and it even has a sauna and a swimming pool.  Watching a movie here is a true experience because one can choose to have dinner inside the 'school' or have a dinner tray served while watching the film.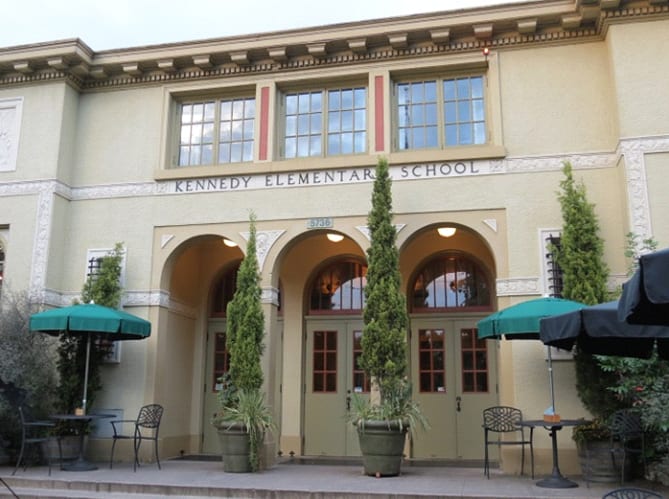 The Kennedy School is an entertainment complex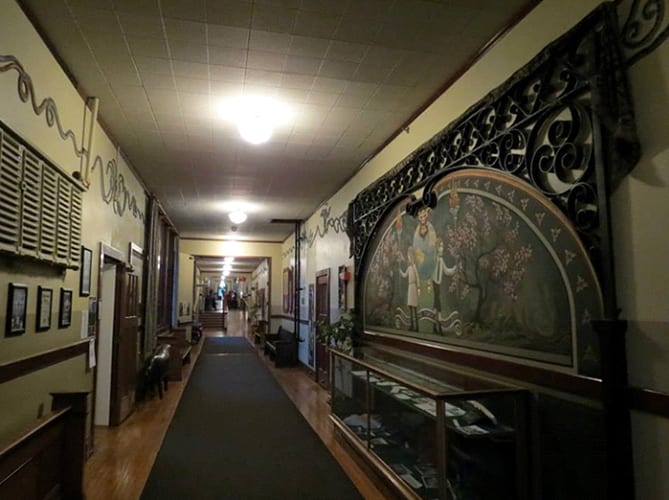 The Kennedy School theater-pub displays artworks
   Near Portland, in neighboring Vancouver, Washington, Cinetopia is a big cinema complex which offers a luxury dining service inside the cinema room and a pre-show live music entertainment. Cinetopia differs from Portland's independent theater-pubs because it offers stadium view seating and new movies but it's just as original as PDX movie brewpubs.  Cinetopia also hosts a wine tasting room featuring over 100 types of wines, where the visitors can use a prepaid card to sample the wines they like independently by swiping the card next to their bottle of choice. The Oregon Independent Film Festival annually shows indie films from over 20 countries in selected theaters throughout Portland and the State of Oregon and many actors and movie producers have chosen to move to Portland in recent years because of its trendiness and openness. Around Portland is also possible to find some open-air theaters and drive-in cinemas which are rare elsewhere in the USA nowadays. Portland's thriving indie film culture walks hand-in-hand with the city's theater pubs and Portlanders are fans of anything which is not conventional or mainstream.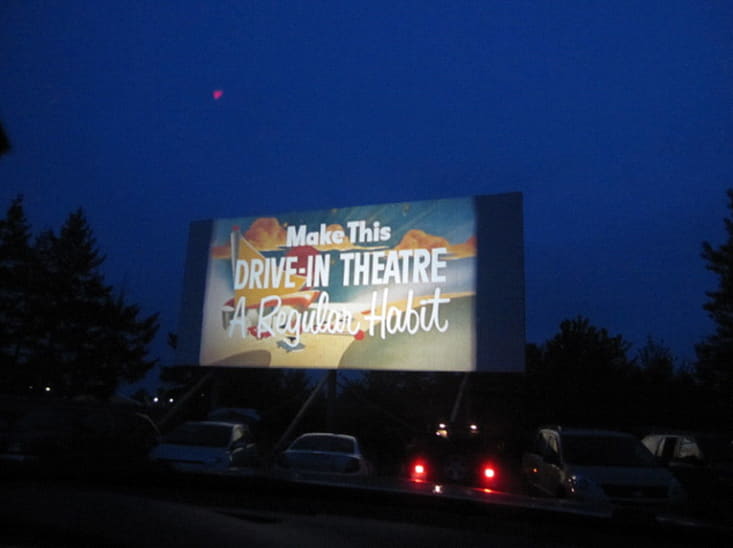 Drive-in theater in the outskirts of Portland