The term shanshui (written 山水, meaning mountains and rivers) is used often in China. The people of China feel that mountains and rivers are too good to consider separately. Mountains and rivers are related also to Feng Shui, and the thinking from ancient times that it is good Feng Shui where both mountain and river converge still remains to this day.Therefore, leisure spots with both mountain and river are very popular among the Chinese. This time, I'd like to introduce Beijiushui, located in Qingdao of Shandong Province.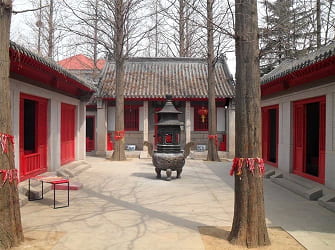 Qingdao is well known for Qingdao Beer or the electronic appliance maker Haier, which you may be familiar with. However, you may not have heard about its popular scenic spot called Beijiushui.Beijiushui is located on the north side of Qingdao's tallest mountain of Laoshan, and has become a popular sightseeing spot, regarded as a "fairy-tale land," "good Feng Shui" and "a paradise in the world." If you are thinking of traveling to or near Shandong Province, I highly recommend you make a stop at Beijiushui. Since it's still rather unknown, you may regret later if you miss out.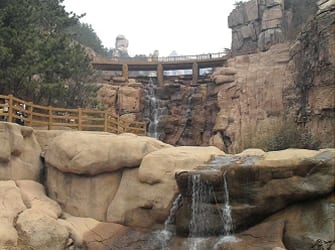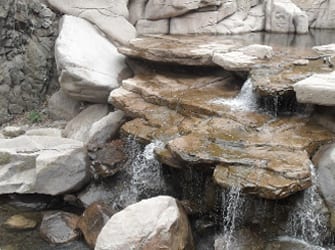 In Japan, a lot of people drive a car as a means to reach the top of a mountain. But in China, climbing mountains on days off has become a common routine, and they walk by foot to the peak. My friend who works as a Japanese teacher in China tells me, "Chinese students are really energetic. Every Sunday, they invite me to join them for hiking." Also, Chinese tourists coming to Japan are most likely wearing comfortable clothing instead of dressing very fashionably. Do you know why? It's because they walk a lot, and dressing in the most comfortable, easy-to-move clothing is important to them.This popular mountain Beijiushui is cherished by the Chinese who love climbing mountains. As you walk up towards the peak, you can see the towering mountains on your left hand side, and also observe a variety of plants during the warm spring or summer time. The winter offers a true experience of the harsh cold in Northern China. Also, there is the massive rock that looks just like a lion, which is sure to surprise you. You won't be disappointed as you climb Beijiushui.By visiting Beijiushui, I hope that your impression of nature in China would change even a little. At least once in your lifetime, why not plan a trip to Beijiushui where you can enjoy the winter shanshui.