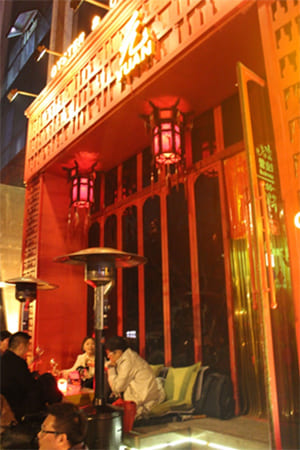 Today, I'll be writing about the lounge named Yuan (written 元) on Xiangyang North Road.The lounge Yuan is the world's first cocktail lounge that successfully fused traditional Chinese classicism together with modern Western philosophy. It made its grand opening on May 23, 2013.The greatest feature of Yuan is its use of Chinese elements throughout the lounge. From its logo design inspired by traditional Chinese paper-cutting art to the unique cocktails made from Chinese spirits, the Chinese elements seen everywhere you look in the lounge produce an elegant feeling, setting Yuan apart as a special place on Xiangyang North Road where many bars exist. Bright red colors adorn the entire store, and there are traditional Chinese-style doors, red chairs, wooden tables with green floral patterns as well as embroidered cushions placed on the chairs. There is attention paid to the slightest detail, with the Chinese trend of new-classicism scattered throughout. I feel that they did a superb job with the interior design, with vintage decor combined with vivid colors.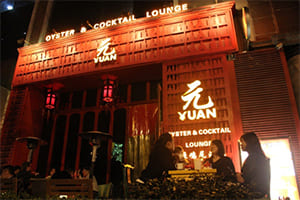 On the menu are a list of cocktails that use Chinese spirits, various fruits and traditional Chinese medicine; all creations of the lounge owner, a famous wine commentator in China. I ordered their original cocktail called Juedui Chongming (written 絶対崇明). This cocktail drink embodies the perfect harmony of Changbai Mountain ginseng, Chongming rice wine and hawthorn wine. All the cocktails at Yuan are made by bartenders who are award winners at well-known competitions. The great taste of the drinks together with the antique drinkware produce a retro Chinese atmosphere.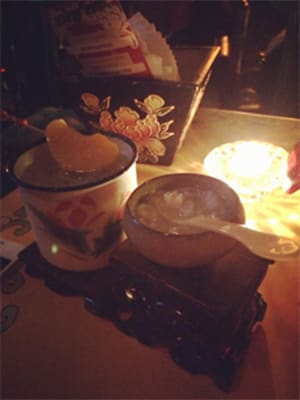 Another feature of Yuan is their dedication to serving imported oysters. The oysters are mainly from France, with more than ten varieties imported from famous production areas. Customers can handpick their oysters, and based on their choice, a professional sommelier then recommends a drink to go with it. Similar services are offered at other high-end restaurants as well. The difference, however, is that Yuan is the only high-end imported cocktail lounge serving more than 300 kinds in both hard liquor and wine. The prices of the oysters are also about half or less than those of other high-end restaurants. At 158 RMB, the oyster cocktail sampler set is especially nice, giving you the opportunity to enjoy three small oyster cocktails: Oyster Bloody Mary, Oyster Royal Fizz and Oyster Martini. Made by the store's famous bartender, these cocktails are sure to be unforgettable for oyster lovers.A lounge as special as Yuan is rare not just in Shanghai but also in all of China. You should definitely give Yuan a try when you're in town!