Held in various regions throughout Brazil, the "feira" (open-air market) is embraced for their selection of fresh food ingredients. It's said that back in 1914, São Paulo's mayor Washington Luis officially authorized the open-air markets. In São Paulo and its neighboring cities alone, the number of the feira is 880, 12073 people have been registered. The feiras are open every Tuesday through Sunday, and sellers arrive to set up shop from 6 a.m. and sell until 1:30 p.m.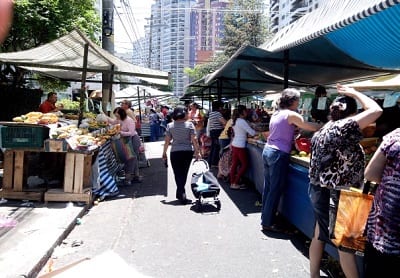 The day of the week on which the feira is held is determined depending on the location, and in most instances you can find one close to your residence. The sellers at the feira are called "feirante." Many of the feirantes are Japanese Brazilians. One reason why is that many Japanese Brazilians are engaged in farming near São Paulo, and another is that back in the days there was a Japanese mega agricultural cooperative known as Cotia Agricultural Cooperative. Despite the increasing amount of shopping done at supermarkets and on the Internet, the feira continues to exist today because of the availability of fresh goods brought directly from the farmers and the central wholesale market. Plus, shopping at the feira on a weekly basis perhaps has become something of a custom for Brazilians.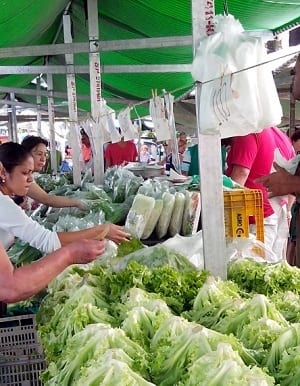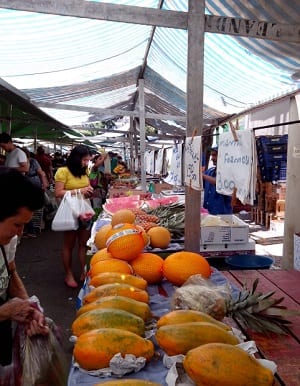 At the feira, there are shops selling fish, meat, vegetables, fruits, eggs, beans, as well as sweets, general goods and flowers. Although the prices don't differ much from supermarkets, the prices come down quite a bit around the time the feira is about to end. Payment is usually by cash, but some shops accept credit cards. The feirantes cheerfully call out to customers to attract them and to promote their goods. "These mangoes are very, very sweet!" "Melon prices have gone down! Come before they're all sold out!" "Pretty girls don't have to pay! You can't take anything though." The feira is quite lively. It's also nice that as you're lured by the vivid colors and the sweet smell of the fruits, the feirantes happily offer you a sample to taste. Sometimes they give you free extras as well. There are an abundant variety of vegetables and fruits. For instance, there are at least four kinds of bananas. Tomatoes come in several varieties too, such as ones that are good for salads, for making tomato sauce, or ones with no acidity, and the feirantes are kind enough to explain their differences. Although not that many, feirantes who have started selling organic vegetables and fruits only have appeared recently.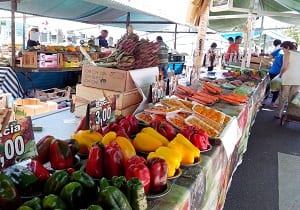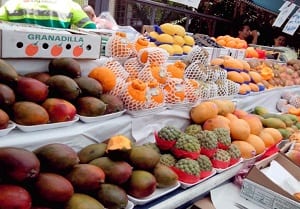 At fish stores you'll see a selection of saltwater and freshwater fish, with many unusual ones as well, but if you just ask the feirantes, they'll even teach you how to cook these fish. Some stores offer services of slicing them for you right then and there.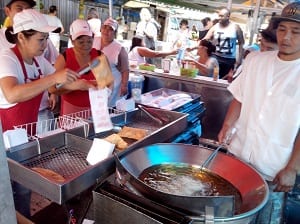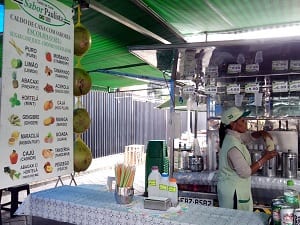 Just past 11 a.m., stores selling pastel start to become crowded. Cheese, minced meat, chicken, green vegetables and other ingredients are wrapped in dough that's similar to pasta, and are then fried. The freshly fried pastels are crispy and delightfully delicious. Coconut juice and sugarcane juice are sold next to them. Everyone has childhood memories of going shopping at the feira together with their parents. That's how much the feiras are intertwined with life here. It would definitely be a good place to experience the daily life of this region.