Ibirapuera Park, a municipal park made in 1954 to commemorate the 400th anniversary of São Paulo, was ranked as one of the world's top ten city parks in August 2015 by the British paper The Guardian (Aug. 7 issue). The issue emphasized the park's size and this work of landscape architect Roberto Burle Marx. It commented, "The park is lush, curvilinear in every direction, sometimes mysterious, sometimes breaking out into powerful colour." Extending over a vast 1584km2 (221ha), this is the most visited park in Latin America. Many of the structures inside the park were designed by well-known architect Oscar Niemeyer, and they display silhouettes very unique to his style.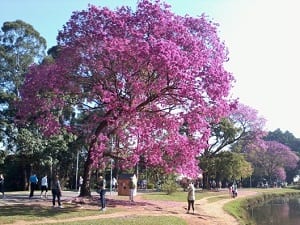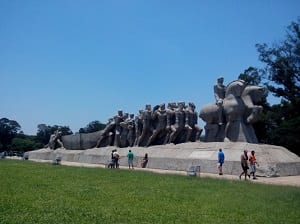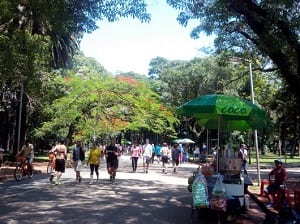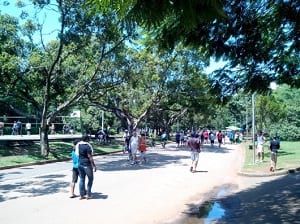 Those coming to this popular park for sports can enjoy 1.2km jogging track s and a 3km asphalt walkway that can be used for cycling as well. A basketball court, volleyball court and futsal courts  are available too. Here and there, you can find equipment for stretching or weight training in the park.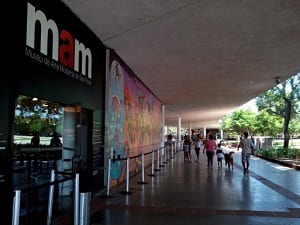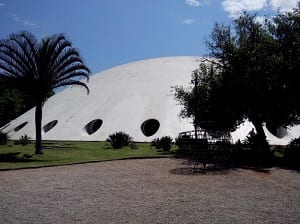 For those interested in art and culture, the Museum of Contemporary Art (MAC), Museum of Modern Art (MAM) and Afro Brazil Museum are all together here, and various events are held at the Biennial Pavilion and the Ibirapuera Auditorium. The grassy plaza called Praca da Paz (Peace Plaza) is a place for family and friends to enjoy frisbee, kite flying, nap on blankets, and for children to play ball, but occassionally hosts open-air concerts. Inside the park, there is a Japanese Pavilion, a replica of the Katsura Rikyu Imperial Villa donated by Japanese immigrants. The Japanese garden is also great for enjoying Japanese culture.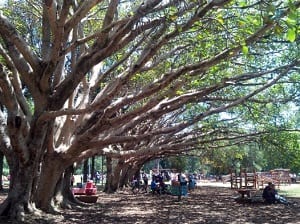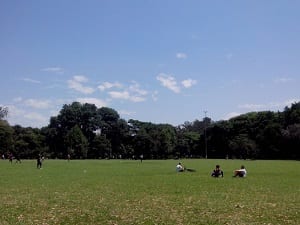 If you simply want to spend a relaxing time there, you could walk around the lake with the water fountain while appreciating the 120 kinds of birds and approximately 500 kinds of trees. Plants brought in from other countries can be found around the Peace Plaza. Some examples include the Dilleniales from India, African oil palm (Elaeis guineensis) from Africa, melaleuca tree from Australia and the poplar tree from Europe. Also in the park is a banyan tree, cherry tree and a 55-meter high eucalyptus tree. In one area you can hang hammocks, and some people like to enjoy reading there under the tree shade.  Many people come to walk their dogs, so drinking stations for pets have been set up as well.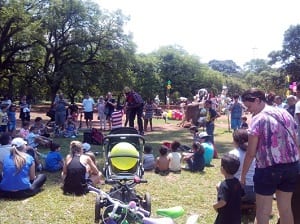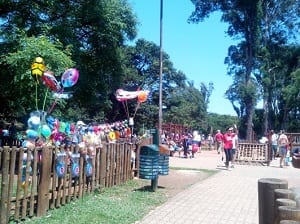 For the children, there is a playground, and events for children are held occassionally nearby. Balls and balloons of all sorts of colors are sold there, decorating the park in more vibrant colors.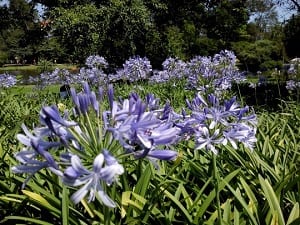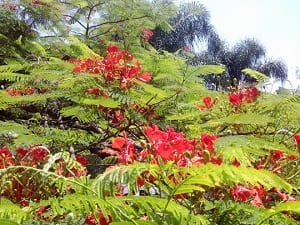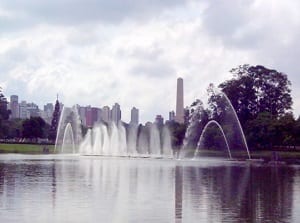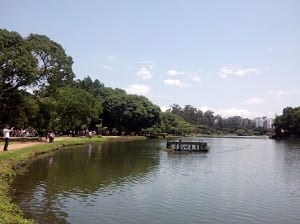 The abundant varieties of flowers allow for enjoyment of various flowers, aromas and colors all year round. It truly is an oasis inside a city.  At the water fountain, there is an illumination show accompanied by music towards the end of the year. A tree roughly 30-meters high is also decorated at the time. The Ibirapuera Park offers fun and enjoyment all year round. It's open from 5am to 12am. It's common to run into acquaintances and that's also a part of the fun. It seems like tomorrow will be another beautiful day. I think I'll go for a walk in the park.