Even today it's horrifying to think that Brazil's annual average inflation in 1989 was 1,232.71%. People used to run to the supermarket on payday to do the shopping for the next month or so. Prices seemed to be rising every day, and people would look for shops with even slightly lower prices. But the economy started settling down a little in the second half of 1990, and from around that time more and more shops started popping up that put a R$1.99 (about US$2 at the time) price on all their goods. Most of those products were made in China, including toys, stationery, kitchen utensils, tools, accessories, and all sorts of other things. One of their good points was that you could take your time looking at everything because the shop assistants just manned the cash registers. At the time they were a hit for their cheap merchandise. People called any shop that sold things for R$1.99 a "1-9-9," and often bragged that they "got this at a 199!" thinking what good value they had gotten for the price.
Later on, as the Brazilian economy improved, people started choosing quality over mere price, the 199s began disappearing, and by 2010 most of them had gone.
Then in December 2012, the ¥100-shop chain Daiso Japan opened in Brazil. With some 7,000 products including kitchen utensils, stationery, tools, accessories, gardening items, tableware, and so on, it was a big hit from the moment the first shop opened. The shops were spacious, they were brightly lit, the merchandise was neatly set out, and they played Japanese songs, so it actually felt like you were in Japan! The colorful products and the range were amazing. The shop attendants worked briskly and efficiently and they gave shoppers information about the products, which satisfied the Brazilians too. The prices range from R$1.99 to R$49.99 (about US$0.60 to US$15) with 80% selling for R$7.99 (US$2.40). Things that sell in Japan for ¥100 sell for about 2.5 times as much here, but there's nothing you can do about that, with them being imported, the taxes, and so on.
Four of the things on sale at Daiso are big hits in Brazil: small ceramic vases with animal images; cube-shaped melamine sponges (they don't have these in Brazil); kitchen timers with cute images on them; and A4-size clipboards.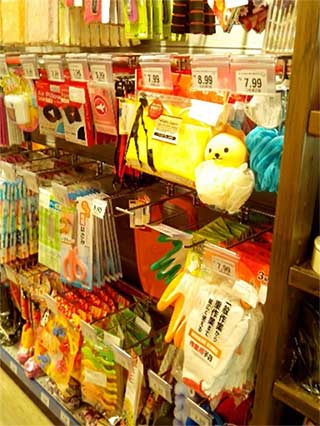 Judging by the reactions of Brazilian customers in Daiso shops, they seem to enjoy discovering new products and looking at the novelties as they shop. The housewives are particularly interested in the things they don't have in Brazil, like zip-lock bags in various sizes, and small rolls of plastic wrap. And the wipers and dusters that make cleaning easier seem to be popular. The wide range of lunchboxes at Daiso are also products that appeal to shoppers because more offices nowadays are providing rooms where workers can eat a simple lunch, and some people are bringing their lunchboxes to work. On the other hand, there are some products that Brazilians would find difficult to use in their daily lives. For example, bath chairs and buckets. It might also be difficult selling fluffy, warm gloves in this country. On the down side, imported goods that become hits soon disappear off the shelves, so you have to wait for the next container to arrive.

Daiso Online launched last year, but so far delivers only within São Paulo state. With only 800 items, the catalog is still small, but apparently they're planning to expand it. Daiso has also hooked up with local supermarket chain Hirota, setting up Daiso goods corners in their supermarkets, with 30% of customers going there to buy Daiso products. There are currently 13 Daiso stores in São Paulo state. Seven of them are in São Paulo city. There are Daiso corners in 15 Hirota supermarkets, so all together Daiso has already opened 28 outlets.

Miniso (Meiso, in Japanese), which has been recently described as a potential competitor to Daiso, opened two stores last month. Their prices are from R$3.00 to R$200 (about US$1 to US$60). Their pitch is "simple, natural, good quality," so I think they'll have some stylish and appealing things.
With the future expansion of Daiso and Miniso, I hope that Brazilian goods will improve.
It looks as though shopping will be more interesting!