Over the past few years, I'd noticed that there were more pet stores popping up, and I also felt like I'd been seening more people in town walking their dogs. Accoring to data from 2018, Brazil has the fourth largest number of pets in the world, exceeding 132 million pets. Dogs make up the largest portion at 52.2 million, followed by birds in second at 37.9 million, and then cats in third at 22.1 million. Sure enough, there are a lot of dog owners here. 44.3% of families in Brazil have at least one dog. I was surprised to see that birds, not cats, were the second most popular pet.
Furthermore, the pet-related market, which includes things such as pet food, pet services, pet care, pet products, cages, and veterinarians, is continually expanding.

In 1985, a store called Cobasi opened with the concept of being a shopping center for animals. Today it has 78 locations, many in the city of Sao Paulo. The store is very spacious and divided into areas for different animals—dogs, cats, birds, rabbits, tropical fish, and so on—with food and other products lining the aisles. Upon entering the store, the first thing to catch your eye is the houseplants and orchids they have for sale and the calming atmosphere created by their lovely colors and greenery. It's a fun place for you to take a leisurely walk with your pet, and even people that don't have pets can enjoy seeing the birds, guinea pigs, rabbits, and other animals they have for sale.

Petz, which opened in 2002, is another pet shop that now has more than 50 locations. Pet product sales volume in Brazil follows behind only the US, the UK, Germany, and Japan, and is expected to surpass Germany and Japan in 2021 to become the third largest market for pet products in the world.
Other pet shops also handle a wide range of products, and there are even some places where you can watch trimming being done on camera.

Part of the background to this ever-expanding pet-related market is the growing sentiment that pets are considered to be members of the family. In single-person and elderly households, pets can be seen as a partner that provides comfort. Not limited only to dogs, the pet-related market includes luxury foods with higher nutritional content, clothing and accessories, toilet sheets, anti-odor products, and other such products neccessary for indoor pets, trimming, medicine, vaccines... the list goes on. Pets that are cared for in such a way also seem to have longer life expectancies.
The other day when I was at a shopping center I came across some pendants made for pets for sale at a jewelry store. They were really cute.

Pet services have also increased. One such service in Sao Paulo is dog walking. You can arrange for someone to get your dog at a scheduled time and take them for a walk. It's a common sight in residential areas and parks.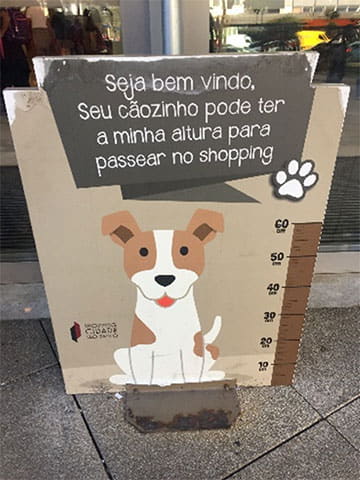 While there are size limits, shopping centers that allow dogs are also becoming more common, as are places such as cafes and even hotels at travel destinations where you can take your pets with you. And when taking a drive, instead of keeping your pet in a cage, you can strap them in using a special pet seatbelt.
The number of things you can do together with your family pets is getting bigger and bigger.
I recenty looked after my sons' dog for about two weeks and taking her for walks, and whenever I was out on a walk with her, the neighbors would come up and talk to me. "What a cute dog! How old is she?" and so on. When you see other people out walking at the same time as you, you start to exchange greetings with them, and over time you start to communicate with the neighbors more thanks to dog-walking. It's actually quite nice.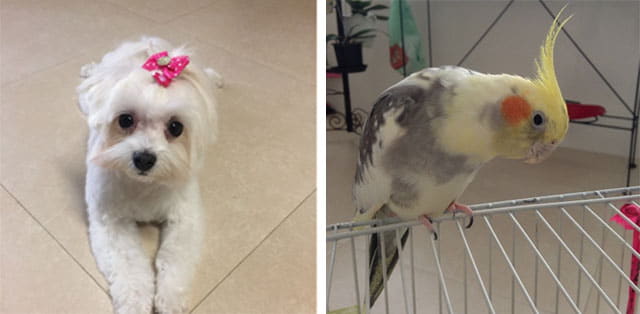 I have a cockatiel. He sings songs for me and also knows a few words. He's affectionate towards me and it's quite adorable.
Sure enough, he's become another member of my family.