The fruits from southern Brazil are plentiful, colorful, sweet, and fragrant. They include fruits like mandarins, mangoes, pineapples, and watermelons, and when you order fruit juice at a restaurant, you get 100% fruit juice. It's really good!
One after the other, soaps made from these fruits have been appearing in shops.
In this blog I'd like to tell you about them, especially the soaps made by Granado, Brazil's oldest pharmacy, and soaps made by Natura.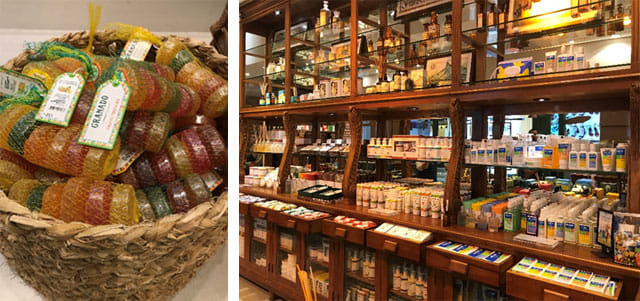 Granado was opened in 1870 by the Portuguese owner, José Antonio Coxito Granado, in Rio de Janeiro. The first store can still be found on Primeiro de Março street. Granado used flower extracts, herbs and plants grown at his villa back then, and made medicines that suited the people in those days. Granado was made the Official Pharmacy to the Brazilian Imperial Family, including Dom Pedro II (Brazil's last emperor), in 1880. In 1903, Granado made a deodorant powder and launched glycerin soap and products made with 100% plant ingredients, and the pharmacy began to prosper.

The interior of the store still retains the atmosphere of an old-fashioned pharmacy. Some of its other products include men's aftershave care products, baby soap and shampoo, nail care products for women, colognes and perfumes, cosmetics, pet shampoos, as well as products for allergies. There are aroma candles and aroma diffusers for use indoors. Some of the products are limited-time offers, and sometimes they put out a lot of designs that enhance the Brazil brand. You might go to buy some as souvenir and end up getting some for yourself.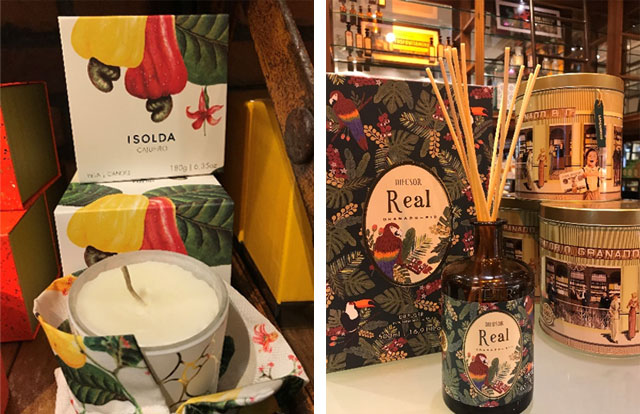 The first thing you sense when you enter the store is the lovely sweet fragrance. It's a sweet, delicious aroma rather than the scent of flowers. I wonder if that is because there are so many soaps made from fruit. They contain clear glycerin with fruit extract and I just love looking at all the brilliant colors.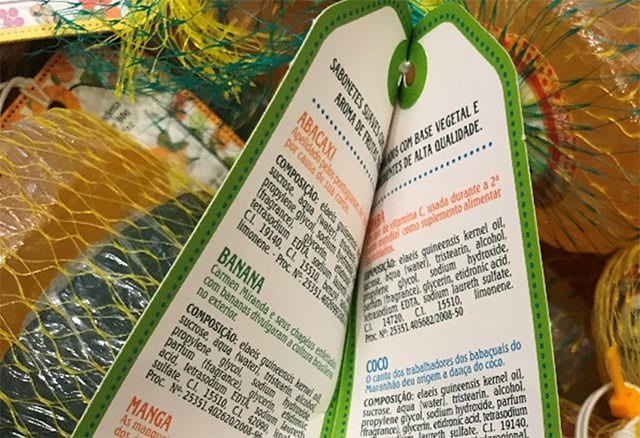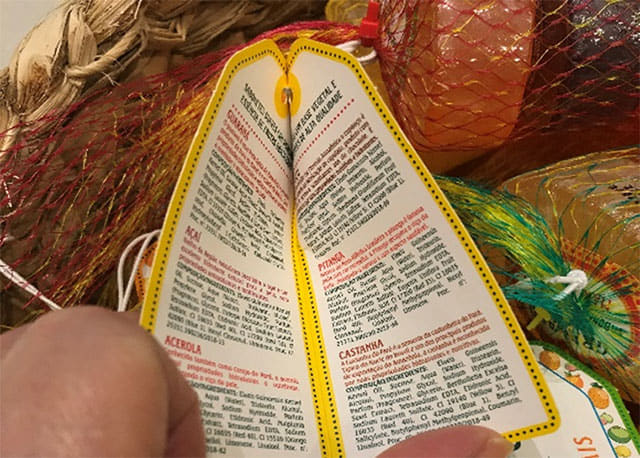 There are cards on the soaps, so I peeked inside and found where it says "Banana" in green (photo), "Carmen Miranda (singer) and the bananas decorating her hat display Brazilian culture to foreign countries" (my translation). I was surprised because I thought it would list the ingredients that are good for your skin. But I guess this too promotes Brazilian fruit. And under "Açai" (photo), it says, " Açai originates in the Brazilian Amazon and as well as being good for moisturizing the skin, it contains an antioxidant for lovely skin."
Natura started up when Antonio Luiz Seabra opened a store and small factory in Sao Paulo in 1969. In 1974, they closed the store and the products were sold by consultants accredited by Natura. You look through the catalog, select items, talk with a consultant, or ask them to tell you about new products. In 2016, Natura merged with Aesop and The Body Shop, and then purchased Avon in 2019, so they now have 1.7 million consultants. The company puts a lot of effort into nature conservation, and in 1983 it became the first in Brazil to offer refills of its cosmetics. Since 2007 it has been focusing on its carbon neutral program and puts out carbon neutral products. It is a company that prioritizes sustainability.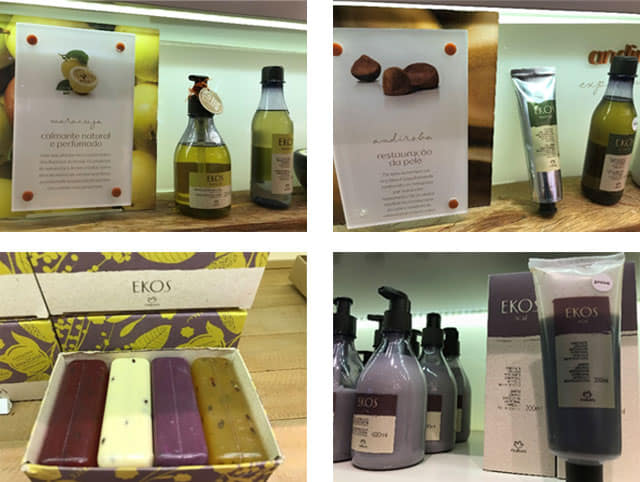 They have a lot of products like daily care products, cosmetics, perfumes, hair care products, beard care products, and products for small children. Natura's Ekos line is certified by the Union for Ethical Biotrade (UEBT). It includes products made with things like passionfruit, açai berry, pitanga, and Brazil nut. Natura's products are not only good for looking after your body, but are also environmentally friendly, so you can use them with peace of mind. They have recently opened stores in various shopping centers, which makes it easier to buy their products. The sales staff are also very nice and offer you testers for all sorts of products.
Brazilians take a shower before going to bed. In summer, quite a few people take a shower early in the morning too. That's because it really wakes you up and makes you feel refreshed. You're going to need soap for your shower, and soap with a fruity scent is just the thing.