Here and there in Brazil, people are renovating and restoring apartments in buildings that were constructed a number of years ago. When I looked into it, I found that, "restoration" means returning an aging building to the condition it was in when built, and involves installing new appliances, replacing soft furnishings, and so on. "Renovation" involves adding new value to the original building. It means large-scale work like changing the layout of the rooms, moving pipes, and so on. In this article I would like to talk about the renovation and restoration of apartment buildings in Brazil.
When you buy an apartment in a building constructed a number of decades and years ago, first, before you move in, you restore it, and in some cases, you renovate it. Regardless of the size of your apartment, if you are going to restore it, it is probably best to ask an architect to prepare a design for you. But just saying the word "architect" makes you tense up, right. They are professional designers, so they have all sorts of information about the latest products, about quality, and about current trends, which means you can rely on them and take the stress out. It's better to look at the architect's work before choosing a professional whose taste matches yours. The architect will be able to create good design drawings if you let him or her know in fine detail what preferences, colors, and atmosphere you are thinking of for your apartment. Open plan kitchens have been popular for the last 10 years or so. They have the advantage of allowing you to chat with other people while you prepare meals in the kitchen. That means removing walls, so you will need certification by a building engineer as well as the architect.
Once the design drawings are finished, the renovations can finally start. First, you go to a home improvement store and choose the new tiles and so on. The architect will go with you and choose things with you. It's fun, but it's difficult for an amateur to imagine a finished product from a sample.

Have you ever seen a renovation TV program in America or Canada? They tear down drywalls really fast, don't they. They bash the walls with their big hammers, and sometimes their feet! But, in Brazil you can't do things that way. Apartment buildings are built by laying brick blocks, so tearing down a wall like that would need a lot of strength, plus it would make a lot of noise. That would be an incredible nuisance for the neigbors. But everybody's in the same boat, so we just have to put up with it. The kitchen and bathroom in the apartment in this country are tiled, so stripping the old tiles and laying new ones is a huge job.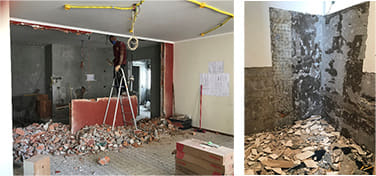 If you're going to replace everything old with new, you have to strip the tiles and remove the doors, washbasins, toilet, and so on. Your apartment will be transformed in a few days, making it seem bare. A contractor will come and take away the broken tiles and brick blocks gathered together for disposal. The contractor comes in the night and leaves a dumpster, called a caçamba, which is about the size of a car, in front of your apartment building. During the day, the tradesmen bring out the rubble to be taken away. On the designated day, the contractor comes to pick up the caçamba and takes the waste to the location specified by the city government. One caçamba costs R$320 (about US$60).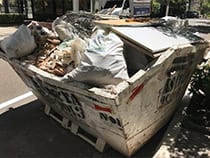 The next tradesman is the electrician. He or she sets out the electrical wiring as in the architect's plans. They are now promoting the use of LED light bulbs and lighting. LEDs reduce your electricity bills and they also last a long time, are environmentally friendly (reducing CO2), give off little heat, and have no harmful substances (mercury or lead). LED tape lights are used cleverly and stylishly for mirrors, shelves, and so on.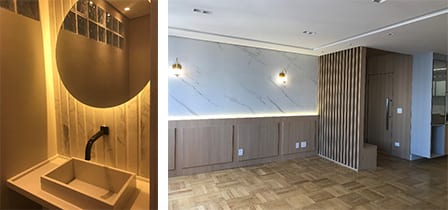 I'll continue writing about renovation in my next article. I'll tell you next time about the problems and so on that arise during renovation work.