In Australia, markets are held in various places on the weekends. Some markets even use schoolyards, open areas in parks, and parking lots at horse racing tracks and shopping centers. There is a growing number of markets in different areas that include markets that primarily sell goods such as plants, and fresh fruits and vegetables; markets that mostly sell Australian souvenirs to tourists; and markets that started appearing around 5 to 6 years ago selling stylish, fashionable goods, such as clothing, bags, accessories, antique furniture, and art. Shoppers can relax while listening to entertainment such as bands and guitar performances while sitting at makeshift cafés and food stalls. I, too, enjoy making the rounds and visiting markets on days off when the weather is nice. The Miami Organic Farmers Market I'm introducing in this post is an outdoor market that mainly sells fresh organic vegetables and fruits, as indicated by the name. It's held every Sunday in an area of a high school schoolyard. Besides vegetables and fruits, other goods for sale include organic coffee, honey, cereals, grains, soaps, cosmetics, tofu, and miso. The market is small, but it's always busy with local shoppers. It's open from 6:00 a.m. to 11:30 a.m. to accommodate Australians who are out and about early in the morning even on Sundays.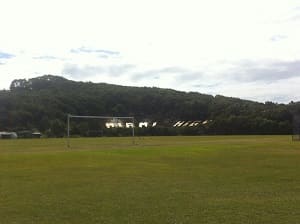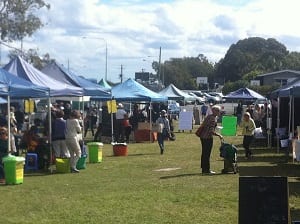 The market is set up using an area of the Miami High School schoolyard. It's a very big, well-kept grass lawn.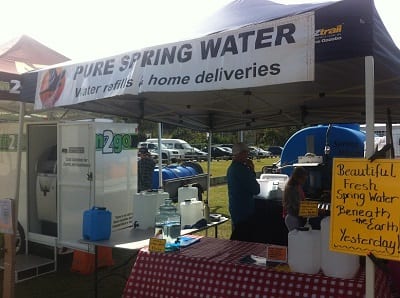 This shop sells spring water for AU$1.00 (approx. 82 yen) a cup. Plastic, take-home containers are also sold, so regular customers bring their own containers. None of the shops provide shopping bags, so shoppers have to bring a shopping basket or reusable shopping bag.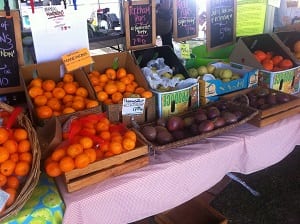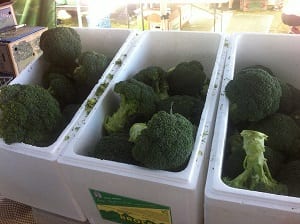 The atmosphere is closer to a simple, unadorned market than a stylish one. Fruits and vegetables are sold in Styrofoam and cardboard boxes as is.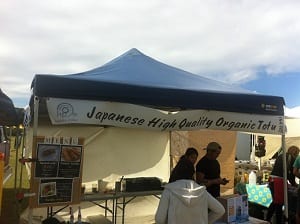 The organic tofu shop is popular at this market. It's made by a Japanese person, and in addition to the standard oboro tofu, soft tofu, firm tofu, and lightly deep-fried tofu, Australians really like a burrito-like food made with tofu and vegetables that can be eaten on the spot.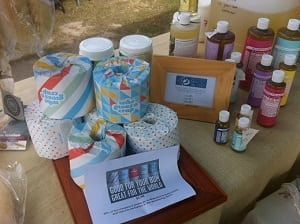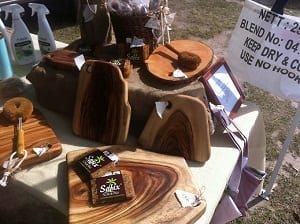 In addition to food, goods such as handmade soaps and organic cosmetics are also sold. The toilet paper pictured on the left is AU$1.50 (approx. 123 yen) per roll. Half the proceeds are donated to "WaterAid" (http://www.wateraid.org/jp), an organization working to provide safe water to poor countries around the world. The price for the cutting board pictured on the right depends on the size, but one cutting board is sold for AU$25.00–AU$35.00 (approx. 2050 –2870 yen). They're made from natural wood from Australia with a wood grain unique to each one and have a pleasant aroma that is soothing. They're said to last a long time if wiped after each use with oil, such as olive oil, to prevent cracks caused by drying. The organic fruits and vegetables are quite expensive, costing as much as 3 times the normal supermarket price, but the weekend outdoor market is always full of people. Perhaps they don't feel the cost is so great, given the high prices in Australia.