Australia is full of campgrounds. There are always areas where you can pitch a tent at accommodation facilities for camping trailers or small cabins, which the Australians call holiday parks or caravan parks. There are also camping areas within national parks.One of the classic ways to spend long weekends (three-day periods where school and public holidays overlap) is to get together with family or friends and head out camping. There seem to be more stores selling camping gear than there are in Japan, and plenty of Australian women seem comfortable camping as well—maybe because they've been going out camping with their families since they were kids.Camping areas vary greatly in the kinds of facilities they have, ranging from the well-equipped holiday parks with their shared cooking areas, refrigerators, and hot showers to areas that don't even have running water. In this post, I'm going to tell you about a small campground lacking even showers—a place where you're forced to use rainwater.This campground is located deep in the mountains, about a thirty-minute drive from Mt. Warning, the "power spot" located in the northern part of New South Wales that I mentioned in an earlier post. It's set up so that there's nothing there but some tables and benches if nobody pitches a tent, as if it was a park. They let you make campfires at this location, although there are certain areas where fire is prohibited. It's a wonderfully quiet spot, but we did wonder where we should pitch a tent since almost the entire campground is sloped. Eventually we settled on the flattest place we could find. There was only one family there when we arrived, so we had our pick of whatever spot we wanted.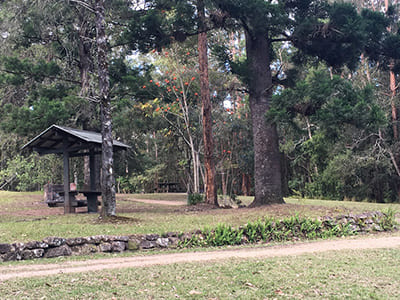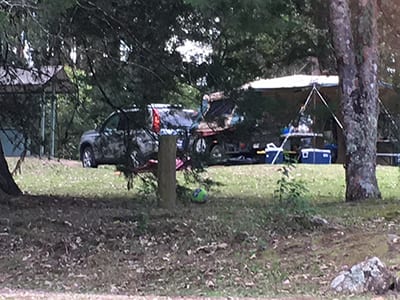 (left)The campground looks like a park at first glance.(right)A family of five already had this tent set up when we arrived. They lent us their axe to chop wood for our campfire, and we quickly became friends after asking where they were from. Interactions like these are one of the real charms of camping in Australia.
These are the signs posted at the campground. The one on the right has small envelopes available pre-printed with the destination address on copy paper with a perforation down the middle. It tells you to fill that area out with your name, vehicle plate number, postal code, the number of children and adults, and how long you'll be staying. You then tear off the top copy at the dotted line, displaying the portion labeled Vehicle Fee in your vehicle and the one marked Camping Fee in a visible place on your tent. It then asks you to put the money in the envelope and put it in the small box shown in the picture. Someone comes around to check on it every once in a while, but it's basically an unstaffed campground where the campers do everything themselves. The fees, by the way, are AUD 6 per adult (about JPY 475), with a vehicle entry fee of AUD 8 (about JPY 630).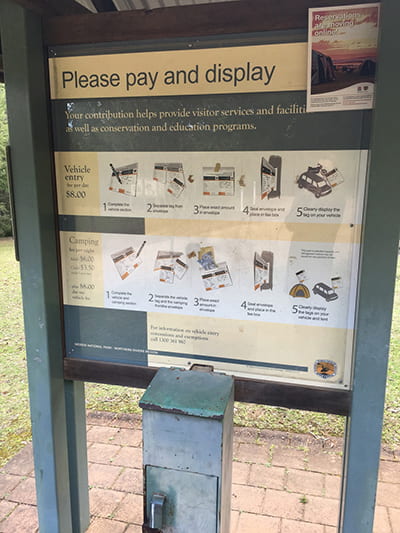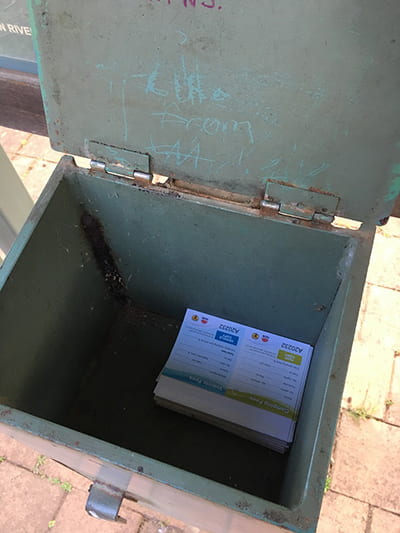 (left)The sign clearly explained how to use the system.(right) You could find the envelopes by opening the lid of the small box in the lower part of the photo on the left. Unfortunately, there was no pen.
The campground also only had one toilet. Surprisingly, though, it was well-stocked with toilet paper. The sink for handwashing used rainwater, so it had a sign telling people not to drink it. In a country where water is so precious, you could open the tap all the way and no more than a tiny thread of water would come out.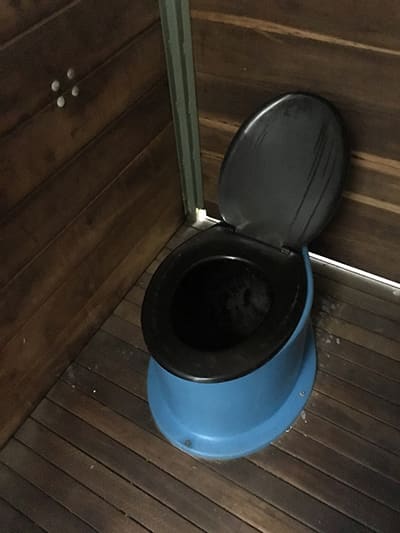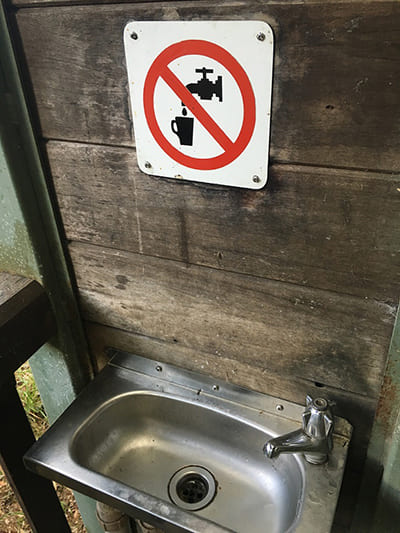 (left)The campground had a relatively clean vault toilet.(right)The handwashing station only offered a trickle of water at full blast.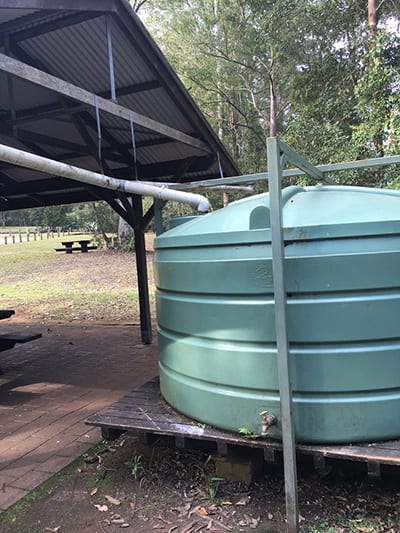 This tank stores collected rainwater. We brought plenty of water that day, so we didn't have to use any of the water in it. Two more groups pitched their tents as we headed towards the evening hours, but with few people, the campground remained quiet with only the hushed chirping of birds. After nightfall, all of the groups were enjoying their campfires. The night was still chilly deep in the mountains despite the fact that it was already early summer, making the warmth from the campfire even more pleasant.The campground didn't have any garbage bins, so everyone was expected to take their trash with them. I found it incredibly considerate that none of these seasoned Australian campers left their garbage anywhere. It makes sense that they would treat nature with respect, given that being in nature is one of their favorite ways to have fun.
REPOTER
Chieko Suganuma (maiden name : Nagura)

Age

Cow( USHI )

Gender

Female

Job

Company employee
She moved to Australia in 2000. She worked for a Japanese-affiliated travel agency, and then started her current position at a construction company in 2014.On her days off, she enjoys making soy candles that is a hobby of mine and walking on the beach.She hope to share rare lifestyle information from the local area with you.