Australia has moved into winter, the season for the pleasant warm feeling of wearing Ugg Boots. Ugg Boots are made from sheep hide, but even though Ugg is a brand name, any examples of this type of boot are fondly referred to in Australia and New Zealand only as Ugg Boots, never as sheepskin boots. Also popular in Japan in the 90s within gyaru fashion and surfer subcultures, they are also famous for being a favorite of surfers during the surfer boom in Australia and America during the 1970s. In Australia, they are still loved by many people other than surfers even today.The UGG® Australia brand is world-famous, but despite featuring the word "Australia," it is actually an American brand, and the boots themselves are manufactured in China. This is the brand that is most commonly seen in the Japanese market. In Australia, UGG Australia is a comparatively well-known brand. But isn't that the same name? Well, you might think that, and it is a bit confusing, but the difference is that the American brand features the ® mark. UGG Australia is manufactured in Australia. Also, EMU Australia is another boot brand that is sold in Japan, and is famous for its designs which are not too casual. "UGG Since 1974," handmade where I live in Miami, on the Gold Coast, is sold as a genuine Australia-made brand. Not only that, but there are various other brands such as "Blue Mountain Ugg Boots," which are genuine handmade products of the state of New South Wales, available in a long-standing store with a 79-year history. Also, unbranded sheepskin boots are available online, sold for prices which are half of the normal price for name-brand boots. There are also cheap boots for sale at major supermarkets, which have the same design and shape as Ugg Boots, but are made using artificial materials such as acrylic. However, genuine sheepskin possesses superior heat-retention, as well as the characteristic of staying warm in winter and cool in summer. It also breathes, and so excels in releasing dampness and preventing bad odors, making it perfect for boots that tend to cause sweat. You don't see them around as much these days, but there are also sheepskin products other than boots, including car steering wheel and seat covers.There is a factory and outlet store for the aforementioned UGG since 1974 in my neighborhood. The last time a friend visited from Japan, we went to pick up custom-made sheepskin sandals from the store. Compared to brands like Blue Mountain Ugg Boots which use standardized styles, this store's products feature many types of elaborate designs in a wide range of colors, incorporating other fabric such as denim or highlight cloth in bohemian-style designs which are popular right now. Not only are there boots, but there is also a range of cute accessories such as bags available. I personally prefer boots with flat soles over the short boot style with heels like those from EMU Australia. I received permission from the store staff to take some pictures, which you can see below.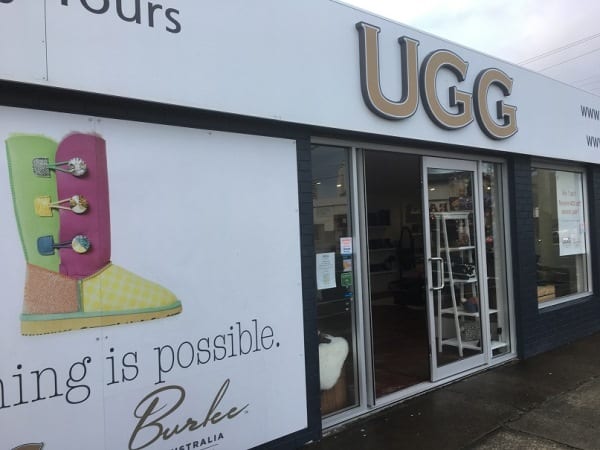 The store's exterior. The front is a shop, with an office and factory behind.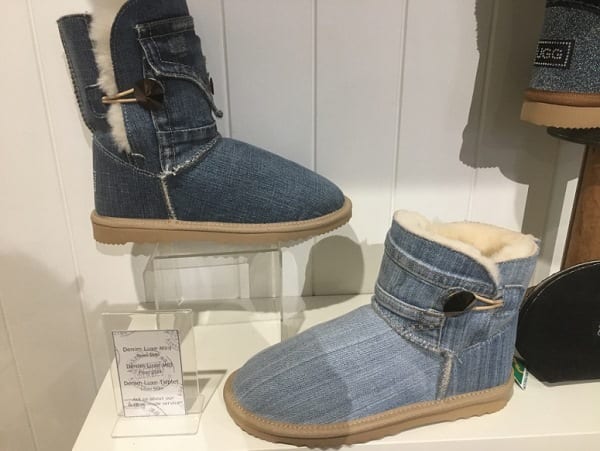 This is a pair of Ugg Boots with denim exterior fabric. The inside is completely made of sheepskin.
What do you think the skin with the tail attached is from? It's genuine kangaroo hide. (The hide was taken from a kangaroo that had already died.)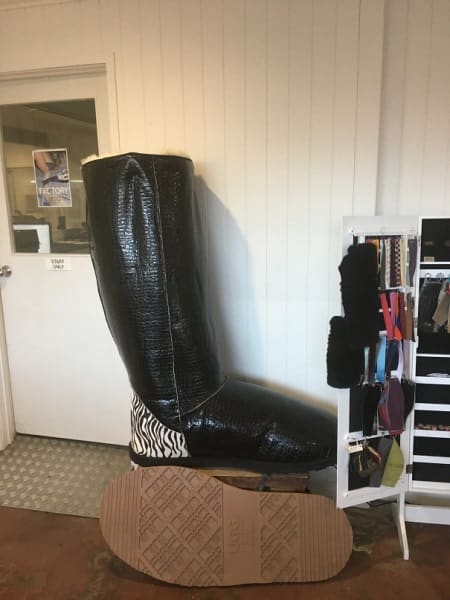 This giant boot was on display inside the store. It's big enough to completely fit a child inside!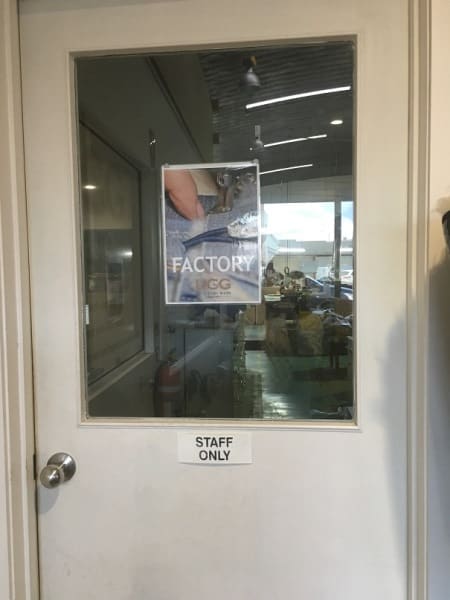 Further inside the store is the office and the factory.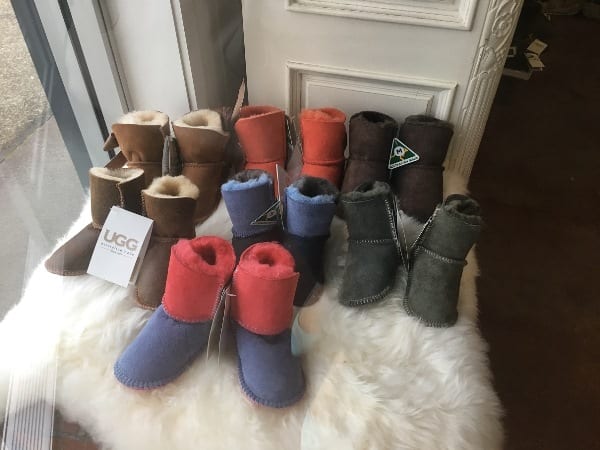 They even offer cute children's boots like these.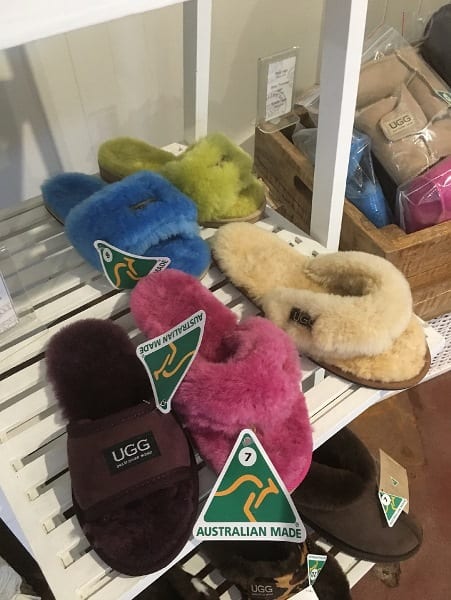 Sheepskin sandals. You can order your preference for color and materials for the soles at this store. I have sent some slippers before as a present, and they were a great hit.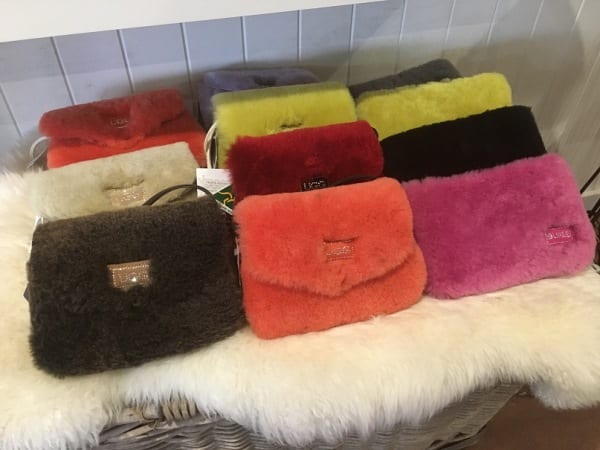 There are also cute sheepskin bags like these.
There are many different brands of sheepskin products available in Australia, and the concept is different for each store, which makes it fun to look around. Be sure to check sheepskin off your list when you visit Australia.