About an hour's drive from the Gold Coast, there is a small rural town 60 km inland called Canungra. People think there is nothing on the inland part of the Gold Coast that is called the hinterland, but there are actually many sightseeing spots.
Springbrook National Park that is a registered world heritage site is a famous place where you can see glow worms (the larvae that live in the earth glow with a pale blue light like a firefly) on the natural bridge in the park and it is a popular night tour spot. Also, on warm Queensland, there are many wineries in the hinterland and the town called Tamborine Mountain has cute variety stores and chic cafés. It is one popular place where locals go.
There are also farms with horses, sheep, and other animals that offer lots of activities so you can thoroughly experience the vast natural landscape, like horseback tours or hot air balloon tours. Today I will tell you about a Japanese couple who lives a leisurely rural life in the vast hinterland.
They moved to Australia in 2000 after retiring and have been living here for about 17 years. When they came to the Gold Coast on a tourism trip, they fell in love with it, and a real estate agent showed them the house they currently live in. They couldn't speak any English and would be moving to a place where they knew hardly anyone and it would be just the two of them, so this was surely a huge decision.
Their property is a whopping 200 square kilometers! Their next-door neighbors also have a huge property about the same size and they raise horses, cows, sheep, chickens, and other animals, but this Japanese couple goes back to Japan two or three times a year, so they don't raise animals. Almost all of the vast 200 square kilometers of land is covered in grass, and the husband mows the fields with a lawnmower all year round. They said they had a garden in Japan where they grew all sorts of fruit and vegetables, but the fruit and vegetables have not been growing well lately because of the unusual weather, so now there is only a sprinkling of aloe and Chinese chives that grow without assistance here and there.
They live in a large six-bedroom house on this vast land, and have enclosed their property in large trees that look like palm trees so the house is somewhat secluded from outside the property. They say that since becoming accustomed to their current lifestyle in this house, they feel that Japanese homes are too cramped and the neighborhoods are too noisy.
I have stayed over at their house many times, and it is true that you cannot hear a sound at night. I am sure that such tranquil silence is a rare experience. In the morning, you are woken by birds chirping and cows mooing, and not a sound from cars or anything else reaches the house, making each day truly peaceful. Sometimes friends and relatives come and stay with them from Japan, and they all say that they sleep very soundly there.
To buy their daily commodities, there is a small town about a 15-minute drive away that has a supermarket and gas station, so their life is not inconvenient. If they go to the city in the Gold Coast, there are supermarkets that carry Japanese foods, so they go once or twice a month to buy necessary items like seasonings.
At home, they make rice, miso soup, and pickles like usual, so their lifestyle is hardly any different from one in Japan. It is so romantic that this couple lives alone, just the two of them, in this place, and they spend a lot of time cutting the grass and upkeep not just on their own property, but the land around it. It is a wonderful way of living that seems easy but is not. There are many retired Japanese couples living along the Gold Coast or around the golf course, but there are probably few living like these two in the countryside, which I think is rare. Their Japanese relatives worry about their age and their health, and have suggested that perhaps it is time for them to move back to Japan, but they want to stay where they are as long as possible. I hope they enjoy a happy life in this house that they love forever.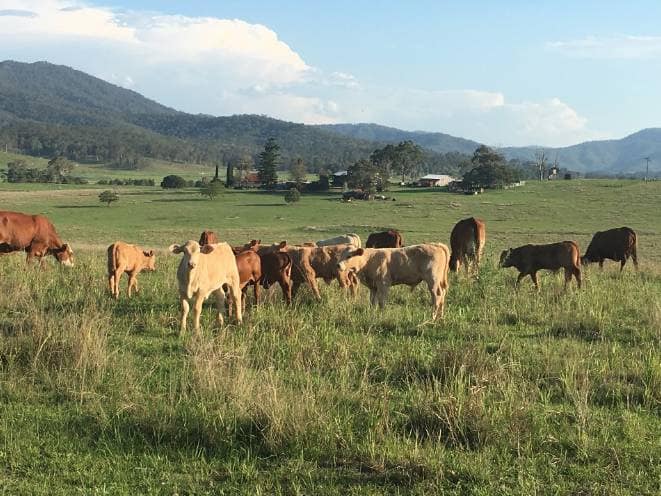 At the next-door neighbor's house (that is actually quite far away), the cows are allowed to graze freely. When I come close, they run away, but I am told they do not run away when the husband of this couple comes close. I guess cows also learn the faces of their neighbors.